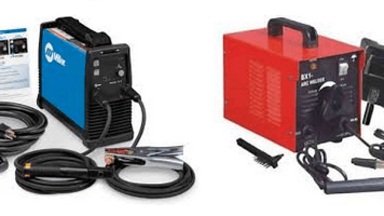 Among numerous types of welders, stick welders are one of the most common tools that both professionals and novices love to use for their welding projects.
So why do they love this kind of welder? Does it have any drawbacks? How can you pick a suitable choice? All of these questions will be answered within this best stick welder reviews UK of ours.
You will find out your Best Stick Welder UK after this article. You have our word!
What Is A Stick Welder?
A stick welder is a mechanical tool used for stick welding, which is also called Manual Metal Arc Welding (MMA/MMAW) or Shielded Metal Arc Welding (SMAW).
This welding process utilizes an alternating or direct electrical current from a power source. The electrical current runs from the power source and goes through the gap amid the welding stick and your metal workpiece where it forms an electric arch because of the dissimilarity in potential.
A stick welder is appropriate for both outdoor and indoor uses and is especially effective for welding alloys or joints. It enables users to make a firm and efficient bond even on rusty and dirty metals.
There are models that use either direct current (DC) or alternating current (AC), but there are others that allow both of them (AC/DC). In which, units using AC are the most economical.
Advantages And Disadvantages Of Stick Welding
Advantages
Stick welders are prevalent in the market and are a great choice for beginners, amateurs, and professionals because they have a large number of strong points over their rivals. The most remarkable benefits of a stick welder are as below:
Portability
In comparison with other types of welders, the majority of stick welders are very compact and mobile. At the same time, they can work without a heavy bulky and heavy gas cylinder like other models.
You can carry them with you to any place without effort, which is critical if you need to weld something outdoors or you have welding jobs in different places.
Budget-friendly
Overall, these arc welders cost you less to buy and use than other kinds of welders. Besides, users also do not have to buy any extra equipment or accessories (e.g., external shielding gas) to use the device.
Versatility
With a stick welder, you can weld clean, dirty, or painted metal easily. Hence, you do not have to buy any extra welder or tool or spend time cleaning/preparing your workpiece to get the job done.
Importantly, stick welders work well on a wide array of metals and alloys. You can change different rods to weld various metals. For example, there are rods that can burn through rust metal, ones that penetrate deeper through the hard metals, ones that support smooth welding, and so on.
Plus, they allow you to carry out your welding projects not only indoor but also outdoor, even underwater and during bad weather such as hard rain and wind, too.
Diversity
Stick welders are available in a large quantity, quality, model, and price out there. This means your choice is unlimited, and you can always have something suit your uses and budget.
Easy to use
While other machines seem to be complex, getting used to a stick welder and the Manual Metal Arc Welding process is not challenging even to beginners.
Most novices can even use a stick welder to weld difficult sections such as edges and corners of a metal shelf.
Especially in cases when you have to get a weld as soon as possible rather than using complicated techniques to create a perfect joint, a stick welder may be the most efficient equipment.
Disadvantages
Of course, there is nothing perfect. Sadly, in spite of numerous advantages, stick welders still have some of the following disadvantages.
Require advanced skills for perfect welds
This is not always true to all welding projects. Earlier, we mentioned that using a stick welder was straightforward to people of any level, so is this a paradox?
No. We mean to tell you that anybody can use a stick welder to complete some welds, even in small crevices, but creating exemplary welds is a different story.
Manoeuvring a stick welder is not tricky, but stick welding your metal pieces excellently (create highly accurate and clean welds) depends heavily on your skills and techniques rather than the device.
Ineffective against very thin materials
As we described at the top of the article, a stick welder uses arc welding. While even the best arc welders are unusable for extremely thin materials, a stick welder is no exception.
No matter how skilful you are, you cannot use a stick welder for anything slimmer than 18-gauge.
Cost a relative amount of time
Although you do not have to spend much time preparing the workpiece, it might be necessary for you to change the welding rods for different applications.
Besides, stick welding also leads to spatter, which requires you to clean the slag generated by the gas cloud throughout the welding process.
How To Choose The Best Stick Welder?
Despite being the simplest welding appliance, as a mechanical tool, a stick welder still has many components, factors, and features to consider before you know whether it is suitable for you or not.
We cannot talk about all of them, as some factors are less important. So, you can focus on considering the following things before making a purchase:
Inverter or Transformer?
Stick welders are available in either an inverter or a transformer model. The foremost question in selecting the right stick welder is which of them is for you.
If you need a small arc welder that delivers sleeker weld, inverter models are your optimal choice. Vice versa, if you do not mind using a bigger and bulkier machine to work with rougher welds, opt for a transformer stick welder.
Amperage
The amperage range of a welder is a crucial determiner when you seek the ideal stick welder to use since it specifically decides what users are able and unable to weld.
Although nearly every stick welder manages to fuse all types of weldable metal, it still demands a welder to have the proper amperage range to weld varied gauge segments.
A few grunty stick welders are capable of running a great thick bead past a chunky metal slab, but they can hardly touch a thin 1/8-inch tube without creating a messy hole through it.
Similarly, a 140-amp stick welding machine can scarcely create a dent in a 2.5-inch joint that needs to be filled.
Because there are always unexpected variables, it is a good idea to buy a welder with around 25 to 55 amp more than the specs that you plan for your workpieces.
Welding with a stick welder that has a maximum amperage range higher than your needs is still much better than welding the metal slightly cold.
Duty cycle
Apart from determining the operation time without making the device overheated, the duty cycle is also indicative of the build quality of a stick welder.
The longer duty cycle a model offers, the more durable and higher quality it is likely to be. You can use it for an extended time during a welding session as well as in the long run.
Safety Features
Safety is always the key factor that determines whether you should use a mechanical device or not. For stick welders, manufacturers may add some of the following safety features.
This indicator will tell you when you should stop welding to prevent overheating the equipment. The hotter the unit is, the brighter the light indicator is. Then, turn off the welder when you see it is nearly going to reach its peak.
Thermal overload protection
For those who are not vigilant and often miss the light, the thermal overload protection is a must-have function. It will automatically kick in before the machine becomes too hot.
Thanks to this feature, workers can fully focus on the job and do not get distracted and worry about overheating issues.
Portability
While portability is the most famous advantage of stick welders, if you are a freelance welder that often travels a lot, you still had better care about the dimensions and weight of a model.
Yeah, we mentioned this. Inverter stick welders are the most compact choice. The most lightweight inverter welders only weigh around 5 to 11 kilograms, which is many times smaller than other models.
Price
In addition to mobility, stick welders are famous for their low prices. As you will see in the list in the latter part of this article, you can still own an excellent product that costs less than £100.
Just go from £200 to £500 (or £1000 if you have much to spend), you can enjoy many premium models with much better quality.
Since you will not need to buy any extra parts, gas, or other consumables that can cost you more in the future, feel free to spend a bit more than your planned budget on a product that really meets or goes beyond your expectations.
Additional functions
If you need any extra features, buying a many-in-one machine will cut down the cost, time, and space while ensuring your job done.
Therefore, if what you need is more than merely stick welding, it is clever to invest in a multi-functional model. In the market as well as in our stick welder reviews UK below, there are stick welders that can also function as a plasma cutter, a TIG welder, or perform a MIG/flux core welding process, so on.
Best Stick Welder Reviews UK 2022
Best Stick Welder Under £100

1 – Röhr SMINI-120NI ARC 2 in 1 Welder

With the modest weight of solely 3.2 kilograms and compact size of 21 x 10.5 x 14 cm, the Röhr SMINI-120NI Portable Electrode Welder is not only the best stick welder under £100 but also the best portable stick welder UK.
This arc welding machine runs on AC to save energy and has a wide amperage range of between 20 and 120 Amp. You can set the volume of amperage that you need simply by twisting the knob on the front of the unit.
After a few tests, we find this unit ideal for welding electrodes that are from 1 to 2.5 mm in diameter. We highly recommend using it for jointing welding of angle iron, flat iron, and pipes rather than welding wire.
The Röhr SMINI-120NI Portable Welder comes with several safety features that make it safer and more reliable to use such as the air cooling fan, thermal overload protection and anti-stick protection.
On the front of the machine, there is also a multi-purpose control panel for you to operate the welder with different settings easily.
Nonetheless, this inverter welder does not come with a plug, so users will have to purchase a 13-amp fused plug separately. It will not cost you a lot of time and money, but this is still an inconvenient point.
Pros
Super-compact
Energy-saving
Wide amperage range
Easy and safe to use
CE Certificate and IP21S hull protection index
Cons
2 – Silverline 677293 Arc Welder 40 – 100A

The Silverline Arc Welder is a gasless 100-amp arc welder with professional features. With a heavy-duty moving coil transformer, you can utilize either a solid or filler wire to create different types of welds perfectly.
Since it requires no gas, you can use the welder in all kinds of weather conditions even when it is rainy and windy. The machine itself is also durable enough to stand against the devastating effects of weather.
However, we think this stick welder is a more appropriate choice for light-duty projects than tough ones. The amperage of 100 amp is too low for thicker and harder metal pieces.
Fortunately, like the Röhr SMINI-120NI, the Silverline Arc Welder does come with the standard 13-amp plug. Also, the box includes numerous attachments such as electrode holder, earth cable, and welding mask, etc.
Apart from using no gas, the model is completely safe to use thanks to the automatic thermal cut-out and overload protection with control light to prevent overheating, the welding mask and other safety accessories.
Pros
Extremely durable
Multiple professional functions
3-year warranty
Absolutely safe to use
Cons
3 – FERM WEM1042 Arc Welder

The WEM1042 is a light-duty 230V arc welder manufactured by the famous brand of FERM.
It is a versatile device with consecutively adjustable welding current, ensuring welders to achieve the optimal results in any stage of welding. However, its amperage range is heavily restricted.
Although the device shares the almost equal weight and dimensions of the Silverline Arc Welder and is a bit bulkier than the Röhr SMINI-120NI Arc Welder, its maximum welding current is somewhat too low, only up to 100 Amp.
With a low amperage, the thermal cut-out function with control lamp, and the forced cooling system, the appliance will hardly become overheated and can be used for an extended time. Yet, the manufacturer is so careful that it still adds the thermal protection function to the product.
We tried using the welder with several different electrodes and found out that the most suitable ones were from 1,6 to 2,5 mm. You can know the right welding current for the kind of electrode by looking at the power indicator on the body of the machine.
Upon purchase, apart from the arc welder, customers will receive a complete set with a scaling hammer to remove rust, scale, and hard coatings, a welding mask for extra protection, a steel-wire brush to clean dirty metal, and a quick instruction card that allows users to quickly get used to using the device.
Pros
Continuous adjustable welding current
There is a thermal cut-out function
Keep cool well
Include useful accessories
Cons
4 – Dirty Pro Tools™ 160A Arc Welder

It is not strange that there will be not many excellent options for us in such a low price range as under £100. Here, we have the Dirty Pro Tools™ 160A Arc Welder as another good choice from the renown company of Dirty Pro Tools.
Apart from some slight differences in specifications in comparison with the Dirty Pro Tools™ 120A, there is nothing much we can talk about this model.
In addition, the familiar accessories we will receive in this package are also a clipping hammer, an earth clamp, a helmet, and a wire brush.
Other likeable features consist of the turbo cooling fan, continuous adjustable welding current function, thermal protection at 70 °C (± 5°), and the use of a standard 13 amp plug.
The Dirty Pro Tools™ 160A Arc Welder utilizes the welding current between 55 – 160 amp.
Furthermore, the Dirty Pro Tools™ 160A Arc Welder features a 3-meter welding cable (1.7m for the welding torch, and 1.3m for the earth clamp) instead of a 3.5-meter welding cable.
Pros
Budget-friendly
Higher amperage range
Hardly overheat
Solid construction
Cons
Heavier
Come with no plug
Best Stick Welder Under £200
1 – Stamos Welding Group S-MMA-250PI.2 –

I Highly Recommended

This black monster is powered by up to 250 A at the 60% duty cycle, allowing you to melt down the toughest metals that are up to 10mm in thickness.
However, if unnecessary, you can regulate the power down to 200 A or lower while operating the machine without pauses. As such, the Stamos Series S-MMA-250PI.2 also features the continuous adjustable welding current function.
In fact, the welding current can range from 20 A to 250 A with an intuitive regulator. Just look at the LED display, and you can monitor all the parameters and have full control over the welds.
What's more, the unit is also equipped with has an earth and E-Hand cable, each of which is 8m. These cables are fourfold as long as conventional welding cables, which means four times greater flexibility.
We were able to use this stick welder to weld steel, nickel, iron, cast iron, and copper that are as thick as 1.5 mm to 10 mm. So, the equipment is perfect for installation and maintenance of metal containers, stairs, rails, gates and doors, and other similar objects.
For those reasons, we assess the Stamos S-MMA-250PI.2 to be both the best stick welder under £200 and the best stick welder for home use.
Pros
Informative LED display
Extra-wide amperage range
Effective against many metals at different thickness
Highly compact and flexible
Cons
Not suitable for welding thin plates
2 – Röhr MMA 250FI ARC Welder

At a lower price point, Röhr MMA 250FI ARC Welder is a little inferior yet still provides nearly all the benefits we can have with the Stamos Germany Pro Series S-MMA-250PI.2.
In fact, this model just comes with maximum amperage is 250 Amp like the Stamos Germany Pro Series S-MMA-250PI.2.
Hence, if you think you should trade-off the high performance for the compactness and money-saving, the Röhr MMA 250FI can be a wiser choice for you.
With this lightweight inverter stick welder, you can still create beautiful welds on steel, cast iron, iron, copper, and nickel objects such as doors, windows, rails, stairs from 1 mm to 4 mm thickness.
The long-lasting, clean, and accurate welding seams can still be performed in seconds. Only the thickness range of metals is 2mm shorter.
Besides, other desirable features including the intuitive LED display, continuous adjustable welding current, "Hot Start" function, the overheat protection, and the ventilator are available, too.
Pros
Informative LED display
High value for the price
Effective against many metals at different thickness
Decent amperage range
Cons
Not suitable for welding thin plates
3 – GYS 030077 Gysmi 160P

In spite of being more expensive than two products above, we do not find the GYS 030077 Gysmi 160P really a more excellent welder. That's why we put it in the lowest position in this section.
Of course, it is still in the top 3 best stick welders under £200, so it does not mean to be a bad choice. There is something that may make you more interested in this option.
As one of the lightest inverter stick welders, the GYS 030077 Gysmi 160P is even 1.3 kilograms lighter than the Röhr MMA 250FI , which means it is 0.6 kilograms lighter than the Stamos Germany Pro Series S-MMA-250PI.2.
Owing to the high no-load voltage, the machine can start and be ready for welding immediately. It is a kind of "Hot start" function that we saw in Stamos models.
The unit is driven by the innovative microprocessor, and equipped with the anti-sticking technology and 'ARC force' so that even newbies can create smooth welds.
Furthermore, you can use this welder with any kind of electrodes in direct current (DC), from basic, stainless steel, rutile, to cast iron ones.
Upon purchase, customers will receive a UK 13 Amp plug adaptor, a sturdy suitcase, an electrode holder, and an earth cable.
Pros
1-year warranty
Compatible with all electrodes in direct current
Easy to use
Ergonomic design
Cons
Best Stick Welder Under £300
1 – STAHLWERK ARC 200 ST IGBT 1795-001

This STAHLWERK ARC 200 ST IGBT welder boasts being not only the best stick welder under £300 but also the best stick welder for beginners.
The reason why we say that it is ideal for both advanced welders and novices alike is that the package consists of many handy accessories aiding welders during their jobs, and the machine itself is easy to use with intuitive LED display, light indicator, and twist knob.
Although it just costs a little more than £200, this promises to be a premier-quality product with a 7-year warranty and outstanding customer service that even lasts outside the warranty period.
This arc welder uses modern IGBT inverter technology and 200-Amp amperage for consistent performance on different metals including low and high steels (both alloyed and unalloyed), copper alloys, nickel-based alloys, etc.
Hence, it should be the best stick welder for farm use as your working tools are made from a variety of materials in various thicknesses.
With the weight of 6.3 kilograms and dimensions of 390 x 170 x 275 mm, the STAHLWERK ARC 200 ST is more cumbersome than average inverter models. However, it is still acceptable and will not cause you much difficulty in handling.
Pros
7-year warranty
Straightforward to use
Long duty cycle
Full of convenient features
Cons
Bulkier than other inverter stick welders
2 – Röhr HP-250PP TIG ARC Welder

With the priority for safety, the Röhr HP-250PP delivers a range of protection features for users, comprising arc force stabilization, anti-stick and thermal overload protection.
Importantly, owing to the High-frequency ARC starting function, welders can start to use the machine immediately with no-contact ignition, which also prolongs the tungsten lifespan and guarantees a more satisfactory performance.
Another good news is that this product is covered with a 12-month UK warranty that allows customers to repair or replace defective and damaged parts for free.
The Röhr HP-250PP is appropriate for welding stainless steel, steel, copper, bronze, brass, nickel alloys but not aluminium and aluminium alloy because it is not an AC/DC TIG welder. So, it is not a good option if you have to work with aluminium frequently.
Although there is no digital control panel or LED display, with intuitive buttons, welders can still observe and adjust different parameters such as amperage, pre-blow, or gas delay for easier operation and more accurate handling.
With a long duty cycle, the 250-Amp power can be sufficient for you to complete any hard project at ease. Besides, the appliance is also integrated with a large number of essential extras such as Auto Hot Start, High Frequency Start, the latest MOSFET technology, and many more.
Pros
12-month warranty
The UK based technical support line is free to call
Arc force stabilization
Anti-stick, and thermal overload protection
Easy to use
Cons
3 – R-Tech Pro-Arc175

You cannot go wrong with the R-Tech Pro-Arc175 for light-duty projects. Except for the not-so-high 175-amp maximum output, this model provides users with almost everything they need when welding.
Apart from the IGBT welder, the complete kit supplies a carry case, clamps, 3M Earth and Electrode leads, and so on. All are ready to use at the moment you open the box.
The appliance is also good at precision, even in disadvantageous situations (heavy rain and strong winds, for instance). No protective gas is required, too.
It is a little heavy at the weight of 16 kilograms, which means less manoeuvrability and portability. However, it is still appreciative for the solid construction of the carrying case.
What might encourage you to buy this stick welder is its 3-year warranty. This policy lets all customers within the UK to repair failures of the appliance without any cost, even the shipping, and returning fee.
Pros
Very durable
3-year warranty
High precision
CE approved
Cons
Rather heavy and bulky
Average amperage output
Best Stick Welder Under £500
1 – STAHLWERK AC/DC WIG 200 ST

We have only one candidate for the title "best stick welder under £500", and we find no product more worthwhile than this STAHLWERK AC/DC WIG 200 ST.
Similar to its brother STAHLWERK ARC 200 ST IGBT, this model also uses the modern IGBT inverter technology and robust 200-amp capacity with a prolonged duty cycle. Additionally, your investment is also backed with a super-long 7-year warranty.
This versatile TIG welding machine works with either alternating current (AC) or direct current (DC). Welders can use alternating current (AC) for TIG welding light metals and aluminium, and direct current (DC) for brass, copper, stainless steel, low and non-alloy steels, etc.
Besides, you will also be able to use a lot of extras such as gas post-flow, and gas pre-flow (to prevent the weld from oxidation and protect the tungsten electrode from wear and tear), high-performance cooling, overheating control, current downslope, HF Ignition (non-contact ignition), anti-stick protection, 2T/4T for TIG welding (more control over the current flow).
Thanks to the adjustable AC-TIG pulse width from -5 to +5, users can control the arc cleaning effortlessly by customizing the penetration of the welding torch or the breakup of the oxide ply. In which, the + range is better at destroying the oxide ply, while the – range allows the torch to penetrate the metal deeper.
Pros
7-year warranty
Come with plenty of extras
Work with both AC and DC
Adjustable AC-TIG pulse width
Cons
Best Stick Welder Under £1000

1 – Stamos Power 2125 Aluminium Welder Arc Welding Machine

The Stamos company once again has another fabulous product that appears in this list as best stick welder under £1000 – the Stamos Power 2125.
It is a professional unit, a beast for MMA welding or TIG AC/DC welding with the incredible power of 220-amp amperage, 230-V voltage, and High Frequency (HF) Ignition.
This flexible unit enables users to work with either direct current (DC) for hard metals such as brass, steel, and copper, or alternating current (AC) for light metals like titan or aluminium.
The electrode diameter is from 1 to 3,2 mm for TIG welding and from 1 to 4 mm for MMA welding. In different modes (TIG, WIG, and MMA welding), you can adjust the amperage of the direct current (DC) from 170 to 220 A.
Plus, the pulse function will increase the power momentarily without affecting the temperature so that you can create more precise and cleaner welds without effort.
Made from high-grade steel, the case feels strong and heavy. But you can move this 18-kilogram machine with less effort owing to the integrated handle and neat design.
To prevent overheating, the Stamos Power 2125 is equipped with a torch cooling gas and a device cooling power ventilator. With these double measures, you do not have to worry that this high-capacity appliance will become too hot.
Pros
Ergonomic design
High value for the price
Versatile modes
Keep cool well
Cons
Conclusion
Throughout our article of the best stick welder reviews UK, we have presented you with the best stick welders in all price ranges from under £100 to £1000.
After determining your budget, just use our buying guide to see which products suit you most in your affordability. However, we recommend purchasing something that is a little more expensive yet provides more value.
Now go out there and shopping!