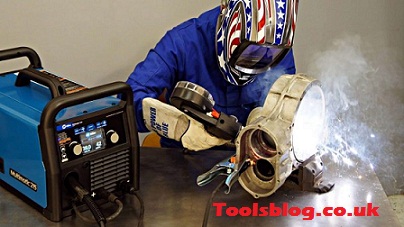 A TIG welder is ideal for not only home but also commercial use. With powerful features and optimal design, this fellow is simply unstoppable and suffice it to say nothing is outside its ability. People have been making use of his wielder to fix their applications, vehicles, and all sorts of other purposes.
What about you? What are you actually looking for on this quest for the supreme TIG welder? The price? The excellent performance? Is it something designed for easy-peasy jobs only or can nail every heavy-duty task you load onto it?
Well, it does not matter what your criteria is, you can find all you ever need in our best TIG welder reviews UK below. Well then, let's go and get the shopping done, shall we?
What Is a TIG Welder?
TIG welders are powerful welding machines. Using a non-consumable tungsten electrode, these welders allow their users to weld thin sections of copper alloys, magnesium, aluminium, and stainless steel.
Here comes something that may hold your interest. TIG welding machines let you have better control over your welds in comparison with gas metal arc welding or shielded metal arc welding. Long story short, they provide you with stronger and more premium quality welds.
However, these welding devices only manage to leave their rivals far behind in terms of welding only, the other factors are a different story. Truth be told, their speed can be quite a downer. And They are even more complicated and harder to employ.
Advantages & Disadvantages of TIG Welding
Do you want to get to know TIG welding from all sides? Well, here are the following benefits and drawbacks of this very method:
Advantages
Precision – You can achieve detailed accuracy when going for TIG welding. Thanks to the transparent arc (the result of inert gas shielding), you might observe the electrode in the weld puddle with no problem at all. Furthermore, the TIG welders tend to spatter less than the majority of welding options, not to mention it controls the temperature better.
Versatility – You will not need to use a filler metal for joining two pieces of material each other as TIG welding can do that without filler material. Also, it enables you to weld various metals, even non-ferrous ones like aluminium or copper.
A variety of positions and applications – There are many different materials that you can apply TIG welding on for numerous projects such as vehicles, furnishings, or industrial equipment. For fixing your projects with multi-position such as thickness, vertical, or horizontal dimensions, TIG welding is an efficient solution.
Complex material welding – In case you need to weld metals with a high melting point like tantalum, the best choice is TIG welding. How come? Well, It offers two chambers, and one of them is excellent for welding refractory materials, including titanium, tungsten, niobium, and molybdenum.
Non-consumable Electrodes – Most of the time, those who are using consumable welding devices will have to stop the unit at first. Well, with TIG welding, you can do away with this infuriating issue for good. It provides superb welds every time without stopping the machine for putting in place of the electrode constantly.
No-flux – TIG welding lets you take advantage of inert gas, which helps to shield the melting materials. Thus, you do not have to equip any flux for TIG welding. You may avoid hassles of slag. Neat!
Clean weld – The welds in metal arc welding are often attractive and look nice. Alternatively, it will affect the whole appearance of the work.
And when talking about clean welds, there is almost nothing that can overthrow TIG welding. The welds from this welding type look attractive at first, not having to finish later.
Disadvantages
Time-consuming process – You will need plenty of time to complete the welds with TIG welding. Meanwhile, regarding time and speed, TIG welders are pale in comparison with other welding devices. Additionally, the filler deposition rate in TIG units is lower.
Complication – TIG welders are not easy to use. Their appliances are complex, and the TIG welding type mainly applies to the thin metals. Therefore, they are more of a machine for professional use rather than a simple, easy-peasy tool anyone can get accustomed with.
High-cost – In addition to the cost of TIG welder, you will have to cover the expense for inert gas. And this is where things go down. You see, this gas is expensive in comparison with any flux material utilized in other welding types. Above all, inert gas does not have a cleaning feature, so you need to clean it properly before starting.
Safety issue – Friendly warning: The UV rays produced by TIG welding come in high volume. It can pose a threat to your eyes if you are not wearing safety gear. While working, It would be best to equip yourself with gloves, glasses, and an auto-darkening helmet.
What To Consider When Buying The Best TIG Welder?
Have you decided to invest in a TIG welder? So, you ought to know how to choose the quality model. Let's consult the considerations below:
Input Power
Input power should be put on top of everything else as it determines which jobs the welder should handle. For example, a machine with a high input power would be a great match for heavy-duty welding jobs and vice versa.
Bear in mind that there is a limit in power range for these welders. Although most TIG welders have an automatically adjustable AC and DC, you cannot exceed the maximum level of input power.
In case you desire to choose the TIG welder with proper input power, it would be best to put the materials you want to weld into consideration.
The most common materials we would like to mention are aluminium and steel, which are different in gauges as well as thickness. For these dense metals, you'd better choose high input machines. We also remind you that direct current is appropriate for hard metals like stainless steel.
Duty Cycle
The continuous operation capacity of welders depends on the duty cycle. You can get a hold of the duty cycle of a TIG welder by seeing the total active time (calculated to ratio) or percentage, in particular, 10 minutes for welding devices.
What should your operations include? If there is dense metal involved, a high DC welding machine is ideal. You can save a lot of time waiting for the device cool down.
On the flip side, your welding jobs are light; you might consider machines with a lower duty cycle. They will help you complete the tasks without hindrances
Keep in mind that the main factor of TIG welder's duty cycle is the cooling system. Once you increase the power, DC will be reduced as the input power makes the rate of heating increase overworking the cooling system.
Just so you know, in today's review, you are not likely to find cheap welders with DC of 20% (fitting soft metals and light tasks). Instead of that, we choose to give you the quality options at affordability. Rest assured that they can operate for 6 minutes at best within a 60% duty cycle.
Construction
It goes without saying that weight is a big deal when it comes to welders. And no doubt about it, anyone would give lightweight items a big thumb up. They are more portable than the bulky and heavy machines.
Nonetheless, lighter welding devices are not often suitable for heavy-duty or professional jobs. Some even come alongside handles of poor quality, which is easy to break while lifting. But worry not as we will only introduce you to those whose handles are their highlights.
Anyway, back to the matter at hand. For the heavier welding units, those who run an individual workshop would love to have one by their side. They are also appropriate for professionals. If you need to move or carry it, you may equip a four-wheel cart.
Automation
TIG welder equipped with digitization and automation, particularly, automatic balance or high-temperature shutdown, will help remove all the challenging parts from your welding. These factors are also necessary for your welder maintaining.
In terms of suitability, digitized and automated machines are going to do wonders for the amateurs as there is nothing overcomplicated about them. But again, they are far too simple, so they are off the list for experienced workers.
Digital Display
Not all TIG welders are equipped with a digital display. We recommend all including beginners, amateurs, or professionals, who ought to optimize to choose the device coming with this feature. It can help you follow the regulation related to the output power, voltage, and material from the manufacturers precisely.
In addition to that, preset voltage and ampere is also helpful for operation demanding a high accuracy level.
You have grasped them all? Nice! Those are the pivotal factors you must keep in mind the next time you are off to the store seeking a new TIG Welders. We will now move on to the parts that you have been longing for the whole time: The product review! Let's see which one has what it takes to put the rest in the shade.
Best Tig Welder Reviews UK 2022
Best Tig Welder Under £200

1 – Röhr HP-160L TIG ARC Welder –

Best for Small and Medium Fabrication Jobs
With the medium and small welding jobs, you do not have to pay too much. A quality and good-price welder is sufficient for your needs. Well, the Röhr HP-160L TIG ARC Welder will be one of the best selections.
Being the best TIG welder under £200, the Röhr HP-160L enables you to use it on a variety of materials such as copper, steel, stainless steel, brass and others. You can utilize it for both MMA Arc and TIG Argon Gas welding.
It is noticeable that DIYers, metal fabricators, security metalwork specialists, or tradesmen enjoy using MMA Arc welding. The purpose is to create clean welds. Also, we record the intuitive design from this device (including lightweight and portability) for DIY and experienced users.
No disappointed! We claim that the Röhr HP-160L is powerful when welding. But, how much does 160A welder have power?
Don't appreciate it lowly! According to the feedback of consumers, the maximum thickness that you can have got when using this welding machine is 4-6 mm. This is an ideal number of a welder at the lower price range.
Moreover, the Röhr HP-160L features thermal overload protection, anti-stick, and auto hot start, plus, attached with many accompanying items. Ensure that your welding work is optimal and you can save your budget for paying to these accessories.
Pros
Easy and simple controls
Fine with argon gas
Small gun easy for small delicate areas
Not too heavy or large
Strong and steady
Cons
Hard to alter the angle while welding
2 – Röhr HP-200PP TIG ARC Welder –

Best for Brand
The power tools from Röhr are good enough to use. Their price is various and reasonable, depending on the money pocket and the attached features. For example, the Röhr HP-200PP TIG ARC Welder, the dependable selection of novices, is multi-feature and affordable.
Just like the Röhr HP-160L, you do not have to worry about the size or weight. The product dimensions are 40 x 16.5 x 31.5cm in turn, built up with a solid handle. So, you can carry the 9kg welder in ease. No problem!
How is the ability to weld? Yes, the amperage capacity is higher than the HP-160L, the thickness welded by this welding machine is thicker. At least you can weld the 5mm materials.
Talking about the welding metals, you are probably surprised as you might use it for multi-material, steel, copper, stainless steel, and coloured metals (e.g, copper) included. And when welding, you will have 60% of welding time and 40% of the off-time. This is the optimum duty cycle for a welder.
What's more, when the machine strikes the arc, it will start the hot start feature. And there is the thermal overload protection, which prevents the motor from overloading. Ensure that safety parts during welding.
Pros
Good duty cycle
Ease in using
Very nice welds
Versatile and powerful
Lightweight
Cons
The incorrect AMP dial
Useless handheld welding helmet
Best Tig Welder Under £300
1 – Röhr HP-250PP TIG ARC Welder –

Best for Beginners
Being a welding novice, you can only need something affordable, but it still ensures the ability to weld well, for example, the Röhr HP-250PP TIG ARC Welder, the best TIG welder under £300.
Röhr? It has gradually become a familiar name in the welding machine market. By combining breakthrough technologies, the devices from this brand are innovative and capable on the market.
Typically, the Röhr HP-250PP features the MOSFET transistor – the advanced technology. It combines with the compact size in 40 x 16.5 x 31.5 cm and lightweight about 9 kilograms. As a result, the performance can reach up to 85 per cent efficiency; you will have got the stable welding current and perfect welds.
For the shorter arc, this welder has ARC Force, which helps to increase the current automatically. And Hot Start contributes to facilitating the ignition of the arc. Then, the voltage of the device will quickly return the initial setting after ignition. Beneficial!
On top of that, you can use the Röhr welding machine for TIG and MMA Arc welding.
Depending on your needs and welding materials, you can choose either TIG welding with a non-consumable electrode or MMA welding supplied from a coated electrode.
Have you decided to add the Röhr HP-250PP to your cart? Well, the product comes with a variety of accessories and offers a 12-month warranty. When meeting any problems related, you can call the UK hotline to receive support. Completely free!
Pros
Smooth welds
Easy to set up
Portable
Great customer service
Very powerful
Cons
Loss warranty if you change the power plug
2 – ANDELI 200AMP TIG & MMA/ARC/Stick –

Best Quality at Affordability
The next TIG welding machine under £300 that we want to give you is the ANDELI 200AMP. It is an ideal option for those who are looking for an enough-good welder without breaking their money pocket.
With the priority for safety, the ANDELI TIG200A-HF delivers a range of protection features for users, comprising safeguards of excessive voltage and current as well as overheat.
Importantly, owing to the High-frequency ARC starting function, welders can start to use the machine immediately with no-contact ignition, which also prolongs the tungsten lifespan and guarantees a more satisfactory performance.
Another good news is that this product is covered with a 12-month UK warranty that allows customers to repair or replace defective and damaged parts for free.
The ANDELI TIG200A-HF is appropriate for welding stainless steel, steel, copper, bronze, brass, nickel alloys but not aluminium and aluminium alloy because it is not an AC/DC TIG welder. So, it is not a good option if you have to work with aluminium frequently.
On the digital control panel and LED display, welders can observe and adjust different parameters such as amperage, pre-blow, or gas delay for easier operation and more accurate handling.
With a long duty cycle, the 200-Amp power can be sufficient for you to complete any hard project at ease. Besides, the appliance is also integrated with a large number of essential extras such as Hot Start, overheat control, fast cooling fan, and anti-stick protection.
Pros
12-month warranty
HF ARC start
Overheat, over current, and over-voltage protection
CE approved
Cons
3 – STAHLWERK DC TIG 200 ST Welder –

Best for Portability
Let's look carefully to avoid mistaking with the above welding machine. STAHLWERK has cut down alternating (AC) current out of the STAHLWERK DC TIG 200, the best TIG welder under £300. That's why it is lighter and cheaper.
Saying like that, you can only use DC TIG welding for welding steel materials and stainless, not using for aluminium. Although there is a little regrettable, this STAHLWERK welder is more portable.
The 390 x 170 x 275 mm product dimensions are compact. Plus, there is a solid handle, moving the 7.6kilogram welding device to become easier than ever.
How about the ability to weld? Despite only having DC TIG welding, the STAHLWERK DC TIG 200 is appreciated on the power. It has innovative IGBT inverter technology, running with a maximum of 200 amperes.
As far as we know, a 200-Amp device might weld between 7.9 mm. And at 200 amperes, you can reach up to the optimal duty cycle that many experts often mention, 60 per cent. This number means the sign on 60% and the off-time at 40%.
Moreover, just like the STAHLWERK AC/DC WIG 200, this unit also has the WP-26F welding torch made from copper. It is durable and interchangeable with torches from other brands.
The product is a reliable choice to weld on stainless steels, low-alloy steels, brass, copper, and more. Don't ignore this portable TIG welder if the characteristics listed above have persuaded you.
Pros
Powerful
Long-lasting warranty up to 7 years
No problems when running all a day
Stability
A supply of gas for stainless steel
Cons
Not ready to plug
A requirement of a continental adapter
Best Tig Welder Under £500
1 – Röhr WSME-200 ARC TIG Welder –

Best for DIYers
The next product is a familiar name. We choose an option from Röhr to introduce to you because it is quality and has a reasonable price, typically, the Röhr WSME-200 ARC TIG Welder.
Equipped with the advanced MOSFET transistor, the WSME-200 ARC TIG has achieved the optimal standard of performance, providing users with the stable welding current and perfect welds. The efficiency can reach up to 85%. Wonderful!
Even this welder is greater when offering the 4-in-1 functionality, including AC, DC, 2T, and 4T. The number folds double in comparison with the Röhr HP-250PP. Whatever you use it for MMA Arc welding or TIG Argon Gas welding, it is okay.
In a case of the shorter arc, ARC Force feature will help to increase the current automatically. And the electrical arc ignition is also extended, owing to an automatic hot start.
More importantly, the product attaches with many accessories such as clipping hammer, mask, earth clamp, and wire brush, helping you save a significant budget. It is also reliable when Röhr gives customers a limited warranty in 12 months.
Being a DIYer who is searching for a TIG welder to buy, you should not ignore the Röhr WSME-200. It is excellent enough for your projects. Let's try experiencing it!
Pros
Versatile
Sturdy during use
Great feature set
The reasonable price
Well solid built up
Cons
A little heavy
Lots of control with a TIG
2 – R-Tech Tig160PDC Tig Welder –

Best for Design
We continue giving you another TIG welding machine under £500 that you can consider investing in – the R-Tech Tig160PDC. The product is the ideal answer to the question: What is the best TIG welder for design?
First of all, the welder dimensions are 425 x 195 x 310mm in turn. Super compact! With such the size, you can store it anywhere you want.
R-Tech has not built up the handle like STAHLWERK, instead of that, being an adjustable tension strap. Enable you to adjust the length to hold in hand or wear on the shoulder. So flexible! You can comfortably carry a 13kilogram TIG welder like your way. Even, if you do not like or the strap breaks, you can easily replace another.
Additionally, the R-Tech Tig160PDC creates a nice impression on consumers with outstanding features.
The most impressive thing is Inverter technology. You can change the utility AC power to DC and versa vice. Frequently, the switching ranges 10 kHz or more.
Though the 35% duty cycle seems low, this TIG welder from R-Tech has 160A output, 240V input, and pulse welding feature. All contribute to creating better welds.
Pros
Warranty in three years
Various accessories
Ideal for a small garage
Extremely robust-looking metal case
Cons
3 – STAHLWERK AC/DC WIG 200 TIG & ARC MMA –

Best for Home Use
Your budget is larger a bit, and you would like to find a better quality welding device to serve for welding at home. So, we strongly recommend the STAHLWERK AC/DC WIG 200 to you.
Being the AC/DC TIG welder, you may use it for different welding purposes. For example, if you weld steel, DC will be appropriate; and AC is ideal for aluminium.
Besides, this welding unit comes with ARC MMA Stick function. As known, it makes the surface of the workpiece and the rod melt and then forms welds. Regardless of non-ferrous materials, stainless steels, steels, or cast irons, you can apply the MMA welding on them.
Hence, it is no coincidence that many customers prioritize to select the machine from STAHLWERK like the best TIG welder for home use. It is too flexible and dominant on the features.
Notably, there is a WP-26F welding torch whose features are tough, durable, and easy to adapt and change. You can interchange it with many different brands. Super beneficial!
And you even feel more advantageous when seeing an array of extra features such as HF ignition, overheating control, optimal-performance cooling, anti-stick, and more. Not only does it help to simplify your welding jobs, but you can also have got better welds.
View from different angles, the STAHLWERK AC/DC WIG 200 has both the premium quality and the optimum warranty for up to 7 years. What are you waiting without adding it to your buying list?
Pros
Nice welds
Good HF start
No problem welding alloy wheels
Useable for professional jobs
Speedy and accurate
Cons
Little leakage at gas coupling
No pulse function
Best Tig Welder Under £1000
1 – STAHLWERK AC/DC TIG 200 Pulse ST Welder –

Best for Aluminium
Would you like to find the TIG welder for a specific material, aluminium? Yes, bright candidates for this need is the STAHLWERK AC/DC TIG 200 Pulse ST, the best TIG welder for aluminium.
If you ask us what to make this welding machine be an optimal selection for aluminium, the answer is TIG pulse function – pulse welding.
Generally, we will set the desired maximum amperage on the welder and then use our foot pedal to control the amp output throughout TIG welding. Similarly, for pulse welding, you also control the operation with the pedal foot, plus, a pulsed waveform from the TIG torch, not being a constant amperage.
Thanks to that, you can apply it for welding thin metals or non-ferrous materials such as copper alloys, aluminium, and magnesium.
What's more, the device has Overheating Protection, which gives you optimum welding performance without burning out the parts. When welding, you might even adjust pulse current, pulse frequency, and pulse width. So good!
The last one is a 60% duty cycle at 200 amperes, considered the best duty cycle for welding.
Pros
Delighted with fine settings
Perfect welding controlling
Great for professional use
Successful welding on stainless steel and aluminium
Sturdiness and stability
Cons
Not able to turn off HF ignition in TIG operation
Poor instruction
2 – STAHLWERK AC/DC TIG 200 Puls D –

Best for Professional Welding
Starting your professional welding jobs with the best TIG welder under £1000 like the STAHLWERK TIG 200 Puls D is the right choice. It allows you to perform many welding types, AD for aluminium welding, DC to weld non-alloy metals and low-alloy materials, pulse welding, hand welding included.
When you adjust the amperage at 155 amperes, you can use it with 100% maximum duty cycle. However, fewer people use the maximum duty cycle, instead of that, being a 60% duty cycle at 200 amperes. It is better for all welding types.
Serving the heavy welding jobs, your welder needs the premium power and the long-lasting running time. Feel secure! The manufacturer, STAHLWERK, does not make you disappointed about their product.
They have built up a high-performance cooling system. How long your welding work lasts is no problem because you can use the STAHLWERK TIG 200 Puls D as desired.
Don't stop. This welding device has a range of useful extra features to support professionals, starting current, gas lag, gas low, current reduction, current increase, and more. Therefore, the maker is confident to give customers a long warranty for up to 5 years.
Pros
Lightweight
Compact size
Very good quality accessories
Very well in all its functions
Burner with the flexible neck
Cons
Sharp sheet metal housing
Less flexible torch head
3 – Stamos S-ALU 220 Power Aluminium Welder –

Best Value for Money
The TIG welder at this price range is worthy of using. Not only is the quality more premium, but the durability is also better. Well, we are mentioning the Stamos S-ALU 220, a valuable welding unit for the money.
The machine is constructed with a solid steel case. Many consumers prefer this because it is more durable and less scratched if compared to aluminium. Combining with the integrated handle, carrying and moving becomes easier and simpler.
The 48 x 24 x 50 cm size gives the 18kilogram weight. It is a little heavier than two units from STAHLWERK above. Still, customers appreciate that it is compact and handy. The construction has helped the S-ALU 220 turn things around.
In terms of the operation, the devices at the same price range are hard to beat it because of having two current modes to work. You can weld titan and aluminium with the AC while the DC is utilized for welding brass, steel, and copper.
Moreover, there is a pulse function that lets you work on the light and thin sections of metals, increasing the power without making the temperature difference. Is it great?
Pros
Well-made
High accuracy
Versatile
Portable
DC+ or DC- or AC in stick mode
Cons
Poor instruction manual
Hard to weld aluminium because of the low amp
Top 10 Best Mig Welders UK 2022
Top 10 Best Stick Welders UK 2022
On the Whole
For the time being, you have read the entire our best TIG welder reviews UK, haven't you? Well, you can have your proper selection for your needs and budget.
For a limited budget, you can consider the welding devices under £300 or £500, of course, including the demand. Being a DIYer or beginner, the Röhr HP-250PP or the Röhr WSME-200 is ideal. If you want something lighter or more portable, there are the fitting machines to these needs.
And the more expensive TIG welders do not have to argue further. They are of higher quality and suitable for all as long as you can pay for them.
How? Let's tell us your decision!