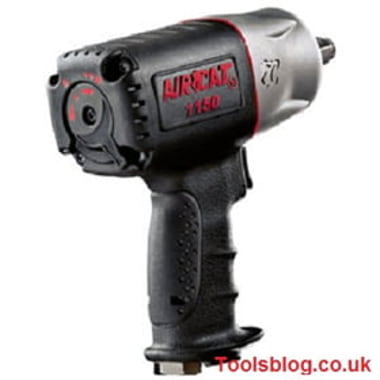 Pneumatic impact wrenches aren't as predominant as they once were. Instead of finding the best air impact wrench UK, more and more people are looking for alternatives like electric versions. Those battery-powered tools are typically cheaper and more convenient to use.
That said, air-powered impact wrenches have many advantages that keep them on the map. In fact, in many critical scenarios like F1 pit stops designed for changing car wheels, they are still the best bet.
If you find that pneumatic is indeed the most appealing choice after considering every aspect, consult these air impact wrench reviews UK below to get the suitable tool for your work.
What's An Air Impact Wrench?
An air impact wrench (also known as a pneumatic impact wrench) is a power tool designed for tightening and loosening nuts and bolts by using compressed air as the power source.
Typically used in construction and automotive industries, but these impact tools are also popular among the DIY community for smaller automotive projects.
In simple words, high-pressure air enters an air-powered impact wrench and spins its rotor at high speed, which, in turn, applies strong rotational force in short bursts (hence the name impact).
This short duration of impact allows impact wrenches to deliver a much higher torque output than manual torque wrenches. As a result, they improve productivity and can handle the toughest lug nuts with minimal effort from the user.
How To Choose The Best Air Impact Wrench?
Torque
The torque produced by an air impact wrench is the most direct and important specification to describe how powerful it can be. It's also the first thing to determine whether an impact wrench is compatible with your setup and able to help you with your mechanical work.
Like most rotating tools like drills, Newton metres (Nm) is the most commonly used unit to present torque produced by an impact wrench, although you may encounter some manufacturers using pound-feet (lb-ft) in their product specification sheets (1 lb-ft equals approximately 1.356 Nm).
The rule is the higher the torque, the stronger the spiking force applied to the mechanical fastener (bolts or nuts).
It might seem that a higher torque is always desirable. But a too powerful impact wrench can damage your working material and shear off the bolts if the torque applied goes beyond their strength.
In addition to a regular maximum torque value, many manufacturers provide "nut busting" or "breakaway" torque measurement. It's when the torque happens during the initial burst of the loosening and matters a lot if the bolt removal mode is used the most.
By using an extra amount of pressure in the beginning, an air impact wrench has more than enough power to loosen up even a stuck bolt or nut before switching to a lighter force for the remainder of the process.
Most models come with torque adjustment as we don't always need the highest force of an impact wrench. The best compact air impact wrench for professionals should have several torque levels to choose from, while small DIY wrenches usually have just a few.
Drive Size
Air impact wrenches feature a square drive, in either 1″ (2.54 cm), 3/4″ (1.91 cm), 1/2″ (1.27 cm), or 3/8″ (0.953 cm). There is nothing significantly different between them and battery-powered impact wrenches concerning the size of this square drive and the impact sockets.
The best air impact wrenches should match the socket set you plan to use, which ultimately boils down to the size of fixings you need to work on. Larger wrenches can accept larger impact sockets to drive bigger bolts and nuts.
Speed
The rotational speed of an impact wrench (measured in revolutions per minute – RPM) is not about the energy like torque but the speed at which the socket will turn.
Manufacturers usually give this information as "no-load speed" or "free speed". It's the rate at which the impact wrench rotates with no load.
The actual rotational speed will be lower due to the energy required to loosen and tighten the fixings. Still, this speed should be good enough for comparison purposes between different impact wrench models.
It affects how many bolts and nuts you can tighten or loosen in a fixed duration – a crucial factor for professionals who usually need to work on several fixings quickly.
Air Requirements
As you will need an air compressor to power your air impact wrench, make sure that it can handle the air demands of the wrench.
Notice the air consumption (either in cubic feet per minute – CFM or litres per second – l/s) and operating pressure (given in pound-force per square inch – PSI or bars) specifications on the impact wrench.
Best Air Impact Wrench Reviews UK 2022
| Air Impact Wrench | Speed | Breakaway Torque | Max Torque | Size | Dimensions | Weight | Editor's Rating |
| --- | --- | --- | --- | --- | --- | --- | --- |
| Ingersoll-Rand 36QMAX | 8,000 RPM | 815Nm | 640Nm | 1/2" | 11.68 x 6.1 x 18.03 cm | 1.2 Kg | 4.7/5 |
| Ingersoll-Rand 2135QXPA | 11,000 rpm | 1490Nm | 1057Nm | 1/2" | 18.8 x 6.86 x 18.29 cm | 1.8 Kg | 4.7/5 |
| AirCat 1150 | 9,000 RPM | 1756Nm | 900Nm | 1/2" | 19.05 x 7.11 x 17.78 cm | 2.04 Kg | 4.7/5 |
| Hazet 9012M | 10,000 RPM | 1100 Nm | 678Nm | 1/2" | 17.5 x 19.5 x 7 cm | 1 Kg | 4.8/5 |
| Brilliant Tools BT160100 | 8,500 RPM | 1450 Nm | 870 Nm | 1/2" | 31.2 x 23.4 x 11.6 cm | 2.39 | 4.6/5 |
We've scoured the market and gone through several models to find the best air impact wrench UK. Each of them has distinct advantages that you may find valuable in certain situations.
1. Ingersoll-Rand 36QMAX 1/2 Inch Ultra-Compact Impact Wrench, 1 Unit, 1/2″ –

Best For Compact Design
Brand: Ingersoll-Rand
Drive size: 1/2 inch (1.27 cm)
Breakaway torque: 815 Nm
Weight: 1.2 kg
Free speed: 8,000 RPM
Maximum torque: 640 Nm (470 ft-lb)
Stubby impact wrenches, like the Ingersoll-Rand 36QMAX, are a design that always sees a huge demand from customers. The 36QMAX weighs just 1.2 kg and measures only 60x181x117 mm, allowing you to go into tight spaces that are impossible with regular impact wrenches.
The good news about the Ingersoll-Rand 36QMAX and this ultra-compact construction is that it can pack a punch when needed.
The 815-Nm breakaway torque is decent, and the maximum fastening torque of 640 Nm can help you with plenty of tasks. Overall, the 36QMAX has one of the most impressive power-to-weight ratios you can get.
Like most impact wrenches, the forward/reverse switch is located on the back rather than near the trigger. This placement makes switching the direction on the fly a breeze.
The free speed is on the slower side at 8,000 RPM, but this impact wrench can still deliver 1,300 blows per minute – not too bad for such a compact power tool.
Like the 2135QXPA, you can run into issues with warranty claims through online stores, and some parts like the anvil can break off prematurely.
Pros
Ultra-compact design
Great power-to-weight ratio
Ergonomic design
Cons
Unpleasant warranty experience
Questionable durability with some parts
2. Ingersoll-Rand 2135QXPA Air Impact Wrench Composite –

Runner-up
Brand: Ingersoll-Rand
Drive size: 1/2 inch
Breakaway torque: 1,490 Nm (1,100 ft-lb)
Weight: 1.8 kg
Free speed: 11,000 RPM
Maximum torque: 1,057 Nm (780 ft-lb)
The Ingersoll-Rand 2135QXPA is comparable with the AirCat 1150 in many aspects at a slightly more approachable price tag, making this air impact wrench a viable alternative when you have other investments on the waiting list as well.
Ingersoll-Rand designed the 2135QXPA as a professional-grade impact wrench for industrial workers and automotive technicians who don't want to sacrifice too much performance and power. You can see it as a budget version of the famous 2135TiMAX.
As one of the best cordless impact wrenches, it's very lightweight at 1.8 kg, so users can always get their job done with their arms feeling less tired and fatigued at the end of the day. But don't underestimate how much power it can produce in the face of the hardest tasks.
This air impact wrench is a heavy hitter. Its nut-busting torque is 1,490 Nm, while for regular forward/reverse actions, the Ingersoll-Rand 2135QXPA can put out a torque of up to 949 and 1,057 Nm, respectively. Much like the AirCat 1150 below, removing lug nuts and rusty bolts should be no challenge for this impact wrench.
This high-end tool can deliver 1,250 blows per minute at a free speed of 11,000 RPM. However, you don't need to worry about the noise. For such a powerful tool, it's surprisingly quiet with a no-load speed sound level of 86 dB.
There is no high-pitch sound when the trigger is pulled or anything like that – which are common issues for air-powered impact wrenches. Now you have to put up only against the hammer, just like how quiet electric models work. If you use the Ingersoll-Rand 2135QXPA in your home garage or DIY workshop, your family and neighbours will appreciate your choice.
Keep in mind, though, while Ingersoll-Rand offers the same two-year warranty as AirCat, claiming it through online retailers may be a hassle compared to buying directly from authorised distributors.
It can become a painful experience when you need to replace the socket or the ring – the parts of this air impact wrench usually wear out the quickest.
Pros
Professional-grade tool with amazing torque outputs
Reasonably priced given its performance
Quiet
Lightweight
Cons
Tricky warranty policy through online retailers
Some parts wear out faster than the AirCat 1150
3. AirCat 1150 ½ Inch Composite Air Impact Wrench –

Best Overall
Brand: AirCat
Drive size: 1/2 inch (1.27 cm)
Breakaway torque: 1,756 Nm
Weight: 2 kg
Free speed: 9,000 RPM
Maximum torque: 900 Nm
When it comes to the best of the best, it's hard for competitors to beat the power and construction of the AirCat 1150 "Killer Torque."
This heavy-duty cordless impact wrench carries so many impressive features that easily please any user, even the pickiest. When using the "Killer Torque" name, AirCat refers to the amazing maximum breakaway torque of 1,756 Nm.
The AirCat 1150 is undoubtedly a significant investment (the most expensive product on this list), but the amazing nut-busting ability allows this 1/2″ impact wrench to effortlessly remove most wheel nuts in a fraction of a second.
The twin hammer mechanism with a 9,000 RPM no-load speed and an impact rate of 1,400 IPM is also helpful, providing this cordless impact wrench with enough power to break loose even the most stubborn lug nuts.
This air impact wrench's standard torque for tightening is not less impressive either. At 900 Nm with three position settings, the AirCat 1150 can secure every bolt and nut that fits your impact socket with ease.
The ergonomic design and forward/reverse flip lever means less time required to get used to it and more convenience and ease of use in the field.
Another highlight of this impact wrench is its patented, quiet tuned exhaust. The noise level during operation is 86 dB – more than decent for a powerful tool like that.
High-performance machines usually come with beefier components and heavier weight; surprisingly, it's not the case for the AirCat 1150. At 2 kg (4.5 lbs), it's not exactly lightweight but not too heavy for common automotive and construction work.
Built with a combination of metal and composite materials, the AirCat 1150 is a little bigger than the rest of this list, measuring almost 20 cm in length. The powder-coated finish helps improve its durability and protect the wrench against common problems like corrosion and rust.
Users of the AirCat 1150 enjoy a two-year labour and parts warranty from this American manufacturer, which has received warm feedback for its customer service, even for British customers.
This guarantee and the sturdy exterior housing should help the wrench survive typical wear and tear.
Pros
High torque (for both heavy-duty loosening and tightening)
Ergonomic design, not too heavy
Sturdy construction with a composite body
Smooth control
Fairly quiet
Two-year warranty
Cons
More expensive than other options
Not suitable for working in tight spaces
4. Hazet 9012M 1100 Nm Impact Wrench Extra Short – Black/Blue –

Best For Ease Of Use
Brand: Hazet
Drive size: 1/2 inch
Breakaway torque: 1,100 Nm (811 ft-lb)
Weight: 1.24 kg
Free speed: 10,000 RPM
Maximum torque: 678 Nm (500 ft-lb)
The Hazet 9012M is also a super short impact wrench with a length of only 113 mm. But what makes it shine the most compared to its peers is how the 9012M allows users to operate with only one hand.
Hazet puts every control you need in the front: the trigger, the forward/reverse switch and the speed settings. This design is usually overlooked, but it's an ideal tool for working on fixings with restricted access – the main purpose of the Hazet 9012M.
Besides the compact and convenient design, every other aspect of this impact wrench also helps the Hazet 9012M accomplish most tasks you ask it to do. This impact wrench has a maximum loosening torque of 1,100 Nm, while the free speed is quite high at 10,000 RPM.
But bear in mind that the maximum fastening torque is only 678 Nm, significantly lower than other high-end models.
With a sound pressure level of 97 dB, this tool might be unpleasant to be around for a long session. There are better choices if you have no tight space to deal with and one-handed operation isn't a must.
Pros
Short, suitable for tight areas
Convenient one-handed operation
Good breakaway torque
Cons
Average tightening torque, not for heavy-duty tasks
Noisy
5. Brilliant Tools BT160100 1/2 Inch Pneumatic Impact Wrench, 1450 Nm –

Best For Budget
Brand: Brilliant Tools
Drive size: 1/2 inch (1.27 cm)
Breakaway torque: 1,450 Nm (1,070 ft-lb)
Weight: 2.2 kg
Free speed: 8,500 RPM
Maximum torque: 870 Nm
The use of air impact wrenches isn't just limited to professional environments like automotive shops or construction sites. The Brilliant Tools BT160100 will appeal to hobbyists, DIYers and car enthusiasts.
It's very hard to find a quality air impact wrench at this price range, but Brilliant Tools has succeeded in this task.
The maximum loosening torque can go as high as 1,450 Nm. Toughest nuts and bolts may require more than a few bursts, but it's acceptable performance and most fixings still come off without a problem.
When tightening, the Brilliant Tools BT160100 lets users choose between many torque settings, ranging from 490 to 870 Nm, thanks to the four-position power regulator. It is quite a drop from higher-end tools, especially when the recommended torque is only 530 Nm.
Users looking for a lightweight and quiet design will also be disappointed. This cordless impact wrench weighs 2.2 kg, and in operation, it's fairly noisy as well.
Pros
Good entry-level impact wrench for hobbyists
Most affordable
Decent breakaway torque
Three forward speeds
Cons
Weaker tightening torque
Not suitable for professionals and heavy-duty work
Heavy and noisy
All of the candidates in our best air impact wrench UK list use the 1/2″ drive size – the most popular impact socket among both professionals and home hobbyists.
But some of them are specifically designed for heavy-duty tasks required by professional mechanics. In contrast, others are largely intended for tight spaces where the situation calls for a stubby tool to get the job done.
Understanding your type of work (such as the best air impact wrench for changing tires or construction) and your personal preference is key to getting the right choice.
Frequently Asked Questions
What Are The Best Air Impact Wrench Brands?
Ingersoll-Rand and Aircat are among the top manufacturers of air-powered impact wrenches. They produce a lot of professional-grade models that can deliver strong torque at high speeds.
You should also pay attention to the affordable products of ACDelco and Brilliant Tools if you prefer a product with the best value for your money.
What Are The Differences Between A Torque Wrench And An Impact Wrench?
A torque wrench is a hand tool that requires you to tighten and loosen the fixings manually.
On the other hand, impact wrenches (including cordless and corded impact wrenches) use compressed air or batteries to deliver much more power and higher max torque during a short period. One of their stand out features is its ability to remove lug nuts and rusty bolts.
What Are The Differences Between Electric And Air Impact Wrenches?
Air-powered impact wrenches have a long history and were the predominant design on the market, especially for professional mechanics work.
However, improvements in battery technology have helped electric impact wrenches gain a significant market share from the best air impact wrenches. They are cheaper, more portable, and don't rely on an air compressor to operate.
With that said, air-powered models still offer a better power-to-weight ratio. They are lighter than most cordless impact wrenches.
Suppose you have a compatible air compressor around. In that case, the best pneumatic impact wrench can deliver a powerful torque that an electric impact wrench can only dream of (to deal with a rusty nut, for instance).
What Are The Most Important Tips Of Using Air Impact Wrenches?
Use only impact sockets: Regular sockets aren't designed to be subjected to powerful torques created by impact wrenches. You may risk damaging the fixings of your machines and equipment.
Apply proper torque: You don't always need to set the force delivered by your air impact wrench to its maximum power level. Too many impacts and too much torque can deform and damage the fixings, while they may get loose quickly if you don't use enough force.
Lubricate them: Most air-powered impact wrenches need lubrication on a regular basis to ensure the hammer mechanism is in good working order and has the correct operation.
What Problems Should I Keep My Mind On When Using Air Impact Wrenches?
Slow running: If you feel that your air impact wrench delivers a weaker torque at a lower rate than it normally does, the problem may come from its power source – the air pressure.
Disassemble your impact wrench and check whether all the connectors are properly attached. Test the pressure coming out of your air compressor as well.
High-pitched sound: Dust, oil and grit can also enter your air impact wrench, and their build-up can cause it to slow down and make squeaky noises as well. Follow the manual instructions to clean your impact wrench to get rid of any dust or oil deposits.
Weak impact: This is a common issue of air-powered tools with poor maintenance. You should lubricate your impact wrench regularly. Otherwise, it will develop wear and tear and more friction. The performance will take a hit, and your air impact wrench may not last as long as it's supposed to.
Final Words
As our air impact wrench reviews UK have shown, these tools are still a viable choice when it comes to loosening and tightening tough fixings. They don't have the same tremendous advantages that are mobility and lower costs as electric models. But pneumatic impact wrenches still pack more punch than cordless competitors in terms of power and weight.
If your budget permits, the AirCat 1150 is our top recommendation for the best air impact wrench UK. Its unparalleled amount of power will help you break loose even the most stubborn rusty bolts and lug nuts. On the other hand, the ultra-compact design of the Ingersoll-Rand 36QMAX makes it the king of tight areas with limited access.