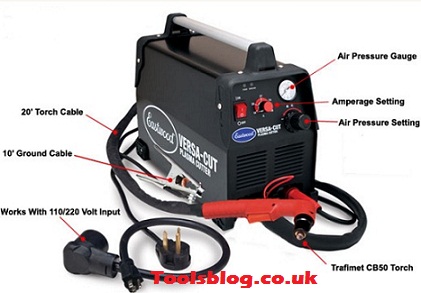 Given that you are in this article of ours, you must be looking for a great plasma cutter to purchase. However, do you fully know what a plasma cutter is, and what its advantages and disadvantages are, how to pick the right tool for yourself?
Yeah, apart from the best plasma cutter reviews UK, we will also solve these critical questions for you in order that you can complete your projects perfectly.
Keep rolling down to learn!
What Is A Plasma Cutter?
A plasma cutter is a device that provides the function of cutting through various kinds of metals, especially conductive materials like brass, steel, copper, aluminium, and more.
When powered, the machine uses the electricity to create an electrical channel of plasma. This channel of plasma is called an arc.
This arc will be sent through a gas (nitrogen, argon, shop air, or oxygen) to heat and ionise its particles, making them electrically conductive to cut through metals easily.
A plasma cutter is widely applied in metal recycling, metal art, industrial manufacturing, automotive repair, fabricating metal, DIY projects, and so on.
Advantages & Disadvantages of Plasma Cutting
Advantages of Plasma Cutting
In fact, a standard plasma cutter manages to cut almost any kind of conductive materials, including both ferrous and non-ferrous metals.
It should works perfectly with common metals such as copper, steel, stainless steel, titanium, alloys, and iron. The list goes on!
Most plasma cutters are very lightweight, and all models are engineered to be portable. In spite of their compact sizes, these appliances still have a high performance.
Plasma cutting can penetrate the great thickness of from 50 mm up to even 150 mm. However, the majority of portable models for hobbyists, DIY-ers, and other beginners/amateur users can merely cut as deep as 10 – 50 mm.
On average, plasma cutting machines are not expensive and do not cost much to operate in the long run. It is energy-efficient, and plasma torches also do not require frequent maintenance and replacement. As we calculated, it only costs half as much as oxygen cutting.
There are CNC plasma cutters that offer maximum precision and high repeatability. Workers can create odd shapes such as curves and multiple intersecting cuts by a highly precise beam.
You can perform beautiful cuts manually, just like drawing lines with a pen. The results are especially good with computer-aided control.
Plasma cutters are easy to use and user-friendly, which can reduce the cost of training workers dramatically.
Plasma cutters can work even underwater, resulting in narrower heat-affected zone (which means cleaner cut), and also reducing the noise and fume levels.
The cutting kerf of plasma cutting is much smaller in comparison with flame cutting.
Plasma cutting uses inert gases so that it is dramatically safer than oxygen-based cutting. There would be no risk of accidental ignition or explosion, both while in storage or use. The plasma cutting gas is only heated during the use of the torch.
Plasma cutting can cut quickly and effectively, penetrating through objects faster than oxyfuel.
In fact, plasma cutting often takes you only one-fourth of the duration of most comparable techniques to cut a metal piece. Besides, short process time also alleviates the risk of erroneous cuts, metal abrasion, or distortion.
Disadvantages of Plasma Cutting
The heat-affected zone and kerf that plasma cutting creates are wider in comparison with laser cutting.
The cutting quality with thin plates and sheets is not as high as laser cutting.
Tolerances of plasma cutting is less precise than laser cutting.
No plasma cutter can cut through the maximum thicknesses that flame cutting or waterjet can cut. Its fleeting nature of plasma makes it ineffective against thick or dense metals.
Plasma cutting typically leaves a wide heat-affected zone that waterjet does not.
Plasma cutting emits annoying noise when penetrating thick sections.
There is fume and arc glare when you perform plasma cutting in air. You should wear a safety helmet or mask to protect yourself from sparklings.
You have to pay for the costs of consumables (electrodes and nozzles) when they break down. Moreover, it may be challenging to fabricate the plasma mix if there is no specialist equipment on site.
How To Choose The Best Plasma Cutter?
Safety features
Safety is always the foremost factor when working. Your plasma cutter should have as many safety features as possible.
We recommend that you should use models that come with overload protection, over-heat protection, over/under-voltage protection, air pressure protection, etc.
Duty cycle
The length of the duty cycle is the amount of time your plasma cutter can work continuously without overheating and turning off. After the machine has completed a full duty cycle, you have to wait for it to cool down before you can use it again.
Therefore, if you plan to use your plasma cutter for a long time per session, go for models with a long duty cycle.
Electrical Output
Every machine has different electricity requirements. For example, some plasma cutters are only compatible with the power of 220 or 120 volts. Meanwhile, a few dual voltage models are able to handle both.
To create a good arc, the capability of switching between two voltages is critical.
Portability
If you often have to move the tools between places, buy yourself a lightweight and compact plasma cutter. The most lightweight models may weigh only 6 – 8 kg, while the average weights are 10 – 12 kg. You can also meet some products that weigh up to 30 kg, but they are often used for heavy-duty industrial works.
Also, it should come with a shoulder strap, carrying handle, and long cables for easy transportation. Nonetheless, be aware that the more portable a plasma cutter is, the shorter its duty cycle is.
An Air Filtration System Or An Air Compressor
A plasma cutter needs to pair with an air filtration system or an air compressor to have air while cutting. So, you had better buy a model that has an integrated air filtration system or air compressor.
Otherwise, you must buy an external air compressor that meets the requirements of your device.
Cutting capability and performance
Think about the different types and thicknesses of the materials you are going to work with before buying a plasma cutter. For example, if you need to make cuts on titanium, steel, copper, and brass, opt for a machine that can handle these metals.
And how deep the equipment can cut will depend on its amperage. The higher its amperage is, the deeper it can cut.
CNC table or free-hand use
Think about whether you will cut your workpieces on a CNC table or do that free-hand. If you want to work on a CNC table, you must buy a plasma cutter that can be hooked up to it.
Only plasma cutting or both cutting and welding?
The chances are that most workers who use a plasma cutter will need a decent welder sometimes. Therefore, if you have not owned any welder, consider buying a dual-function device that can both cut and weld metals.
Replaceable parts/ Consumables
You may need to utilise a lot of consumables when using a plasma cutter, which can cost you a small fortune. Therefore, check whether the product you are going to buy includes these items in its price.
Product Warranty
A plasma cutter is not a cheap product, even in the lowest price range. Therefore, you ought to have some warranty on your investment.
Depending on the amount of money you are willing to pay, pick a machine that is covered long enough to deserve that cost. A premium device should have at least a 1-year warranty or better.
Your Budget
Although it is common sense that the more expensive a product is, the better it is, you do not necessarily have to buy something go beyond your budget to have features that are not helpful for you.
For example, if you only work with two to three types of metals, you can cut down on the cost of multifunctional features. Determine what you need and buy an affordable appliance that serves these main purposes well. That is sufficient!
Yet, if you have too much money to think about the price, buy a deluxe model that offers more convenient features, versatility, and more extended warranty that may be beneficial for you in the long term.
Best Plasma Cutter Reviews UK 2022
Best Plasma Cutter Under £300

1 – Reboot RBC5000 Plasma Cutter 50 Amp
The first product we want to introduce to you is the best plasma cutter under £300, and also the best budget plasma cutter UK.
The Reboot RBC5000 uses IGBT soft-switch technology for higher performance in many aspects. This technology allows the device to increase switching speeds and reduce response time with logic level switching and isolation.
It also provides better temperature drift and heat dissipation, high peak current capabilities, forward resistance, and gate capacitance oscillation.
Meanwhile, at higher voltages, it can reduce the cost of operation while still maintaining excellent effectiveness. The long duty cycle helps users complete the work in one go and also facilitates less power consumption since any machine will require a lot of energy to start again after shutting down.
Also, both the long duty cycle and high cutting speed will save you time, which also means to save your money. Therefore, it is budget-friendly for not only purchasing but also using in the long run.
In addition, the plasma cutter is equipped with a digital LCD display and an intuitive air-pressure gauge on the front panel. Thus, users can read the parameters and manoeuvre the appliance better.
Regarding safety features, the Reboot RBC5000 offers a comprehensive protection system for everybody with strong interference resistance, over-heat protection, compressed air pressure shortage protection, over/under-voltage protection, and shield from electric shock.
This equipment can cut stainless steel, iron, copper, and aluminium at the maximum cutting thickness of 15 mm.
Pros
Energy-saving
Cheap
Quiet operation
IGBT soft-switch technology
Comprehensive protection system
Cons
There might be some defective parts
2 – SUSEMSE CUT50P Plasma Cutter
The SUSEMSE CUT50P is a flexible plasma cutter engineered for not only home use and hobbyists but also heavy-duty construction and industrial tasks.
The tool utilises non-dangerous compressed air to cut through many kinds of metals such as alloy steel, stainless steel, mild steel, aluminium, and copper.
However, the best part is its fabulous pilot arc torch that is capable of cutting through even rusty, painted, and rough surfaces effectively with minimum slag.
The MOSFET transistor generates a consistent output to cut thin metal and can also reach higher power output to cut thicker objects. As we tested, the maximum cutting thickness was 0.5″, and the maximum severance thickness was 0.75″.
Moreover, the current range is from 20 to 50 amps, allowing users to create clean and smooth cuts all the time. The un-touch arc-starting feature also facilitates a smoother start.
Upon your purchase, you will receive a vast number of attachments such as an air regulator, ground clamp, gas hose, three tips, three cups, three electrodes, a WSD-60P plasma cutting torch, and a spacer guide.
Ironically, this product comes without a power plug. As a result, you will have to go out to find a suitable one and buy it.
Pros
Usable for many materials
Include a lot of handy accessories
Smooth and clean cuts
Versatile
Cons
3 – FlowerW CUT-50 Plasma Cutter
Here we have the FlowerW CUT-50 as the best small plasma cutter and the best portable plasma cutter. You cannot find any model more compact than this one because it only weighs 9.08 kg at the dimensions of 47.2 x 34.2 x 26.8 cm.
Well, do not underestimate its power just because it looks so tiny. This 50A plasma cutter is able to cut metal as thick as 8mm, and its maximum severance thickness is 12mm.
In our tests, it did well with copper, carbon steel, stainless steel, and aluminium. However, the speed is quite slow, and the overall quality is not so superior.
We appreciate the air pressure adjusting tool built into this plasma cutter. It is a great solution when the external air pressure is too low or too high, causing difficulties in your work.
Plus, your safety is also guaranteed owing to the overcurrent protection of the electro circuit as well as the protection against over and under-voltage.
Furthermore, the high-frequency touch start enables quick launch. What you need to do for a smooth start is just pulling the trigger and go!
Lastly, on the front of this machine, there is a digital display and an air pressure gauge so that you can monitor the cutting process at ease.
Pros
Have an intuitive digital display
Very compact design
Decent cutting and severance thickness
Solid construction
Cons
Cut slowly and not very efficiently
Best Plasma Cutter Under £500
1 – R-Tech P31C Plasma Cutter
We find the R-Tech P31C plasma cutter the best plasma cutter under £500 with numerous convenient features.
First of all, about its performance, the equipment can cut all types of steel, including stainless steel. It is able to cut 8 mm mild steel perfectly on a 24V 13A input, and the maximum severance cut is 12 mm.
If your worksite is a little hot, do not worry because this plasma cutter has a cooling fan and thermostatic protection. It will shut down automatically if it is overheated.
Although you may find the price of this product a little higher than others in the same segment, it actually saves you more money.
Why? When you receive the machine, it comes with five tips and electrodes, three gas distributors, three shield cups, an earth lead, an air regulator, a main cable, PCL fitting, user manual, a long-life consumables pack, and a 4.5m cutting torch (of course).
Plus, the R-Tech P31C is covered with a 3-year warranty. The free shipping policy is applied to both your purchase and the collect & return fees. However, be aware that this is only valid in the UK mainland.
Pros
Come as a pack with tons of attachments
3-year warranty
Thermostatic protection
Intuitive LED display
Cons
Cannot work on many different types of materials
2 – Draper 85569 40A Plasma Cutter
What makes the Draper 85569 stand out from the crowd is its microprocessor-controlled inverter technology. This advanced technology brings the inverter technology to a new level, makes the machine a "smart" plasma cutter that can work well with minimal effort of the users.
What's more, this tool manages to cut just any electrically conductive materials, so you do not have to fear that it would not be able to complete any common job in your workshop.
The included kit is quite sufficient, comprising of earth lead and clamp, a plasma torch, an air hose, an air regulator, a chipping hammer, a brush, and a face mask. However, you have to buy a separate air compressor supplying at least 8.8 CFM.
The robust 32A and 4kW input current enables users to create cuts as deep as 12mm on mild steel. Well, there is absolutely no need for you to worry about such high power because the machine is equipped with the thermal overload protection function and will never become overheated.
About the downside, the Draper 85569 plasma cutter weighs up to 12.3 kilograms and measures 24 x 35.2 x 60 cm, which may be a bit heavy and bulky. Consequently, if you need to move your tools regularly, it will cost quite much effort.
Pros
Advanced inverter technology
Thermal overload protection
Work well on any conductive materials
High performance
Cons
3 – STAHLWERK CT550 ST –

I Highly Recommended
The STAHLWERK CT550 ST is actually a 2-in-1 machine that can carry out both welding and cutting. You can switch between either the 200 Amp power for welding or 50 Amp for cutting metals.
However, you should know that it can only weld low-alloyed and non-alloyed steels, and stainless steels but not high-alloyed steels. Of course, it can weld many other metals as well.
The incorporated plasma cutter can cut as deep as 12 mm to separate nearly all conductive metals like steel, stainless steel, copper, brass, titanium, aluminium, and so on.
Although it is a dual-function device, the machine is still incredibly compact and lightweight. Its size is solely 31 x 12 x 21 cm, and its modest weight is approximately 5,5 kg.
What most people like is that they do not have to find and buy separate accessories because the package itself is a huge arsenal. It contains professional hoses with snap-on 5-meter coupling, 5m electrode holder and earth cable, a chipping hammer, and a wire brush.
Besides, there are many excellent features including hot start, gas post-flow, overheat control with high-performance cooling fan, overheating (overloaded) protection, anti-stick protection, water separator with pressure gauge, and HF non-contact ignition.
When it comes to customer support, the brand provides a 7-year warranty and technical support and service for a lifetime. It always promises to deliver peace of mind for all customers.
Pros
Ergonomic design
7-year warranty
Good customer service
Full of useful accessories
Cons
Not fully specialised for plasma cutting
4 – Sealey PP40E
The Sealey PP40E plasma cutter is fitted with inverter power supply and control circuitry. Therefore, it is very easy and convenient to monitor the whole cutting process.
We used the machine to cut steel, galvanised steel, stainless steel, copper, aluminium, and brass. The maximum thickness that we could penetrate with it was 11 mm, which is quite okay for most jobs.
Furthermore, you can also see parameters via the digital Amp display and the two LED lights on the front panel that show the main power and overload status.
About protection features, the Sealey PP40E is great at waterproofing. It is rated to meet the IP21S standard, which ensures that not a single drop of water can get inside the device.
Nonetheless, at the size of 27 x 52 x 34 cm and a weight of 11.3 kg, you may have to spend a little effort to move it around your workplaces. There is a plastic carrying handle but no shoulder strap available.
Also, it does not include many useful accessories. You will only receive a 4.6m plasma torch, a 2m gas hose, a 2m earth cable, and an air regulator.
We find this somewhat annoying because we have to research and buy separate attachments from other vendors to use this plasma cutter. Moreover, it also makes the product seem to be more expensive with the overall value that it delivers.
Pros
There are LED light indicators and screen
Excellent waterproofing ability
Usable for numerous materials
Decent performance
Cons
Come with too few accessories
Best Plasma Cutter Under £1000

1 – STAHLWERK CUT 70 P
The STAHLWERK CUT 70 P is the best plasma cutter under £1000 with modern IGBT technology and consistent cutting thickness of up to 25 mm.
To penetrate such a high thickness on conductive metals, this beast runs on a great power of 70 Amp. Thus, even the thickest pieces of steel, stainless steel, copper, aluminium, brass, and titanium can also be separated quickly without effort.
Of course, we did not forget to test the performance of this plasma cutter on some challenging surfaces, including flash rust pieces and painted sheets. And as we expected, it did very well with clean and smooth cuts.
Well, this is an ideal choice for both novice and professional welders with top-notch performance and the help of the 5-meter P-80 hose plus a roller guide spacer.
Everyone loves convenience, so Stahlwerk equips the model with contactless PILOT ignition, and allows users to circle cutter and CNC torch head to complete the job more easily yet more accurately.
Above all, there are plentiful benefits from high reverse voltage, excellent transmission characteristics, fast cooling fan for higher performance, and longer duty cycle.
Both users and the appliance will also be safeguarded from overheat accidents as the overheating protection will start if the machine is overloaded. You can see this by looking at the yellow warning light.
Pros
Extremely high cutting capacity
Overheating protection
Contactless PILOT ignition
Premium construction
7-year warranty
Cons
2 – STAHLWERK AC/DC CUT 200 ST
Similar to the STAHLWERK CT550 ST, the STAHLWERK AC/DC CUT 200 ST is also a 2-in-1 model that functions as both a welder and a plasma cutter. Of course, at a much higher price, it is an upgraded version with more exceptional features but also retains some familiar ones.
For instance, the STAHLWERK AC/DC CUT 200 ST also uses the amperage of 200 Amp for welding and 50 Amp for cutting thin sheets and mild metals like aluminium as deep as 12 mm.
The same extras it shares with the STAHLWERK CT550 ST include gas post-flow, gas pre-flow, overheat control, hot start, anti-stick protection, and the ultra-long 7-year warranty.
Nonetheless, there are many different functions such as adjustable pulse width (from -5 to +5), current downslope, 2T/4T extensive control over the current flow, HF contact ignition.
If you do not know, the adjustable pulse width from -5 to +5 allows you to break up or penetrate the oxide layer at different levels. In detail, the negative range is more suitable for deep penetration, while the positive range will break up the oxide layer more easily.
When we opened the box, there was a WP-26F 4,5m TIG torch package with flexible head, a AG-60 5m plasma hose package, a chipping hammer, a 5m electrode/earth cable, a wire brush, a water separating tool with snap-on connection, a UK 3-pin socket adapter, and a 5m quick-coupling gas hose.
Pros
Come with many extras
7-year warranty
Superior performance
Work well with almost all conductive materials
Cons
3 – STAHLWERK CUT 100P
Perhaps you have been looking for the best plasma cutter for stainless steel from the top of this article, but it has not appeared until the final section. Yes, here it is.
The STAHLWERK CUT 100P is a super-robust air plasma cutter that uses up to 100 Amp. Depending on the characteristics of each material, it is able to penetrate as deep as up to 44 mm.
We used this monster to cut some conductive metals such as stainless steel, steel, brass, copper, titanium, aluminium. But the maximum cutting depth was 44 mm on structural steel ST37.
And just like other Stahlwerk plasma cutters above, the STAHLWERK CUT 100P also provides numerous familiar features including overheat control, high-performance cooling, PILOT ignition (contactless), and extra-long 7-year warranty, etc.
Unfortunately, it is not so strange that a heavy-duty mechanic tool can hardly be compact. This is the most cumbersome model in this list at the weight of 27,5 kg and dimensions of 57 x 31 x 51 cm.
After all, we only recommend using this machine if you have heavy-duty projects to complete and your workplace is fixed. If this is not your case, you are going to waste a lot of time, money, and effort.
Pros
Super-powerful for heavy-duty projects
Superb cooling and overheat control
Contactless PILOT ignition
7-year warranty
Cons
Insanely heavy and bulky
Expensive
Conclusion
When you intend to buy a plasma cutter, there are many factors to consider so you should arrange them in order of the importance levels. Besides, think carefully whether you need a model with both plasma cutting and welding functions or not.
Then, you can read our best plasma cutter reviews UK several times to find out the most appropriate option for yourself. Anyway, all of them are excellent choices so you will be unlikely to regret it.
Now, thanks for reading and see you again in the next article!