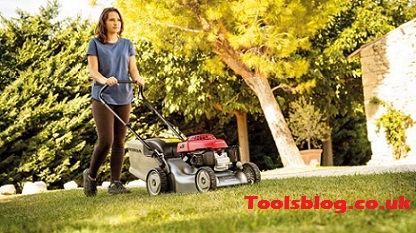 Are you serious about gardening and looking for a powerful tool to sort the tough grass out? Best petrol lawn mower reviews UK are what you should read in advance.
Although petrol mowers are often bulkier and more expensive than the electric models, they are definitely more convenient because you can travel the tools around unrestrictedly. More importantly, petrol machines often provide a cleaner cut and a more consistent performance.
Don't believe it? – Keep reading, and you will agree with us.
Before you start, you should also take notes that all products mentioned are bought in the UK.
What Is a Petrol Lawn Mower?
Simply put, a petrol lawnmower is a machine running on petrol rather than electricity, batteries, or manual push. As a result, you can expect the tool to be robust and cleanly cut.
Why does power matter? – Try sorting out the grass with an electric mower and another petrol mower and you will see the difference.
A low-powered electric model tends to struggle with long and damp grass because the extra resistance prevents the blade from rotating quickly. For that reason, the grass is often not cleanly cut or even be "chewed." On the other hand, a petrol-powered lawnmower is powerful enough to handle even slopes and harsh surfaces. More excitingly, its average power is around 150 to 200cc, along with prominent torque figures. It means the machine will cut the lawn mincemeat.
On the other hand, the petrol lawnmower gets rid of messing with electric cord and gone-out power. If the fuel runs out, you can simply fill up the container and continue with the job, meanwhile, reenergizing the electric-powered machines takes a few hours.
In the drawbacks, petrol machines are often more expensive and also bigger in sizes. In addition, you should be ready to spend more time and effort on maintenance and extra servicing so that all parts are in tip-top condition.
Smell and sound are other disadvantages of petrol lawnmowers. Thus, it would be more convenient to go for an electric mower if you cannot stand the burning-petrol smell in the norming.
Advantages of petrol-powered models:
Powerful enough to cut the lawn in various surfaces
Clean cup and reliable performance over time
More heavy-duty parts that tend to last longer
No power outlet required, so the travelling distance is unrestricted
Disadvantages of petrol-powered models:
More expensive and bulkier of all lawn mowers
Smell and noisy operation
More maintenance and servicing required
How To Pick Up The Best Petrol Lawn Mower?
If you read the best petrol lawnmowers above but still cannot make a choice, you had better read the buying guide here. We cover all you need to consider whether you plan to move a postage-stamp-sized garden or an acre of lawn.
Price
Suppose you choose to buy petrol lawnmowers, ready to pay from £200 to £500 to get a good machine and another £75-£90 to have it fully serviced. Specific prices vary according to the capacity of the lawn machine, the type of petrol mowers, the number of strokes, etc.
Types of petrol lawnmowers
There are three common types to consider.
Rotary mowers are often favoured because of their compact construction and affordable price. They cut the lawn with a rapid blade that parallelly spins with the ground. Moreover, if you happen to have the best petrol lawn mower with roller, they can cut the grass in a striped finish.
Overall, suitable for long grass and small gardens.
Imagine that the cylinder petrol mowers work like scissors that will keep short grass, especially the manicured-show lawns, regularly cut and neat. However, you will find the machines less productive with long and bumpy grass. They might flatten the grass rather than cut it – we might add.
Compared to the rotary units, the cylinder mowers are often more costly due to the additional parts and better-manufactured blades.
The hover machines are similar to the rotary models in terms of cutting. However, their horizontal blades often spin more quickly to slash over the grass.
Moreover, the hover mowers have an additional fan and skirt to trap and manoeuvre the air to direct itself in any direction as you wish. As a result, those machines work great on uneven surfaces, even with banking. Nonetheless, they might not be as effective with long grass as the rotary mowers because the airflow creates the cushion on the grass.
Cutting width
The next importance is to determine the size of your garden, as well as the type of grass so that you can choose a suitable cutting width of the blades.
Generally, the broader blades will cut the grass faster. Nonetheless, the too-large version makes it hard to manoeuvre the mower in tight corners.
We would recommend a cutting width of 30-34 cm if you have a small 50-square-meter lawn. Meanwhile, a medium lawn between 50 and 150 square meters will require a mower with the 35-to-40-cm cutting width. The machines with 40-cm cutting width, however, are ideal for more extensive lawns.
Fuel type – the number of strokes
As you can see from the best petrol lawnmowers above, most machines come in the form of 2 strokes or 4 strokes.
What does that mean?
2-stroke engines are often cheaper, but they require mixing the fuel with special additives before it is added to the mower. Fewer strokes mean that the mower can be much more lightweight. However, it can significantly smell and be noisy running.
Expensive models now often come with 4-stroke engines, which makes the filling up more quickly. All to do is go to the petrol station and ask them to fill in the 4-stroke engines. The oil is separately added to ensure the lubrication.
Overhead valve (OHV) or flathead engine
Many mowers above use the Briggs and Stratton engine with its flathead without overhead valves. This helps reduce the complexity of the operation and assembly, as well as cut down the cost. Furthermore, the flathead engine will last for years to come without having to be maintained.
Whereas, the overhead valves are beneficial in the way that they are adjustable when the valves are worn out so that the lawnmowers will keep working evenly.
Additional features
Besides some main parts as above, it would be better if the petrol lawnmowers have advanced features, as follows:
Height adjusters: The feature will be helpful in case the grass grows unevenly. Accordingly, you can quickly add the height adjusters to the cutting deck.
Electric starts: Rather than try hard to start the engine by recoil, you can use the models with electric push-button start.
Self-propelled mowers: They are often high-end mowers that are able to direct power from their engine to auto-drive the massive wheels.
Best Petrol Lawn Mower Reviews UK 2022
Petrol Lawn Mower

Engine

Cutting Width

Cutting Height

Grass Box

Lawn Areas

Dimensions

Weight

Editor's Rating

Hyundai HYM400P
79cc

2.6kw
40 cm
2.5-7.5 cm
30L
400 m²
107.8 x 48.2 x 100.3 cm
19 kg
4.4/5
Einhell GC-PM 40 S
99cc

1.2kw
40 cm
2.5-6 cm
50L
1000 m²
71 x 53.3 x 41.5 cm
21.5 kg

4.4/5

SPRINT 410P
125cc
41 cm
3.5-8.5 cm
45L
-
68 x 50 x 43 cm
22.7 kg

4.5/5

Yard Force 41cm
125cc

2.6kw
41 cm
2.5-7.5 cm
45L
400 m²
51.5 x 95.5 x 134 cm
23.5 kg

4.4/5

Mountfield HP41
123cc
39 cm
2.5-7.0 cm
40L
250 m²
78.5 x 47 x 106.5 cm
19 kg

4.6/5

Murray EQ500X
140cc
46 cm
2.8-9.2 cm
60L
1500 m²
92 x 54.5 x 51.5 cm
28 kg

4.4/5

Murray EQ 400
125cc
46 cm
2.8-9.2 cm
60L
1000 m²
91 x 54.5 x 33.59 cm
25 kg

4.4/5

Hyundai HYM510SP
173cc

3.6kw
51 cm
2.5-7.5 cm
70L
2000 m²
154 x 550 x 110 cm
38.7 kg

4.6/5

Hyundai HYM430SPE
139cc

2.6kw
43 cm
2.5-7.5 cm
45L
2000 m²
103 x 50 x 135 cm
35.5 kg

4.6/5

Briggs & Stratton 2691604 Sprint 460SP
140cc
46 cm
2.8-9.2 cm
60L
1500 m²
166 x 50 x 105 cm
28 kg

4.3/5

Murray EQ700X
161cc
53 cm
2.8-9.2 cm
70L
2000 m²
97 x 61.5 x 51 cm
37 kg

4.4/5

Hyundai HYM510SPE
196cc
51 cm
2.5-7,5 cm
70L
2000 m²
158 x 55 x 105 cm
43.8 kg

4.4/5
Over time, manufacturers keep introducing new petrol lawnmowers and tell you that they adopt the latest technologies into the products. However, too many options also make you confused, wondering "what is the best petrol lawn mower I should buy?" – The answer is based on your requirements with the machine and also your budget.
Best Petrol Lawn Mower Under £200
In need of a mighty lawn mower but your budget has raised barriers between you and all the beasts of the grass cutting industry? Then this group of the "cheapest but far from dearest" is exactly what you should invest in. Come and take a look of top 5 petrol lawn mower under £200.
1 – Hyundai HYM400P 79cc Push Rotary –

Best Affordable 4-stroke
If you are looking for a cheap yet quality lawnmower, then you should not miss out on this one from the Hyundai brand, one of the bestselling products on the market. The Hyundai HYM400P 79cc Push Rotary is designed with a Euro 5 engine, which, compared to a Euro 4, features 28% less the amount of emission and noise. As a result, it is easy to start and show a low noise level.
Although this 4-stroke is lightweight and so compact, it shows great power thanks to the 79cc 4-stroke overhead-valve, which is designed to allow higher speeds and a perfectly calm path between cam and valve. This feature, together with 40cm cutting width and 30 L grass collection bags, enables users to make fast and accurate cutting work and avoid various times to empty the grass bags.
Another thing that makes the HYM400P stand out from other products on the market is its rust-free chassis, made from polypropylene and ensuring users great durability and long-term use.
This model will also capture your gaze with its chassis, which is so ultra-light that you have no difficulty using and moving the lawn mower. Comfort is further enhanced with the soft grip handles, which will catch your eyes at first sight.
However, one drawback is that although the 79cc engine is light on petrol, thus helping you cut corners, it is not powerful enough to work on large gardens.
Pros
Easy to start and control
Comes with foldable handles
Worth your money
Lightweight, thus easy to carry around
Shows great safety features
Comes at a reasonable and affordable price
Environmentally friendly
Has a low noise level
Cons
Not self-propelled
Not suitable for large-scale cutting projects
2 – Einhell GC-PM 40 S Petrol Lawnmower – 

Best For Power
Einhell GC-PM 40 S petrol lawn mower is designed with a four-stroke air-cooled engine, featuring a 99cc cylinder and a fixed motor when it comes to a powerful engine. This engine can run at a constant 2900 RPM speed, producing around 1.2 kW of power to operate the rear wheel and blade. Such a power level is enough for various garden sizes and reasonable with a light and compact lawnmower like this Einhell model.
It would be a real shame if you cannot exploit that source of power to the fullest just because the machine is too heavy for you to move around, right? Einhell has already thought of this, and thus, pairing the model with free-wheeling front wheels, which are 150mm in diameter, and 210mm rear wheels.
Thanks to those wheels, users can control the mower loaded with grasses with ease and safety. Also, being a self-propelled machine, the Einhell has its unique ability to engage and disengage power to the wheels, enabling you to adjust the power assistance.
Besides, with the Einhell, you are also provided with five height adjustment levels, ranging from 25mm to 60mm, and thus, suitable for different surfaces. In this way, if you want to cut high grass, there is less chance of digging up the dirt, which is sure to be annoying.
To boost the grass snipping efficiency, the strong main deck shows a 40cm dual-cutting blade, curved on one side to give the machine a great uplift to help users cut, suck and eject grasses conveniently. Meanwhile, the powerful engine, combined with this cutting blade, can be responsible for an about 1000 meter square garden, which not many compact designed lawn mowers can do, this machine is also suitable for uneven surfaces and small-scale gardens.
However, what is discouraging about this machine is that it doesn't come with a mulching mode. That means you will have to use a leaf vacuum to suck the grass and mulch it back to the machine.
Pros
Lightweight and portable
Shows a powerful engine
Suitable for different scale projects
Comes at a relatively low price
Self-propelled drive
Cons
3 – SPRINT 410P Push Petrol Lawn Mower – 

Best For Optimal Size
If you are a female lawn mower user and find most products so bulky and cumbersome to carry and use, SPRINT 410P Push petrol lawnmower will be your salvage. It comes with a smaller deck and mid-sized grass catcher, together with a soft, foldable, and adjustable handle, allowing for easy storage. Thanks to these features, cutting the lawn is no longer a nightmare for users of any gender.
Apart from the thoughtfully designed model, the performance of this best cheap petrol lawn mower will take you by surprise with its exceptionally powerful engine. The machine is powered by a reliable Briggs & Stratton 300E Series engine with up to 125cc, ensuring smooth and effortless glides around the garden without making much noise.
With what it can offer, it goes without saying that SPRINT 410P suits any jobs you assign to it, even when your grass is at its tallest, as its cutting height ranges from 35mm to 85mm and enables you to adjust to six different cut positions. And to bring the performance one level higher, the bar blade allows for 40cm cutting width, fitting any lawn perfectly.
For disposal, the 2-in-1 cutting system makes the rear discharge and collection much easier and quicker. The soft and 45-liter bag included is big enough for an average-sized lawn, so it needs emptying if you use it for a large-scale garden.
As useful and powerful as it can be, this SPRINT 410P may let users down with its poor build and construction. The loose plastic parts seem to loosen and break easily; thus need to be checked regularly before use.
Pros
Compact and well designed
Comes with a reliable engine
2-in-1 cutting system included
Easy to start and use
Cons
4 – Yard Force 41cm Push Mower – 

Best For Small Lawn
Yard Force 41cm Push Petrol Lawn Mower is mainly used for smaller lawns with an outstanding performance, powered by a 125cc Briggs & Stratton 300E Series engine like SPRINT 410P. However, this engine produces a more overwhelming power of 6.1 Newton meters. So, in particular, there is no need for an oil supplement as 300E is a self-propelled four-stroke engine, which helps users cut corners and save a great deal of money.
Like most other lawnmowers, this Yard Force product enables you to make any height adjustments from 25mm to 75mm with five height levels. In this way, every chance of an even and planted machine while level blades will allow for more lawns cut in one pass, thus giving a more efficient performance.
This lawnmower boasts a 41cm curved steel blade in terms of detailed features, which means you will get 41cm cutting width. The lawnmower also uses Diamond grinding for sharp edges on the blade, thanks to which the cut is much cleaner and the noise level is reduced remarkably.
The great combination of cutting heights, 41cm steel blades, together with an idle speed of 2600 RPM, makes the machine the best petrol lawn mower for small gardens, those of 400-meter squares in size and require no oversized bags. The lawns from this 400-meter square garden can be perfectly stored in a sufficient 45-liter fabric bag, attached to the back of the machine.
Although there is no mulching mode in this machine, it doesn't matter its performance, as with such a small-scale lawn mower, there is no need for mulching.
Pros
Easy to assemble and use
Low noise level
Diamond sharpened blades
Foldable handles for easy storage
Petrol efficient and money-saving
Cons
Heavier than other products of the same size.
5 – Mountfield HP41 Petrol Lawnmower – 

Best For Multiple Uses
Mountfield HP41 Petrol Lawnmower is suitable for both gardening trade professionals and personal garden use. The 123 cc Briggs & Stratton 300 Series OHV engine gives a powerful performance, helping users chase away the laborious work.
This small-sized lawn mower ensures a 39 cm cutting width and a single cutting height adjustment from 25mm to 70mm with 5 cutting positions, allowing you to switch and adjust according to your cutting demands. With this width and height, the lawnmower can clean up the area of 250-meter squares, and the clippings can be collected and stored in a spacious 40-liter canvas grass bag.
Plus, there should be no worry about this lawnmower's long-term use and durability, as its chassis is made of steel, thus very durable, strong, and sturdy. Working for long hours on large-scaled projects is not a big problem for the Mountfield lawnmower.
However, remember to keep it protected from the external elements (like weathers and all), the machine may get wear and tear, and erosion.
Pros
Super-effective cutting blade
Spacious canvas grass bag included
Straightforward to set up and start
Comes at a low price
Strong and sturdy build
Cons
The handle cannot be folded.
A bit heavy for women
Of all the machines above, the Hyundai HYM400P is the best petrol lawn mower under £200 that we would recommend for your lovely small gardens. This machine is portable, easy-to-use, functional, and more excitingly – affordable. However, other mowers are also helpful in different ways. You should consider carefully to make a wise choice!
Best Petrol Lawn Mower under £300
As much as the budget versions can assist you in keeping the grass in its place, their lack of certain features and abilities might one day get in your way. If your lawn needs more than just standard caring, you would develop an interest in this brief list of top 5 petrol lawn mower under £300.
1 – Murray EQ500X 18″/46 cm Self-propelled –

Best For Optimal Operation
The first product at a medium price we want to introduce you to is this Murray EQ500X, powered by a reliable engine named Briggs & Stratton. This 575EX Series with 140cc is so compact and lightweight that it is no longer challenging for you to move the machine around the garden. Not to mention, thanks to the 575EX engine, the Murray lawn mower produces reduced vibration, a quieter operation, and proves to be economical, helping users save money invested on petrol.
If you are faced with grass at its tallest, you are lucky to find a Murray lawn mower, as this product allows users to deal with grasses as tall as 92mm! And this is not the final limit. Its cutting positions actually range from 28mm to 92mm, so you can adjust and switch to the level according to your cutting demands.
The self-propelled drive system also shows a ground speed of 3.6 kilometers per hour and a cutting width of 46 centimeters in diameter. With these features, the Murray can perfectly mow a medium-sized lawn of up to 1500 meter squares! Such a large amount of mowed lawn can be stored in a spacious 60ft soft bag included, saving you from time to empty it.
Plus, while most other cheap lawn mowers boast a 2-in-1 cutting system, our Murray is designed with a 4-in-1 cutting system, a combination of all functionality expected of a lawnmower. This mower is sure to be up for the task if you want to bag your clippings, side, rear discharge, or mulch.
This model is an extremely user-friendly mower – to be exact, the best self propelled petrol lawn mower, for the time being. It can quickly move over obstacles and curves with no hassle.
But the machine is not perfect by all means. To house such great power and components, it needs a massive, bulky body, and thereby becoming quite heavy. You would not be able to control it well if you are thinking of long-hour cutting.
Pros
Strong and sturdy construction
Versatile and available in four cutting modes
Easy to assemble and start
Shows a low noise level
Cons
Hard to manoeuver due to heavyweight
2 – Murray EQ 400 18″/46 cm – 

Best For Lightweight Design
Made from the renowned Murray brand, this Murray EQ 400 has similar features as the Murray EQ500X mentioned above. The first similarity is its engine, Briggs & Stratton. However, this product is powered by a 125cc engine only.
Still, do not think of it as an inadequate piece of metal so soon. It might not be able to match its innovative brother from the same brand, but it has its own charm. Thanks to the moderate engine, the machine can produce a sufficient amount of power to finish the work but has such a lightweight and compact design that allows users to maneuver around tight corners without much difficulty.
Engine aside, the EQ 400's performance is hardly what you can take lightly. It is designed with a 2-in-1 cutting system, allowing for basic cutting modes like bagging the clippings and discharging. Changing between those two functionalities is not challenging, as there are no tools required.
Of course, with such impressive working modes, the performance has to be somewhere around the unrivaled level. Prepare to be amazed! The Murray 400 sports high-lift blades, six adjustable cutting heights from 28mm to 92mm, and a 46cm cutting width. That means it is the best petrol lawn mower for small garden uk, the one up to 1000 meter squares.
Like its EQ500X counterpart, this machine causes you no trouble in storing and disposal. With the support of a large 60-liter grass catcher, it is easy as pie for you to keep clippings and work hours on end before emptying the bag.
Nevertheless, it may be difficult for you to follow the manual and instructions, as they are long and not so understandable. But don't worry, as the machine is easy to assemble and start, and there are various tutorial clips on the Internet of a big help to you.
Pros
Similar and eye-catching design
Comes with a reliable engine
Easy to carry around
Cons
SAE30 four-stroke oil required yet not included
3 – Hyundai HYM510SP 4-Stroke – 

Best For Safety Function
Being well-known as the best petrol lawn mower for medium sized garden, the HYM510SP never fails to meet users' cutting demand and has gained love and trust from users worldwide. This self-propelled lawn mower is powered by a Hyundai IC175V 173cc OHV 4-stroke Euro 2, which ensures a low emission level and low maintenance. More importantly, you can save your budget, as it is an extremely economical petrol engine.
What is particular about the HYM510SP lawn mower is its OPC or Operator Presence Control technology, maintaining great safety by stopping the machine when you let go of the handle. With this keeping an eye on your machine, you will no longer have to ask yourself over and over if you have turned it off, and then rushing back outside to check.
It might be the safest, but that does not mean that it is any less effective than the rest of the machines on this list. In terms of performance, the lawnmower is sure to impress you with its powerful cutting performance. While the cutting width is 51 centimeters, perfect for medium to large scale cutting projects, the cutting height is adjustable on users' preferences, ranging from 25mm to 75 mm.
Plus, with an especially large 70-liter collecting bag included, the machine promises to clean out a large lawn of 2000 meters square. Pretty impressive, don't you think?
Pros
Impressive cutting areas
Powerful and easy to start
Adjustable cutting heights and cutting options
Thoughtfully designed with safety features.
Cons
Comes at a relatively high price for such a medium-sized lawn
4 – Hyundai HYM430SPE Electric Start – 

Best For Fuel-Saving
The HYM430SPE is another product from the Hyundai brand, but it seems to have little in common with HYM510SP. This machine is powered by 2.6kW OHV 4-stroke 139 cc engines, allowing easy operation and running on low petrol, thus reducing the need for a great consumption of materials.
There is a push-button electric and recoil pull-start to start the engine, together with the ignition system, allowing effortless start that not all lawn mowers can do. And there is more than just that, the Operator Presence Control enables the machine to stop working as long as you let go of the handle.
Like any other lawnmower, the HYM430SPE has an adjustable cutting height, including six settings from 25mm to 75mm, each of which perfectly fits different cutting purposes. The machine also has a 43 cm cutting width, best suited for most gardens of different scales, together with a 45-liter grass catcher.
Thanks to those remarkable features, it is more straightforward, convenient, and pleasant to get the work done without the need for emptying the bag. This lawnmower can clean up a lawn area of 2000 meter square maximum, especially with the self-propelled rear-wheel drive. That means it is suitable for small and medium scale projects.
However, one drawback of this machine is that it lacks mulching mode, which requires you to get a leaf vacuum to suck the grass and then mulch it back.
Pros
Effortless operation
Good size grass box
User-friendly and eco-friendly
Comes with useful safety features
Includes various cutting options
Cons
5 – Sprint 460SP Self-Propelled Petrol Lawn Mower –

Best For Quick Jobs
As the name suggests, this lawnmower is powered by Briggs & Stratton 500E 140cc, a very reliable engine. This engine makes cutting much easier and quicker, producing a sufficient amount of power to ensure that all the lawns are cleaned and cut through completely. Additionally, this powerful engine also promises a great durability level and years to use, so there is no need for an engine's operation failure.
The Sprint 460SP lawnmower is designed with a 4-in-1 cutting system, including rear discharge, collecting, mulching, and side discharge of clippings. This feature enables users to switch and choose different cutting modes when needed. This is one of the most attractive features of a lawnmower that any professional users are longing for.
One of the similarities between the Sprint 460SP Self-Propelled Petrol lawnmower and other products is the height adjustments. There are six cutting positions, set with two points from 28mm to 92mm, and suitable for different cutting purposes. The ground speed is 3.6 kilometers per hour while the cutting width is 46cm or so with high lift blades, ideal for a 1500 meter square.
Although the machine looks cumbersome for storage, there should be no worry about storing space, as the handles are foldable, and the handlebar is ergonomic. Thus, you can keep the machine in any extra room around your house like a garage and garden shed.
Pros
Strong and durable
Versatile with four various cutting modes
Durable steel mowing deck
Value for money
Cons
Supposed that you are ready to pay a little more, it makes sense to require more advanced features to make the gardening task much less challenging. Can you find the best petrol lawn mower under £300?
If not yet, then why do you buy the Murray EQ500X Self-propelled? Its versatility makes it more attractive at the price range. The features and performance are reliable as well.
Best Petrol Lawn Mower under £500
You have such a massive lawn that it seems to stretch on forever? Then forget the one in the low-end segment, they would never do you much good. What you need are the big guys with unmatched power running in their motors, like this 2 petrol lawn mower under £500.
1 – Murray EQ700X 53 cm –

Best For Powerful Performance
The self-propelled Murray EQ700X is powered by a reliable and powerful Briggs & Stratton engine, a vertical shaft engine including a sequence of intake, compression, power, and exhaust. This sequence of operation works effectively to ensure a powerful cutting performance.
Besides, the Direct Overhead Valve gives more torque, a reduced noise level and vibration, which not any lawn mowers can compete with. This 166cc engine will never let you down with the powerful performance.
Plus, to give all that power a massive boost, there are four functionality modes, which are bagging, rear, side discharge, and mulching. Those modes can be changed and adjusted with just a few basic buttons, and are sure to meet any cutting demands.
And that is not even half of what the model can offer! To get your job done faster, it features cutting of 53 cm, perfectly suitable for large-scaled lawns. What's more, like most other lawnmowers, this Murray EQ700X shows six cut positions, ranging from 28mm to 92mm, adjustable through a single point lever. Those two features, combined with 20cm in diameter front wheels and 28cm in diameter rear wheels, can mow an area of up to 2000 meters square.
For easy disposal and storage, the lawnmower is designed with a large 70-liter mesh bag, storing a great amount of grass without the need for emptying various times. Moreover, the ergonomic handlebar with three height levels can be foldable so that it doesn't take much storage space, very convenient for small houses.
Pros
Easy to assemble and use
Four cutting options
Strong and sturdy construction
Excellent self-propelled system
Cons
No rear rollers
Comes at a high price
After getting insight into all features, we confirm that this is the best petrol lawn mower for large gardens UK.
2 – Hyundai HYM510SPE Self Propelled –

Best For Electric Start Backup
The final product we want to introduce to you today is a lawnmower from the renowned Hyundai brand, the HYM510SPE. What makes this product worthwhile is its operation. Instead of being backed up by the simple recoil, the Hyundai lawnmower is designed with an electric start, powered by recoil start, which adds to its high value.
Moreover, its Hyundai OHV 4-stroke Euro 2 engine provides users with low emission and low maintenance while saving money on petrol. This 196cc engine will surprise you with its exceptionally impressive performance.
This best petrol lawn mower under £500 is also claimed to be the most powerful machine thanks to its cutting height and width. While the cutting width is 51cm, the heights range from 25mm to 75mm, adjustable among six positions for various cutting purposes. In general, HYM510SPE is perfectly suited for a large lawn of over 2000 meters square, saving you from laborious gardening work.
Disposal doesn't make many problems for this machine, as it comes with a 70 liter half plastic bag, large enough to store a 2000-meter square lawn area. To switch between different cutting modes, you only have to use some basic buttons and then get four cutting modes, including collecting, rear discharge, side discharge, and mulching.
However, the 4-stroke engine, along with the overall structure of this Hyundai product, seems to be more complicated and difficult to operate, especially to first-time users.
Pros
Powerful cutting capacity for large lawns
Ultra quick electric-start engine
Variable speeds and cutting modes
Comes with additional safety features
Cons
No need to hesitate in making the top choices any longer because the best petrol lawn mower under £500 is extremely helpful to make gardening more effective and less time-consuming. They might be pricey, but their values are worth every penny.
If it is the price that makes you concerned, then the helpful machines we have all gathered here for your references in this in-depth best petrol lawn mower reviews UK would have already resolved the problem. Whatever you choose, keep the productivity, safety, and ease of use in your consideration.
For more information about petrol lawnmowers, feel free to scroll down below.
FAQs
Are petrol lawnmowers better than electric ones?
Not exactly.
Both petrol and electric lawnmowers have pros and cons. The electric models will be good for small to medium-sized lawns because of its compact and medium cutting power. Meanwhile, the petrol models are more powerful, but also expensive and heavy.
Thus, wisely choose the suitable types of mower based on your requirements.
Are petrol lawnmowers dangerous?
Yes, if you do not follow the safety features carefully.
For example, blades are moving at a very high speed to cut the lawn, and it can also cut your body. Thus, be careful when driving the mower because it can overturn and crush you.
Besides, fuel added to the hot motor or a flaw fuel container can also cause burns and more severe injuries.
What kinds of fuel to use for petrol lawnmowers?
2-stroke machines consume a mixture of oil and petrol.
And 4-stroke ones will run effectively on fresh unleaded petrol with an 87-octane rating. Simply, you can go to the petrol station and ask the agent to fill the container for you.
How much fuel will the mowers consume?
It depends on many factors: the dimensions and the power capacity of the mowers, your current settings, and the practical features of the mowers.
How long can a petrol lawnmower last?
On average, the right petrol mower can last for 8-10 years as long as you use and maintain it properly.
The expected lifespan of the mower can also be tested and claimed by the manufacturers in hours of use. For instance, some affordable machines can work around 200 hours and less; meanwhile, the more advanced models can last for at least 500 hours.
What is the best way to maintain petrol mower?
Above is a list of maintenance tips to make your petrol lawnmower last longer and stay effective over time.
Feel free to refer to it.
To Sum Up
After checking all the best petrol lawn mower reviews UK and buying guide above, have you decided to buy one? If you are still stuck in two minds, we recommend the Murray and Hyundai machines. They provide various models at different prices to suit requirements and budgets flexibly.
As you will use the petrol lawn mower for many years to come, no need to rush for purchase. Instead, read every section here carefully to make a wise decision!