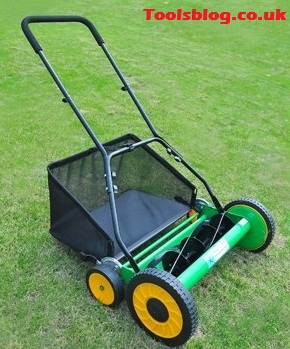 Opting for a lawn mower perfectly suiting your cutting demands and skills is not as easy as pie. The wide variety of products on the market is likely to contribute to this purchasing headache as well. But now, don't worry as we are going to introduce you to the best manual lawn mower reviews UK to help you choose the best one.
Keep scrolling to the end of the article to find out the optimal gardening solution. We are sure that the options we put together today will be more than enough to address whatever issue you are encountering.
What Is Manual Lawn Mower?
A lawn mower is a machine that utilizes one or more revolving blades to cut a grass surface to an even height. This invention has saved us from laborious and time-consuming traditional mowing jobs.
Still, too many lawn mower types on the market may make you puzzled and undecided about the most suitable one for yourself. Why not let us solve this issue then? As you can see, the most common lawn mowers are manual reel mowers and rotary mowers.
While the former requires users to push and use by hand, the latter allows faster cutting performances and offers petrol and energy-based operation. Each comes at a different price. So, knowing  your budget and scales of work, you will quickly reach a purchase decision.
How To Choose The Best Manual Lawn Mower?
A lush and leafy lawn is a dream of many gardeners; this requires a quality lawn mower. When considering buying a lawn mower, the most crucial thing is whether it is suitable for  your grass and garden size.
Besides, there are a couple other criteria to assure the quality of a lawn mower. Here are some recommended factors that you should consider before choosing one:
The number of blades
Settling down with a conventional manual lawn mower rather than its feature-rich cousins all the hard work will be yours to handle. Since no strong and mighty engine or modern technology will swoop by to aid you, you have only the blades to count on. Investing in a quality set that resonates the most with your needs!
Standard manual mowers carry four to eight blades. The higher the number of these, the more power the machine boasts. Do not just go ahead and assume that those armed with more blades than the rest will take the crown. To spin all of them at once, the users need to put in all their strength. Putting them under control during work is another issue as well.
Let your lawn and the state of the grasses make the final decision. Choose a blade system that can cut through them all with the least effort from your side. Thin species of grass demands no more than the minimum number of blades installed in one manual mower. But the robust one might require 2 extra or even more.
Size of the mower
As far as the rule of thumb for all mowers goes, the bigger the machine, the more grasses you can say goodbye to. This holds true in the case of manual models as well.
With your choice of machine, you are going to receive a cutting width falling anywhere between 35 cm and 75 cm. Models with the largest cutting width can trim your lawn to perfection in half the time it will take with their two times smaller pals.
Then again, getting one like this is not exactly that ideal of a choice. A monstrous-looking machine might place in your hand the chance to eliminate all the weed and overgrown grass in a flash, but it is also unbelievably heavy. Unless you are physically fit, and your lawn demands a high level of maintenance, the best choice is still to stick with a moderate model.
Height adjustability
An overgrown lawn might be a nightmare, but an overcut lawn is all but a disaster. You should never trim your grasses shorter than two inches as that does damage to them than you can imagine. That is why a lawn mower allowing you to adjust the height of its blades brings you a chance to keep your lawn in good shape without compromising its growth and appearance.
The choices for cutting height varies between one model to another. You do not need to pick one with more levels than the rest as some will end up never used. In this case, four or five heights are the recommended choices. They can do more than enough to keep your grasses at desired length while making sure they stay healthy.
Best Manual Lawn Mower Reviews UK 2022
Based on all the needed criteria of a quality lawn mower like cutting width, height, and diameter, here is a list of 5 best manual lawn mowers UK. This will come in handy in case you struggle to find yourself a suitable lawn mower. Thus, let's flick through those five to see their advantages and disadvantages:
1. Einhell GC-HM 30 Manual Hand Push Lawnmower –

Best Overall
If you are looking for a quality lawn mower for a small lawn, or a medium-sized mowing project, don't forget Einhell GC-HM 30. It is the best manual push lawn mower on the market, offering a clean grass finish from a wide range of cutting heights.
Although Einhell GC-HM 30 lawn mower comes in a lightweight and compact design, its practical features should not be ignored. Proving to make little noise during operation, this push lawn mower tends to glide through the grass with much ease and comfort and provides users with a neat and tidy finish.
This is because the Einhell is designed to offer users five different impressive cutting heights, ranging from 15mm to 42mm, suitable for your mowing purposes. Those height levels, combined with the 30cm cutting width, allow users to receive an even and clean lawn when they do regular monthly clean-up.
Besides, unlike some other small-scale products, the Einhell GC-HM 30 lawn mower ensures a smooth and comfortable mowing experience thanks to its ball-bearing mounted cylinder and 45mm diameter plastic rollers. Those features enable the mower to glide through the lawn and to smoothly maneuver over any obstacles or corners.
Don't worry about the waste as the product comes with a 16-liter collection bag, sufficient to store a large amount of clippings. This helps you save time on removing them yourselves.
Pros
Very lightweight and silent to operate
Best suitable for small and medium mowing areas
Includes a big collection bag
Easy to assemble and use
Con
Not ideal for large lawns
2. Einhell Universal Hand Mower GE HM 38 S –

Best For Blades
Another product from the Einhell brand, it will take you by surprise with its exceptionally beautiful features, which are just as ideal for lawn maintenance as the last lawn mower. Coming with five different cutting blades ranging from 13mm to 38mm, the machine will give you the chance to make any changes during your work and enough control over your lawn.
More importantly, with a 38mm cutting width, you are sure to be taken aback with an unprecedentedly smooth cutting blade. As the time needed to finish the mowing lawn depends greatly on the reel mower width; this product, without a shade of doubt, allows you to save a great deal of time, money, and effort to have your work done.
The modules are another attraction of this product, as they are designed to reduce the chance of friction and to boost the strokes while still providing you with the desired cut. We might dare to claim, this Einhell 38 cm GE-HM product is the best small manual lawn mower you could find.
Pros
Adjustable heights
Perfect for medium gardening area of 250 metres square
Recommended for golf courses
Con
Not suitable for thick grass and weeds
3. Bosch AHM 38 G Manual Garden Lawn Mower –

Best For Small-scale lawn
When it comes to a lawn mower, you will never go wrong with Bosch, one of the most renowned brands specialized in gardening tools. This brand has provided users worldwide with a wide range of affordable yet exceptionally high-quality lawn mowers, and never fail to live up to users' expectations. Commonly, the product includes a rear roller, and up to five height-level adjustments, ranging from 15 to 43mm.
Bosch AHM 38 G features a 38cm cutting width thanks to the scissor-cut combination of cylinders and blades, allowing users to cut at their preferable heights and areas. As far as those figures are concerned, this machine is perfectly suitable for a small lawn area of around 200 square metres. Those clippings will be collected into a 25-liter collection bag, which gives you extra time for other gardening jobs.
Moreover, as the machine seems to produce no noise or emissions during operation, there is no need to worry that your lawn mower can drive your neighbors crazy!
Pros
Stable and durable
Lightweight and easy to manoeuver
High-quality blades ensure even cutting surfaces
Con
Only suitable for small lawns
4. SPRINT 410RM Cylinder Mower –

Offer The Most Convenient Experience
If you happen to lean toward the type of push mower offering a proper job, easy maintenance, and silent operation, SPRINT 410RM cylinder mower is the right choice. The mower is designed with an ergonomic comfort grip, providing users with better control and slippery-free function, which helps minimize the chance of unwanted accidents.
You can see that the whole machine's working principle revolves around users' convenience as well. As far as the blade system goes, the machine has four different adjustments for the cutting height, ranging from 13 to 48 millimetres, as well as a cutting width of 40 centimetres, guaranteeing to let you finish your job in an effortless manner. In general, you can employ the machine to mow an area of 400 square metres with no trouble.
Moreover, the product comes with a 20-liter collection bag sufficiently large enough to store a significant amount of waste. This makes an ideal choice for those who find dumping clippings during work over and over as the container cannot hold them all a nuisance.
Pros
Comfortable soft handle
Perfect cutting blades
Durable and long-lasting
Con
Might be harder to push than other products
5. Fiskars StaySharp Plus Reel Mower –

An Easy-To-Operate Mower
The final product in our list of the best manual lawn mowers today is this little yet powerful machine named Fiskars StaySharp Plus reel mower. It is safe to say, it is the best manual reel mower.
At first glance, this machine draws buyers' attention thanks to its quiet operation, making mowing work suitable even on Sundays and holidays. Besides, there is no need for fuel, like petrol and electricity, you can save a great deal of money.
Besides, unlike standard cylinder mowers not allowing easy mowing, this revolutionary machine is thoughtfully designed to mow any grass without users putting in an effort. This wonderful result can also be put down to other product specifications like cutting width and height.
To be specific, the featured cutting height is adjustable between 4 and 10 centimetres while the cutting width is 43 centimetres, ideal for any lawns, especially medium and large ones.
Moreover, the cushy handle with non-slip rubber coating ensures a safe and effective working environment by allowing users to move the machine effortlessly.
Thanks to those features, the Fiskars StaySharp plus reel mower can deal with a lawn area of up to 300 square metres and prove to deal with rough terrains just as effectively!
Pros
Lightweight and portable
Easy to set up and assemble
No need for petrol or electricity
Maneuverable over rough terrains and hilly areas
Con
Frequently Asked Questions
Is it suitable to choose a manual lawn mower for hills?
Although hilly and winding yards are a spot of beauty, offering an excellently eye-catching sight; maintaining them is quite costly. Lawns on extreme slopes and challenging climbs require specially built lawn mowers for hills to make a precise and clean finish while avoiding any unwanted damage.
In this situation, a manual lawn mower is not always a brilliant choice, as the work may be too laborious to deal with by hand. Instead, a self-propelled gas hill mower is the most favorited and commonly used product thanks to its incredible horsepower and impressive climbing ability at full speed.
Besides, on such dangerous surfaces with various obstacles like rocks, this type of lawn mower is so useful. Thanks to the built-inzone starting safety system, this lawn mower can automatically turn off its engine when the users fail to get it under control.
How to clean my manual lawn mower?
Cleaning is a crucial maintenance step in preserving, keeping your lawn mower in a tip-top condition, and making the machine work longer and more effectively. Here are some recommended cleaning steps that you should refer to:
Spray cooking spray or silicone lubricant directly on the underside deck to loosen the stubborn dirt and grass clippings
Blast the engine area with a powerful compressed air hose to make it once again good as new
Use soap, hot water, and a brush to scrub off the remaining debris
After all these steps, let the machine dry before reusing.
What are the drawbacks of a manual lawn mower?
While a manual lawn mower allows users to control more easily and reduces the chances of unwanted accidents during operation compared to other products running on gas or electricity, there exist several unwelcoming drawbacks.
When using a manual lawn mower, you are sure to put more effort and time into your lawn, as all the work is done by hand and it seems to be laborious sometimes. For this reason, manual lawn mowers are not suitable for large-scale mowing projects. Besides, you are also likely to be let down when it comes to high mows, as those grass levels take so much time to deal with!
Therefore, based on your tasks and time, you should consider carefully before deciding to choose a manual lawn mower.
Conclusion
Long story short, we hope after looking through our best manual lawn mower reviews UK, you have gained a thorough insight into different lawn mowers and decided the best one for your gardening projects.
Choosing a quality lawn mower is not a piece of cake; however, if you devote some time to searching and reading reviews, this shopping headache is no longer challenging. To decide wisely, don't forget to consider all aspects of a manual lawn mower, including durability, operation, and maintenance.
And now, let's buy a lawn mower and get your annoying lawn in the right shape!