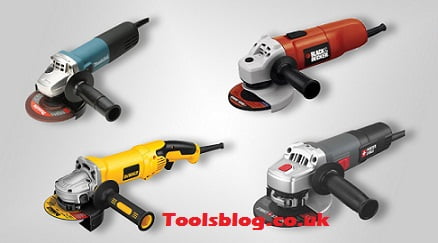 Are you a stranger to angle grinder or already used to it? Either way, the number of factors you need to consider is not small. Don't let that prevent you from getting the right tool! We are here to help!
This article contains a list of the best angle grinder UK with their advantages and disadvantages to help you make the decision easier.
There is also a buying guide to help you grasp all the needed information on choosing this tool. On top of that, many common problems that you will encounter are also solved at the end of this angle grinder reviews UK!
So, what are you waiting for! Let's get to the list!
What's An Angle Grinder?
An angle grinder, also called a side grinder or a disc grinder, is a versatile tool to grind, cut, polish, and sharpen different materials. Although this tool was originally meant to be used with rigid abrasive discs, the availability of an interchangeable power source has allowed it to go with various kinds of cutters and attachments.
A grinder can run on electricity or be powered by compressed air. There are also corded and cordless ones to flexibly suit your needs.
As this powerful tool helps us a lot in our jobs, our daily life, you can easily find it in many metal fabrication shops or construction sites. There are also wheels and attachments in any hardware store, so you can find one for different use.
How To Choose The Best Angle Grinder?
Choosing the best angle grinder UK is a matter of personal preference. In other words, the most suitable tool for you may vary depending on what you need. Take a look at some factors below to better understand the item you want to buy.
Professional or DIY
Like many other tools, angle grinders' markets are divided into two main parts: professional and DIY.
Professional users are those whose jobs involve using an angle grinder most days of the week. That means the suitable product for them must be able to stand a great workload and be durable under the constant impact of working environments.
On the other hand, DIY users don't use this tool that much. They just see it as a hobby or sometimes use it around their house. A suitable tool for these users will have fewer features and not be as robust as the previous one. Thus, the price of a DIY grade machine will be cheaper than a professional one.
Disc Size
Different disc sizes will need different angle grinders. There is a wide range of disc size options to choose from. Some common disc sizes on the market are 115mm (4 1/2″), 125mm (5″), or 230mm (9″).
Creating many disc sizes allows this tool to adapt to various situations. For example, a machine to cut through thick paving slabs might not be the best to wire brush metal fence railings. A suitable tool for the latter needs to be lightweight and easy to handle.
However, its disc can only allow a limited depth of cut since the metal fence railing is pretty thin.
Corded Or Cordless
Because grinders consume a lot of energy, they need power sources that are stable and strong. Many people have opted for a corded product for that reason. They are afraid that a cordless one can't perform demanding tasks.
However, with the constant improvements of battery technology, this is no longer an issue for cordless angle grinders. They can carry out tasks that would have been impossible several years ago without having to drag along an extension cable everywhere. On the downside, this product is normally more expensive than the corded ones.
Still, when you have to use a grinder all day long, the runtime of a corded one is hard to beat. A constant and powerful electrical current with a lower price tag may be ideal for you if your budget is rather tight.
Variable Speed
Like disc sizes, the speed of this tool varies depending on the task performed. For example, the usual fast speed is not recommended when the item is mounted with accessories or a sanding disc for polishing. Another common use of angle grinder is with a wire brush, which has a speed limitation for safety.
A product capable of dialling the speed down will be a good pick in these scenarios. Not many brands have integrated this feature into their product. However, if you find one and can afford it, go ahead. A product that is versatile and able to avoid workplace injuries will definitely be worth your money!
Safety Protection
In terms of safety, there are restart protection, soft start, and overload protection.
Restart protection is a function to avoid accidentally restarting the machine. When the electricity is cut off, but the slide switch is still in the on position, the machine will be a potential hazard because a sudden start may cause it to get out of control. Restart protection will prevent this from happening.
When you switch on your angle grinder, the sudden power running through it will cause it to jerk in your hand. A soft start motor will help the machine reach full power smoothly, preventing sudden jolting and jarring. This is a fairly common feature among professional grinders to give users the best experience compared to speed variation.
When your tool works for a long time in a hot and dusty environment, its motor will get heated. When it gets too hot, the result will be an automatic shutdown.
Overload protection will negate this by automatically shutting down the machine when it overwork. That way, the machine's lifespan will be prolonged, and you also save a good amount of money not having to buy a new one.
Best Angle Grinder Reviews 2022 UK
After going through several factors above, let's move on to the list and see what catches your eyes. We put the products into two categories: cordless and corded. Each category contains machines that come from different brands with diverse features. Hopefully, our list will help you pick the best angle grinders UK!
Best Cordless Angle Grinder UK
The first category we will show you is the top 5 candidates for the best cordless angle grinder UK. As we've mentioned before, you don't have to carry the cable everywhere with this type of tool. If you're into it, scroll down and choose!
1 – Makita DGA504Z Cordless Angle Grinder –

Best For Speed Control
Specifications
Brand: Makita
Item dimensions L x W x H: 36.2 x 14 x 14.5 cm
Style: Without charger
Wheel diameter: 125mm
Speed: 8500 rpm
The first item on the list is a Makita DGA504Z. It runs on an 18V current with an 8500 rpm (revs per minute) motor; the max wheel diameter is 125mm.
A great thing about this product is the automatic speed control. This function allows the machine to automatically change the speed according to load conditions, giving users the best experience when using it. In this case, you can change the speed with a maximum of 8500 revs per minute.
This product features an anti-restart function and overload protection for safety. A current limiter is integrated to shut down the machine whenever signs of overheating are detected. Moreover, there are also battery fuel gauge LEDs to let you know that the anti-start function and the current limiter are activated.
This product features XPT technology. XPT is a protective seal inside the grinder to help enhance the tool's water resistance by channelling water and dust from the tool's key internal components. The protection from dust and dripping water will make the tool more durable when used in outdoor applications and under harsh conditions.
Unfortunately, this product doesn't pass the test of dropping protection. We dropped it from just only 2 ft, and the battery holder broke. You can avoid this simply by taking better care of the tool, and don't drop it!
Pros
Automatic speed control
Convenient slide switch
XPT technology
Con
2 – Ryobi R18AG-140S 18V ONE+ Cordless Angle Grinder –

Best For Ease Of Use
Specifications
Brand: RYOBI
Item dimensions L x W x H: 40 x 197 x 220 cm
Style: Kit including battery and charger
Wheel diameter: 115mm
Speed: 7500 rpm
Like the previous one, the voltage on this angle grinder is 18V, offering a no-load speed of up to 7500 rpm. It features a 115mm disc.
Not many products can beat this Ryobi R18AG-140S for ease of use. This tool has many convenient details that make your work simple and bearable.
There is a three–position handle that gives you added control and comfort when working with different materials and angles.
On top of that, Ryobi also applies the GripZone+ overmold technology to improve your grip on the tool. Overmolding is a process that combines multiple materials into a single part or product. Normally, there is a rigid component with a thin, rubber-like layer on top of it.
This technique provides the grinder with a soft-touch exterior and enhances your grip, and gives the tool a stylish look. Moreover, overmold can reduce the vibration and shock, adding to customer satisfaction.
The product gives you ease of use and changing accessories. With the spindle lock, all you need is to lock the system to free your hand, then replace the accessories. Release the spindle, and your grinder is ready to work!
Another bonus point about Ryobi R18AG-140S is that it comes in a kit with a battery and charger to provide your tool with enough power for many tasks.
So far, so good, yet this kit is not flawless. The cons of this angle grinder are its weight and price tag. It weighs up to 3.56 kg, so you'll have to use more strength to hold it. That said, the tool's design is well-balanced, and the handle part is also slimmer to make up for this.
As for the price tag, this one costs the most out of the five cordless grinders we introduce to you. If this is not an ideal price for you, keep reading, affordable ones are waiting to be discovered!
Pros
Two-stage non-lockable switch
Minimal vibrations
Easy to use
Cons
Quite heavy
High price tag
3 – Einhell Power X-Change Cordless Angle Grinder –

Best For Price
Specifications
Brand: Einhell
Item dimensions L x W x H: 26.5 x 13.3 x 11 cm
Style: Angle grinder only
Wheel diameter: 115mm
Speed: 8500 rpm
If the previous product is too pricey for you, we offer you the best cheap angle grinder UK – Einhell Power X-Change. Don't think that the cheapest is the dearest. This beast from Einhell still satisfies most of your tasks without digging deep in your pocket!
It runs on an 18V electrical current with a maximum no-load speed of 8500 rpm. With a 115mm disc, you can perform a maximum cutting depth of 28mm. No less capacity compared to other high-end picks!
This tool's gear head is made of metal, giving you a robust and powerful grinding performance when using it.
It is a member of the Power X-Change family, also the lightest out of that class. With a weight of only 1.21kg, the tool is very easy to work with. Holding it one hand for an extended time is no longer a hassle.
Although this cordless angle grinder comes in at a much lower price compared to others, it isn't any less safe. It features both restart safeguard and overload protection. The soft-start function is also integrated into this tool. Thanks to it, you can switch on the tool and work smoothly without sudden recoil.
The only disappointing thing about this grinder is that it's supplied without a battery, charger, and cutting disk. Given this price, we think that this lack is pretty understandable. Einhell has also introduced the Einhell Power X-Change battery system, so you know where to buy a suitable battery for your tool.
Pros
Safe disc guard
Versatile side handle
Soft-start function
High speed
Con
No battery, charger, or cutting disks included
4 – Bosch Professional 060193A300 GWS Cordless Angle Grinder –

Best For Powerful Cuts
Specifications
Brand: Bosch Professional
Item dimensions L x W x H: 39 x 16.5 x 10 cm
Style: In a cardboard box
Wheel diameter: 115mm
Speed: 10000 rpm
The fourth item on our angle grinder reviews UK comes from Bosch Professional. This one is a very capable cordless grinder with a remarkable no-load speed of 11000 rpm.
The reason for its title, "Best for powerful cuts", is that it can deliver power equal to an 800 W corded grinder due to a high-performance 4-pole motor. A 4-pole motor has four magnetic poles on the rotor. The more poles the motor has, the greater torque it produces. Therefore, when compared to a 2-pole counterpart, Bosch Professional 060193A300 GWS can deliver double the power.
This machine features electronic cell protection (ECP). That function provides monitoring and control to avoid battery failures and protect users from their consequences.
To ensure users' safety, Bosch has developed an anti-rotation protective guard. It is a curved part that locks in place and covers half of the cutting disc. If the disc shatters, the fragments will fly away in many directions and cause serious injuries. This won't happen with Bosch Professional 060193A300 GWS. The anti-rotation guard will make sure those sharp fragments are directed away from you, minimizing your chances of getting hurt.
It's hard to find any cons of this product, and the only thing we found out is that it is slightly larger than the corded Bosch Professional grinder, so it is hard to hold in one hand.
Pros
Great torque
Quick delivery
Con
5 – Dewalt DCG405FN Cordless Angle Grinder –

Best For Solving Acute Angles
Specifications
Brand: DEWALT
Item dimensions L x W x H: 38 x 16 x 14 cm
Style: Single
Wheel diameter: 125 mm
Speed: 9000 rpm
This machine uses a 125 mm grinding disc and runs on 18 volts current.
The feature that sets this tool apart is its flathead. With this design, the tool can have access to acute angles and perform its tasks in some tricky places that the standard models can't reach.
Moreover, the flathead also makes it easier to get in the right direction. You can see what you're grinding, cutting, or polishing clearer to manoeuvre the tool.
Unlike some grinders in which you have to continuously press the paddle switch to keep the tool working, this Dewalt DCG405FN has a slide switch on the side. With a simple flick of a finger, your machine will run immediately.
It has an electronic brake and electronic clutch to protect you from getting hurt when it comes to safety. The electronic brake will stop the tool quickly when the trigger is released.
If the machine grabs or jams on the material while working, it will suddenly thrust back toward the operator, which is called "a kickback". With the electronic clutch on, you don't need to worry about this problem.
Unfortunately, there have been some complaints that the grinder's switch is not very durable; it'll fall out of place after several months of use. Still, all the features we've mentioned above are enough to make it an amazing cordless angle grinder!
Pros
Rubber over-mold material
Mesh cover
Anti-restart protection
Con
So DEWALT DCG405FN has wrapped up the list of five best cordless angle grinder UK. For a professional user with a limited budget, we recommend you to go for Bosch Professional 060193A300 GWS as it is medium-priced, safe, and robust enough to meet the demand of your job.
Best Corded Angle Grinder UK
Above are some cordless machines we recommend to you. However, if you still prefer the traditional ones with a cable and a stable power source, then this corded category is for you. Like the cordless one, we also offer you the best corded angle grinder UK. Let's see if there's something to your liking!
1 – Makita GA4530R Corded Angle Grinder –

Best For Versatility
Specifications
Brand: Makita
Item dimensions L x W x H: 9.5 x 31 x 11.5 cm
Style: Makita GA4530R Angle Grinder 115mm Slim 720W 240V
Wheel diameter: 115 mm
Speed: 11000 rpm
This is another product from the Makita brand. Its voltage is 240 V, 720 Watt, offering a no-load speed of 11000 rpm.
Makita GA4530R angle grinder is suitable for people of different jobs: welders, fabricators, masons, maintenance, and more.
When used with the right accessories, the machine can do wonders. Using a metal cutting disc, it can go through iron rebars and aluminium metal bars. With a grinding disc, it can sharpen lawn mower blades, garden shears, loppers, and chisels. You also can mount it with a 40 grit paper disc to remove dust from a downpipe. What a versatile tool!
This corded grinder features double insulation to avoid electrical accidents. Double insulation consists of an added layer of supplementary insulation on the top of the basic insulation to protect against electric shock. The tool also has an anti-restart function and soft start protection.
Another reason why this product is worth your money is that it will last for years to come. The bevel gears will change the operating angle and adjust the ratio of teeth between the drives and the accompanying wheels. Moreover, there is also a labyrinth construction to further prolong its lifespan by sealing the motor from dust.
It is easy to use this Makita grinder. Makita has positioned the side handle at an increased 20 degrees for added control. Besides, the switch is in the form of an on/off slide type to reduce fatigue.
It seems like the switch falling off is a pretty common default among grinders since there are several complaints about this problem. But this is no biggie! You can contact the retailer and have it replaced without any fuss. Putting these minor cons aside, this corded angle grinder deserves to be ranked as the best 115mm angle grinder UK on this list.
Pros
Spindle lock
Heat-resistant
Powerful and speedy
Con
2 – BLACK+DECKER BEG010A5 Corded Angle Grinder –

Best Package At A Suitable Price
Specifications
Brand: BLACK+DECKER
Item dimensions L x W x H: 13 x 36 x 14 cm
Style: 3 position handle
Wheel diameter: 115mm
Speed: 12000rpm
If there's one product that deserves the title "best budget angle grinder UK" in this category, it is definitely this BLACK+DECKER BEG010A5. You'll be surprised at what you get when you buy this grinder at such an affordable price.
This product is powered with a 710 W motor that delivers even greater power than the previous one – 12000rpm. With this powerful tool, you can tackle a wide range of grinding or cutting jobs.
BLACK+DECKER makes you feel completely at ease while using their product by optimizing every detail for your sake. There is a three-position handle for two handed operations to help you gain more control over the tool.
There are soft-start protection and anti-start function to ensure your safety. Even if you accidentally plug up the machine when the switch is on, it still won't start.
The gear case is made of metal to help the heat dissipate easily while the machine is running.
Coming with a price that goes very easy on your pocket is a set of five cutting discs. We can both agree that this corded angle grinder is a real bargain.
The disadvantage of the machine lies in the switch. It's stiff; therefore, sliding between on and off positions is slightly hard.
Pros
Affordable price
Powerful motor
Flexible handle
Con
3 – Bosch Professional 601388174 GWS 7-115 Corded Angle Grinder –

Best For Safety
Specifications
Brand: Bosch Professional
Item dimensions L x W x H: 12.1 x 13.1 x 36.4 cm
Style: In a cardboard box
Wheel diameter: 115mm
Speed: 11000 rpm
Bosch Professional values their customers' safety, which shows in the tool's safety and convenience features.
When it comes to protecting users, Bosch Professional 601388174 GWS 7-115 has all the merit that a safe tool needs to have: safety switch, restart protection, and anti-rotation protective guard. You've already known how these add-ons do their jobs. While the restart protection prevents sudden activation, the anti-rotation minimizes shatters.
As for the safety switch, this is a real innovation from Bosch. Instead of the traditional on-top type, now you can activate the switch alongside the handle. Simply put, you grip the handle and press the switch simultaneously. So if you happen to lose control and drop the grip, the grinder will turn off itself.
It is also lightweight, 1.9 kg, to help you remain comfortable holding it continuously.
There are air inlets on the machine to allow the heat to get out easier, optimizing the cooling process. This way, its longevity will be greater.
Although this product is highly recommended for its quality, it's a pity that there is no case included to contain the disc, the spanner, and protect the tool.
Pros
Flat gearhead
Compact size, lightweight
Easy to use
Motor cooling function for an extended lifespan
Con
4 – Tilswall 125mm Corded Angle Grinder –

Best For Comfort
Specifications
Brand: Tilswall
Item dimensions L x W x H: 32.5 x 12.5 x 14 cm
Style: Electronic
Wheel diameter: 125 mm
Speed: 12000 rpm
This machine has an impressive motor described as an "energetic workhorse" – an 860 W motor. The motor can produce a no-load speed of 12000 rpm, increasing up to 45% torque to accomplish tough work.
Everything about this product just screams comfort. Let's start with the material it's made of – the first thing that touches our hand. Polyamide plus glass fibre is a high-impact material that can reduce vibration when the tools are in operation. It also provides a comfortable grip, preventing your hand from slipping.
The machine features a tool-free quick-release guard, allowing you to quickly change from grinding wheels to cutting wheels. Moreover, there are two protective guards for grinding and cutting wheels, so no matter what you use, you are always kept out of potential danger.
The three cutting wheels included with the packet have been upgraded to be thicker than the normal one. In other words, those discs are more durable, so you probably don't have to buy a new one.
The only slightly disappointing thing about this grinder is it comes in a cardboard box that won't fit if there is a cutting disc to go with it, so you have to find storage yourself.
Pros
Lightweight
Convenient switch
Slim grip
Con
5 – Einhell TE-AG 230/2000 Angle Grinder –

Best For Powerful Motor
Specifications
Brand: Einhell
Item dimensions L x W x H: 54 x 14 x 16 cm
Style: TE-AG 230/2000
Wheel diameter: 230 mm
Speed: 6500 rpm
If you are looking for a powerful motor, consider this Einhell grinder. It runs on a 230 V, 2000 Watt current, delivering a 6500 rpm no-load speed.
This machine makes easy work of cutting through hard material such as bricks, paving slabs. It accepts cutting disc diameter up to 230mm, providing greater cutting depth. These two features make it the best angle grinder for metal work in our collection.
Using such a robust and somewhat heavy (5.9kg), people with little or no experience in hand get severe injuries if not careful. However, the tool has an ergonomic soft grip and soft start protection to help you manoeuvre it comfortably.
Unfortunately, this machine doesn't come with a disc, so you need to prepare one at home.
Pros
Powerful motor
Versatile
Durable transmission head
Con
So we have come to the end of the second category, "best corded angle grinder UK". If we were to pick out the best grinder among the above five candidates, it would be Makita GA4530R. A durable, not-too-heavy tool that makes easy work of slicing through different materials will be an ideal addition to your kit.
Above are our reviews for the best angle grinder UK. Each product has its own pros and cons, with different prices that vary from fairly cheap to expensive.
Einhell power X-Change and BLACK+DECKER BEG010A5 are the two typical products with prices that go easy on your pocket.
If you're looking for a powerful beast, then Einhell TE-AG 230/2000 might be a good pick. Or if you have other priorities in mind, choose whatever you like among the tools from Bosch, Makita, Dewalt, Tilswall or Ryobi. They are safe and come with a "best" feature to suit your personal interest.
However, if you still have trouble buying a new tool, take a look at our FAQs section below!
FAQs
This section is the place where common questions about angle grinders are answered. Dive right in to know if it helps you with making up your mind!
What Are The Best Brands UK For Angle Grinders?
One of the factors in deciding if a brand is good or not is to see its warranty policy. Some of the reliable brands we've found out there are Dewalt, Bosch, Makita, and Milwaukee.
Dewalt is a famous brand in the power tool industry. Their appliances are acclaimed by professional contractors for great performance. Dewalt offers a three-year warranty.
Bosch not only makes power tools but also makes household and industrial appliances. Their products are known for solidity and reliability. Bosch products are under warranty for one year.
Makita's products are also warranted for one year. Their angle grinders offer users enough power, speed, runtime to tackle various tasks and materials.
Milwaukee has the longest warranty out of the four above: five years. Their technicians will always be there when you need help with your tools, providing quick and convenient solutions for maintenance claims.
In terms of warranty, we recommend using Milwaukee products. Having access to a long warranty and knowing there'll always be someone to help you with your tool are the perfect bonus points for them.
What Are The Safety Tips In Using Angle Grinders?
Wearing PPE
The most basic thing to keep yourself safe when using this machine is always remembering to wear personal protective equipment.
All it takes is just a few seconds, and after you put them on, your chances of getting hurt will be reduced significantly. Besides, loose-fitting clothes and letting your hair down are also potential hazards that you need to keep in mind.
Proper Wheel Size
Each angle grinder has its own recommended grind size. Although some tools accept more than one grind size, you should still use the proper one for a safe operation. Otherwise, the disc may become stable, wobble, which leads to a kickback reaction.
Avoid Fire Hazard
In the process of grinding, the machine produces sparks to your surroundings. If there's flammable liquid or dry grasses, they will catch the spark and cause a fire. Thus, before working, remember to clean the surrounding area.
Tightening Discs
If the disc is not properly tightened, the consequence is as serious as using the wrong grind size. Tightening the disc with a wrench is also safer and easier than doing it by hand.
Handle The Machine With Two Hands
Holding the grinder with two hands gives you far more control and leverage than doing it with just one hand. And don't forget to place your hands in the correct positions to be completely in charge of the whole tool.
What Will Happen If You Use The Angle Grinder Incorrectly?
The answer is all types of injuries. That powerful tool can cut through stone, metal; of course, it can cut through human flesh and bones. If the disc breaks, many sharp pieces will fly away and stab your hands. Even the smallest things like sparks can hurt your eyes, burn your skin if you're not careful.
Is An Angle Grinder The Same As A Disc Cutter?
No. The former is a versatile appliance used for cutting, grinding, polishing, and many more. On the other hand, the latter is a small, single-handed blade mainly used for small cutting tasks.
Can An Angle Grinder Cut Through Concrete?
Yes, and it is also an effective way to do it. To cut concrete, you should use a diamond wheel that can be used for both wet and dry concrete cuttings. When it comes to diamond, it can slice through anything from stone, granite, tile, and concrete is also not an exception.
Do You Have To Wear Gloves While Using It?
As mentioned above, it is necessary to wear PPE while working with this machine. Since gloves are a part of personal protective equipment, you also need to put them on as well to protect your hands.
Conclusion
Finding the best angle grinder UK is not an easy task due to thousands of brands and models out there. However, we are here with our article to save you time and hard work. The only thing you need to do now is consider your priorities and needs, as buying a suitable tool is a matter of personal preference.
We hope that this angle grinder reviews UK is helpful to you! Have a good day!