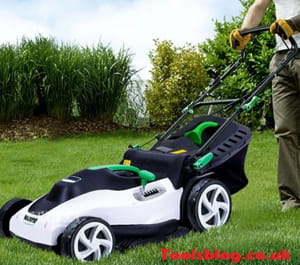 A neatly mowed lawn not only makes the garden of your house more beautiful but also provides the space for your family to enjoy the outdoor activities. However, the mowing would be a little bit time-consuming and challenging without the assistance of the best electric lawn mower UK.
But what's the kind of electric mower that best serves your needs? It's not a tough question at all with the following electric lawn mower reviews UK. So let's look at the 15 best electric lawn mowers that are worth your choice in this 2022
What Is An Electric Lawn Mower?
Theoretically, a lawn mower is a gardening tool or machine with one or more revolving blades used for cutting grass on the lawn. There are many ways to categorise lawn mowers, but according to the source of energy they run on, they can be divided into petrol and electric types.
In general, electric lawn mowers have more advantages than their petrol-powered counterparts. They don't produce much noise during their operation and are often more straightforward to manoeuvre, transport and maintain. Besides, because they are more environmentally-friendly, helping to reduce your carbon footprint to the environment effectively.
How Many Types Of Electric Lawn Mowers?
There are two kinds of electric lawn mowers, which are the corded lawn mower and the cordless one. Because each type of electric lawn mower has its advantages and disadvantages, you should know about them to make up your mind about which one best serves your needs.
Corded lawn mower
Advantages
Consistent performance: Since corded electric mowers receive a constant supply of electricity from the electrical outlet to power their motors, you just need to plug them out, and they can operate continuously and powerfully with various kinds of grass. There's no need to hastily complete your mowing task before the battery runs out as with the cordless battery lawn mower.
Affordable price: Corded electric mowers are often cheaper and more affordable than their cordless counterparts because they just need a power cable instead of the powerful batteries. Practically, these batteries are not cheap, so selecting a corded mower can save you a sum of money at the beginning.
Disadvantages
Limited range: Even with the best corded lawn mower UK, it's clear that one of the main downsides lies in the power cord. To put it simply, you can be restricted from reaching as far as you want due to the cord length limit. Also, suppose your gardens are teeming with bushes, flowers, and other obstacles. In that case, it's not easy for you to go around with the power cable in tow.
An extension cable needed: Many people handle the problem of the limited cord by using an additional extension one, which might be time-consuming to drag across the lawn. It's also risky if your kids or others are moving around. Also, you need to avoid mowing over the cord itself, which makes you unable to focus on your mowing entirely.
Cordless lawn mower
Advantages 
Unlimited range: Cordless electric mowers run on batteries, so they allow you to freely move around to mow several unrestricted areas compared to their corded counterparts. For example, you can make light work of cutting the hard-to-reach bushes without worrying about the cord being tangled around your lawn or your legs.
Easy of use: Just press the button on your cordless electric lawn mower and cut the grass on your garden. It's pretty simple as there's no need to learn any new techniques or figure out how to manoeuvre the cable around a wide range of bushes, trees and other obstacles. This ease of use makes cordless lawn mowers an attractive option for those who are seeking handy electric lawn mowers.
Disadvantages 
Limited mowing time: As the batteries power cordless electric lawn mowers, the cutting time is greatly restricted. Even with the most powerful ones, you cannot continue your mowing work when they run out. Therefore, you ought to make sure that your mower's batteries are fully charged for a long task, or divide the mowing job into many days, which can be a little inconvenient.
Battery issues: The problems with the batteries here are that it takes time to charge them before you start your mowing job. Also, they can degrade after a period of use, so you need to replace them, often after four or five years, or when you notice that your mower doesn't work effectively and efficiently even with the fully charged batteries.
How To Choose The Best Electric Lawn Mower?
Design
One of the most necessary factors that you should pay attention to when seeking for an electric lawn mower is the design. A mower model made of lightweight materials, primarily from durable plastics, is more straightforward for you to carry around to different areas in your gardens.
Also, you could see that many producers have updated their mowers' design by making some components of their products foldable so that it can be easy to transport and also doesn't take much space to store. You can know these features by looking at the label of a mower product that shows its specifications.
Performance
As mentioned in the reviews above, there are different kinds of mowers available on the current market with varying cutting performance. So the thing is that you should make sure that the product that you opt for gives you the mowing results as expected by considering the motor.
Commonly, electric lawn mowers usually come with motors with the capacities of 1200W, 1300W, 1500W and so on. Actually, the greater the capacity is, the more power the lawn mower will produce. So if you want to cut thick grass, the one with more power will best serve your needs.
Main features 
Another essential feature for you to look at is the cutting blade, which partly determines how broad the cutting stripe received can be. Usually, the one with many blades and has a wide cutting diameter can work more efficiently with even large areas and provide you with better mowing results.
Also, electric lawn mowers come with 4 or 5 cutting height options, which enable you to cut grass of different length with little to no effort. If you want to cut your grass with a lot of varying heights, you can select these powerful and high-end mower models with seven or more adjustment modes.
Moreover, one of the features of the best electric lawn mower is that it features the mulching function that can discharge and pick up the grass clippings. Some mowers will release these clippings on the lawn directly, whereas others dump them from the roller rear into the collecting bag, etc. Hence, you can choose what serves your preference.
Safety features
Currently, many brands have cared more about the safety features of their lawn mowers. They have equipped their mowers with safety buttons that prevent inadvertent operation or the soft handlebar, allowing you to reduce the chances of hand blistering when holding the lawn mower for a long mowing job. These are just small details that you can look at to pick the best electric lawn mower wisely.
Maintenance
It's not easy to know what kinds of lawn mower models need maintenance service more. Typically, the cordless electric mowers are more likely to be regularly serviced due to the problems with the batteries. However, the frequency of your mower's maintenance depends mainly on the way you operate and store it.
Price
Price is the factor that impacts our purchasing decision a lot. You want a powerful electric mower with fascinating features; then you have to pay an arm and a leg – it's quite understandable. So the advice here for you to just think about your budget and the features you need most in your lawn mower to make a wise choice.
Best Electric Lawn Mower Reviews UK 2022
The 15 best electric lawn mowers available in the UK will be reviewed according to the price range ranging from under £100, £200 to under £300 and £500 so that you can conveniently select the product that fits their budget. So let's figure out what features do these top electric lawnmowers offer without further ado.
Best Electric Lawn Mower Under £100
We will now begin with the in-depth review of the best electric lawn mower under £100. They might be cheaper than expected, but their values are certainly far more than what you pay for.
1 – Flymo EasiMow 300R Electric Mower –

Best for small lawns
This Flymo EasiMow 300R lawnmower is most suitable for small and medium-sized lawns. It's because this model has a powerful 1000W motor with the cutting width of 30 cm and the cutting height of between 2 cm and 6 cm. Also, its lightweight rotary design is so convenient to move around your lovely garden.
Additionally, this mower boasts a close edge cutting function, so it's capable of cutting close to the border of your lawn. This feature enables you to save a lot of time by minimising the amount of trimming needed. You can also mow your lawn and turn it into a neat and tidy one with this product's high-quality rear roller.
In terms of the grass box, it's designed in a large tongue shape so that users can take out and get rid of all the grass clippings quickly and easily. Besides, this mower model also comes with a full grass bag indicator, which helps you know exactly when the grass box needs emptying.
Nonetheless, the primary drawback of this Flymo EasiMow 300R lawn mower is that the included cable is just 10 metres. Therefore, you might have to purchase an extension cable if you want a longer one.
Pros
Best design for small and medium lawns
Close edge cutting mode with a roller included
Convenient grass box and grass box indicator
Cons
The limited length of the cable
In short, regarding its features, this lawn mower is the best electric lawn mower with roller UK that's perfect for small lawns. Thus, it's a smart choice for those who prefer a cheap but good mower to opt for this mower model.
2 – Flymo 360VC Electric Mower –

Best for the convenience
The Flymo 360VC mower features a heavy-duty design made of quality metal and plastic, allowing you to comfortably use it for an extended period and freely transport it to and from your garden. Aside from this, the medium-sized design of this product is another strong point since you'll need less space for its storage.
In addition to the excellent design, this rotary lawn mower owns many features such as an efficient 1500W motor to cut large and long grass in even a large lawn area quickly. Also, modifying the cutting height that is suitable for certain kinds of lawns is possible with the central height adjuster.
Concerning the additional features, this electric lawn mower is superior to the previous Flymo EasiMow in terms of the cable. It comes with a 12m-long one, which allows you to move the lawn mower around freely and flexibly within a broad range in your garden.
Nonetheless, the only downside of the Flymo 360VC lawn mower comes from the quality of the handles. They look a bit poorly-made and uncomfortable to use for an extended period.
Pros
Compact and easy-to-carry design
Powerful 1500W motor for efficient mowing
A 12m-long cable for the adequate reach
Cons
The easily degraded handles after long periods
To sum up, regardless of the minor issues with the handles, this Flymo 360VC mower still deserves its rank in the best electric lawn mower around £100 top list due to its handy design and other notable features.
3 – Bosch Rotak 32R Electric Mower –

Best for lightweight design
The well-known Bosch brand makes the Bosch Rotak 32R lawn mower with portability in mind. So, unlike the other mower models of other brands with a similar price, this product just weighs approximately 6.8 kg, which is light enough for you to carry with ease from one to another place.
In terms of performance, the Bosch Rotak 32R features a 1200W motor and robust steel blades, which are quick and efficient enough for you to mow your lawns with minimal effort. Even when dealing with long and dense grass, you won't encounter any difficulty in manoeuvring it and having a perfectly trimmed and cut lawn.
What's more, this mower can be easily adjusted to accommodate various types of lawns. To be more specific, it enables you to modify the cutting heights from 2 cm to 6 cm. Thus, you don't need to worry about your lawn type, just use this mover and get mowing results that best suits your needs.
The only weak point of the Bosch Rotak 32R corded mower is that it doesn't have a grass box level indicator like other models of different brands. This downside may make it a bit hard for you to do the mowing.
Pros
Lightweight and easy-to-transport design
Powerful 1200W motor and sturdy steel blades
Cutting height modification feature
Cons
The lack of grass box level indicator
All in all, the drawback of the Bosch Rotak 32R mower is minor, and this product can be the best choice for those who prefer an easy-to-move mower with a suitable price.
4 – Murray EC320 Electric Mower –

Best for safety features 
This Murray EC320 Mower is one of the electric mowers boasting many features to ensure your safety. For instance, the handrail possesses a release button that needs pressing to activate the throttle. Also, the motor's overheating switch can be automatically triggered when its engine handles an alarmingly massive amount of work with no cooling-down time.
In terms of performance, this corded lawn mower boasts a standard 1200W motor, but it can do an excellent job of mowing lawns more than 300 square metres. Also, with five different cutting height options, it still brings a neat and consistent mowing result regardless of any kind of grass in your lawn.
What's more, this mower comes with a mulching blade that can cut the grass into small clippings. And with the included mulching plug, you can quickly bring the clippings back to the place at which they were born and help to increase the fertility of your lawn.
Disappointingly, the main drawback of this Murray EC320 mower model is the grass box, which seems to be a bit on the small side. Hence, it may not be efficient enough when dealing with a large thick overgrown lawn.
Pros
Safety features for the users
1200W motor with five cutting heights
A mulching blade included
Cons
The seemingly a little small grass box
In summary, considering the safety and other features of this powerful but cheap mower, you can be satisfied with the comfortable mowing experience it provides. It's the cheapest in the top lawn mowers of under $100
5 – Hyundai HYM3300E Electric Mower –

Best for the low price
The Hyundai HYM3300E electric mower is no doubt the best budget electric lawn mower UK because of its reasonable price. This price is utterly one of the most advantages of this product since it's quite competitive regarding many features it owns.
In terms of its design, this mower model's weight is 9 kg, which is lightweight enough for you to push it around your lawn. Moreover, this ergonomic design just requires little effort when you do the mowing tasks. This characteristic helps minimise your fatigue and enhance the manoeuvrability.
Besides, the manufacturer boasts that this mower model comes with a 1200W but maintenance-free motor. It can do you a big favour, given that from now on, you do not need to care too much about the time-consuming process of oil checking, or air filter fixing or spark plug modifying.
Despite all these above upsides, the main downside of the Hyundai HYM3300E is the unclear instruction. Hence, the manufacturer should give bigger diagrams so that users could figure out precisely how to assemble or repair this mower.
Pros
The competitive price for features offered
Lightweight design for the manoeuvrability
A standard and maintenance-free motor
Cons
The poorly-illustrated instruction manual
Overall, despite the problem with the instruction, the Hyundai HYM3300E lawn mower is almost unbeatable in terms of price, so this product should be one of your smart purchase options.
Best Electric Lawn Mower Under £200
Let's now set foot into the land of the best electric lawn mower under £200, a place just as intriguing as the value-packed collection of cheap models above.
1 – Makita DLM382Z Lawn Mower –

Best for modest lawns
The Makita DLM382Z Lawn Mower features a 83.49 x 47.19 x 38.89 cm design with a weight of 15.24 kg, which is most convenient to move around small and medium gardens. According to the manufacturer, this lawn mower has the optimal mowing area of approximately 540 m², so you can use it to mow your modest lawns with great ease.
Besides, possessing a close edge cutting function, this model is capable of cutting close to the lawn border. This feature enables you to conduct mowing tasks in the hard-to-reach area of your lawn without any obstacles. Your garden will also own a neat and tidy appearance when you exploit the high-quality rear roller of this lawn mower.
Regarding the grass box, it's designed in large tongue shape and has 40-litre grass capacity, so you'll have no difficulty taking out and getting rid of all the grass clippings quickly. Moreover, with a full grass bag indicator, this mower model allows you to know precisely when you need to empty the grass box.
However, a fatal flaw of the Makita DLM382Z is that the foldable handle is a bit uncomfortable to use. Also, its underneath seems too tricky for unskilled users to clean.
Pros
Convenient design to move around small gardens
Close edge cutting function with a roller included
Useful 40-litre grass box and grass box indicator
Cons
The uncomfortable and hard-to-clean handle
In short, considering its features, this Makita DLM382Z lawn mower is another terrific machine that's ideal for lawns of modest size. Thus, it's a smart choice for those who do not need a tool of extreme power since their garden is limited in space, yet still requires utmost quality and reasonable price.
2 – Greenworks G40LM35 Lawnmower –

Best for the mulching feature
This mower model by the well-known brand Greenworks stands out with the practical mulching function. This feature allows the cuttings to be directly added to the lawns instead of ending up in the collection bag. The small and finely cut grass pieces are a natural fertiliser that can improve your lawn's soil fertility.
Concerning its performance, this cordless lawn mower comes with a 35 cm deck size that's capable of mowing the lawns of up to 500 m². Also, with five cutting height adjustments from 2 cm to 7 cm, you just need to choose the suitable adjustment mode for your lawn conditions and see how they are finely mowed.
Another noticeable characteristic of this mower model is the powerful lithium-ion battery, which can be compatible with a vast array of garden tools and gadgets of the Greenworks. If you have any Greenworks' 40V devices, you can use this battery to power them, which is very handy and economical.
Unfortunately, it's almost impossible for you to expect a lawn with a striped appearance because this product doesn't come with a roller at the rear.
Pros
The practical added mulching feature
Medium deck size and five cutting heights
A highly compatible lithium-ion battery
Cons
The lack of the rear roller
Generally speaking, this Greenworks G40LM35 deserves being on the best cordless lawn mower UK shortlist when it comes to its additional practical features and good-quality battery.
3 – Yard Force 40V Cordless Mower –

Best for the height adjustment
The most outstanding about the Yard Force 40V mower is that it possesses a cutting height adjustment feature. You can determine the cutting height from 2.5 cm to 7.5 cm with great ease just by setting the lever. With seven adjustment ranges, it does an excellent job of keeping almost all kinds of lawn neat throughout the year.
Outside of the height adjustment feature, the Yard Force 40V also comes with a 34 cm cutting diameter and a small deck size that practically doesn't take much space for storage. This compactness and convenience are also the result from the included foldable grass box and the soft-grip handles.
The next unique selling point of this mower is indeed the Samsung 2.5A battery. Despite delivering a mowing time of more than 40 minutes equivalent to that of the Bosch Rotak 32R model, its battery life is lengthened by the Torque Sense technology. This technology preserves battery life by utilising different power for different lawn types.
Despite all these useful features, the main drawback of this product is the average runtime and medium power, which it's not very ideal for large lawns, especially the ones of more than 350 m².
Pros
The Torque Sense technology for good battery life
Compact and convenient design for storage
Seven cutting height adjustment modes
Cons
Poor mowing results for large gardens
In a nutshell, the Yard Force 40V mower's long battery life and convenient design make it become one of the best value electric lawn mower UK models for those who want to have tidy and beautiful small or mid-sized lawns.
4 – WORX WG779E.2 Cordless Mower –

Best for the dual battery
The most prominent feature of this WG779E.2 Cordless Mower is two 20V max Lithium-Ion batteries included. These batteries ensure that the mower could perform more powerfully with extended run time. Also, with the modern WORX Dual Charger, you can quickly charge them at the same time.
Another thing that's fascinating about this mower is its capability of cutting close to the edge. To be more specific, the innovative deck design allows it to cut the grass close to your fences or walls, ensuring the uncut areas surrounding the edges that you want.
Besides, thanks to its six height options ranging from 2 cm to 7 cm, you can choose the one that you want all with ease. Outside of this, Intellicut technology facilitates the automatic speed adjustment based on different grass conditions. Therefore, it can remain consistent and robust cutting performances even in thickly overgrown lawns.
But compared to other cordless models of the higher price range, this WORX WG779E.2 mower doesn't possess the mulching function. Though you cannot expect a mower of this price to be able to mulch, it'd be wonderful if the manufacturer equipped this model with that feature.
Pros
Powerful lithium-ion batteries
Close to edge cutting function
Six height options for various lawn types
Cons
The lack of the mulching facility
In general, the WORX WG779E.2 Cordless Mower should be one of the best choices for those who prefer a reasonably-priced mower with outstanding performance and runtime.
Best Electric Lawn Mower Under £300
So far, so good! The models we have just introduced you to are obviously bangs for the bucks themselves. But your interest falls on something a bit more advanced and price is not really that big of a matter to you? Then these best electric lawn mower under £300 might do for you.
1 – Greenworks Tools G40LM41K2X Lawnmower –

Best for the large blade
Interestingly enough, the Greenworks Tools G40LM41K2X mower owns a durable rotary blade with a cutting diameter of 41 cm, which is pretty large. This metal blade produces a fine cut, making your lawn tidier and more neatly. Hence, you can get the best mowing results regardless of whether you want to collect the clippings or mulching or not.
Concerning the design, this mower model features a compact design mainly made of high-quality plastic that allows you to store it easily. Besides, It lacks power cords but has a practical handle, which makes your whole experience hassle-free because transportation is now a breeze.
What's more, like many other cordless lawn mowers, this product is powered by a 40V Lithium-ion battery. The battery charging is not time-consuming at all, and the swapping process is no more manageable because it will charge in approximately half an hour per each 2.0Ah battery.
Impressive as this product may seem, this lawn mower lacks the rear roller. Similar to other mower models of the Greenworks Tools brand, it cannot give your lawn a stripy look.
Pros
Compact design for easy carrying
A 41 cm cutting diameter for powerful mowing
A 40V battery with long runtime
Cons
The lack of the rear roller
In short, the Greenworks Tools G40LM41K2X Mower can be ranked as the best electric lawn mower for small garden UK in terms of its a convenient design and its capability to mow diverse types of grass.
2 – Flymo EasiStore 300R –

Best for the durable blade
This Flymo EasiStore 300R cordless mower boasts a metal blade, which can be regarded as one of the outstanding features. The metal blade is not only durable for an extended period of use but also easily sharpened to ensure the optimal mowing outcome for your lawn.
Moreover, it has a 30 cm cutting diameter, which is very convenient to mow small lawns or the areas of a similar size to a full tennis court. Also, with five different cutting heights between 2.5 cm and 6.5 cm, this mower model is no inferior to the same-class models.
In terms of safety features, this product offers a removable safety key that helps to prevent the accidental starting of the mower. It's a lovely function that can hardly be found in some other cordless mowers, which gives you peace of mind when running around with it on your lawn.
However, the main disadvantage of Flymo EasiStore 300R model is the battery. To be more specific, the battery of this mower is not as long as those of other same price brands on the current market.
Pros
The durable and sharp metal blade
A 30 cm cutting blade for small gardens
A removable safety key included
Cons
Limited lithium-ion battery lifespan
In a nutshell, despite the short battery life, this lawn mower is still the best cordless lawn mower under £300 in terms of its durable blade and the safety features.
3 – Murray IQ18WM37 Mower –

Best for mid-sized lawns
The Murray IQ18WM37 cordless mower is produced to meet the needs of those who own medium lawns of up to 425 m². To be more specific, the larger the blade size, the more grass it can cut for each pass. Hence, with a durable 37 cm blade and a medium deck, it's more suitable for mowing mid-sized gardens.
Additionally, this mower is equipped with a motor that will stop immediately when too much force is exerted on it to avoid the accidental starting. Also, during the thick grass mowing, the whole mower may overheat, so the included 30A Load Protection will shut down the power until the mower cools off.
In terms of battery life, like few other cordless mowers of the same price range on the current market, the 3-digit LED display on each battery is very handy since it can inform you of the percentage of remaining charge. You can also charge the mower much quicker due to two docks of the power pack.
Despite its highlighting features, this lawn mower has a shorter cutting time than many others'. Thus, you have to charge it more often, which sometimes causes people to feel dissatisfied with this product.
Pros
Blade with medium diameter for medium lawns
Quick charging feature
Useful features for the highest user safety
Cons
All in all, the Murray IQ18WM37 model offers many useful features that are ideal for medium-sized lawn mowing. They also make your mowing work become such a breeze, so it's not a wrong choice to opt for it.
4 – Bosch AdvancedRotak 650 Lawnmower –

Best for quiet mowing
What many customers love about the Bosch AdvancedRotak 650 lawnmower is the technology called ProSilence. This feature helps the mower operate with fewer noises and keeps it at a suitable level of reduced vibrations, which explains why it's such a quiet cordless lawnmower.
Concerning its performance, this mower boasts a powerful 1700W motor that could handle large lawns with even thick overgrown grass seamlessly. With the ErgoFlex and AdvancedRotak 650, it allows you to mow your lawns from several different angles, and so the close-to-edge mowing task is never easier.
Besides, this best quiet mower offers excellent safety features for the sake of the user. For example, its protector can automatically shut off the motor until it cools down to an acceptable level, preventing the overheating problem. Also, a safety button only activates the starter grip when held correctly to avoid the accidental starting.
However, the main downside of this mover has a title short cable for long and large lawns though an extension one can easily tackle this issue.
Pros
The ProSilence Technology for quiet mowing
A powerful 1700w motor for the best outcome
Great features for the user safety
Cons
The limited cable for large lawns
In general, the Bosch AdvancedRotak 650 model is the best corded lawn mower under £300 in the aspect of the quiet mowing operation and the reasonable price that is accessible to those with a limited budget.
Best Electric Lawn Mower Under £500
Have you got what you came here looking for? No? The aforementioned machines are all excellent but you keep having a feeling that something is missing? Then perhaps a high-end model from this brief outline of the best electric lawn mower under £500 would get your attention. Bigger, better, and more badass – nothing defines these beasts better than that!
1 – Einhell GE-CM 43 Li M Kit –

Best for the long runtime
The Einhell GE-CM 43 Li is one of the leading cordless mower models when it comes to lithium-ion battery technology. It boasts a 36V lithium-ion battery, which is one of the best batteries with long runtime. In detail, each 4.0Ah battery allows for about 40 minutes of mowing (roughly 80 minutes combined.)
In terms of performance, this mower offers very speedy mowing with a blade of 43 cm cutting diameter, which is most suitable for the small or mid-sized gardens. The new power drive li of this mower also provides a powerful torque for the consistent mowing results in all kinds of lawn conditions.
Besides, while most current mowers provide 5 or 7 cutting heights, this mower offers ten different height adjustments from 2 cm to 7 cm. This feature is quite convenient since you can adjust the blade according to what you want. No matter how long or how short the grass is, it's always easy for you to get a lawn with a neat look with this mower.
Despite these useful features above, this mower model belongs to the high price range products. Therefore, it can be more or less unaffordable to limited-budget customers.
Pros
 36V lithium-ion battery for extended runtime
A large cutting diameter for small and medium lawns
Ten different cutting height adjustments
Cons
The higher price than other brands'
In conclusion, despite its price, this mower is one of the best products with many notable features. It's highly recommended that those having gardens of less than 600 m² should get this model.
2 – Murray IQ18WM44 Mower –

Best for large gardens
The Murray IQ18WM44 Mower is the best electric lawn mower for large garden UK when it comes to the metal blade and its powerful motor. To be more specific, with a durable blade with a 44 cm diameter and a 1500W brushless motor, this mower model offers optimal mowing outcomes for mid-sized and big gardens that can be up to  640 m².
What's more, this mower comes with foldable soft-grip handles to minimise the vibration and make it easy for storage. It's also equipped with 25 cm rear wheels that allow you to manoeuvre it with ease regardless of all terrains of your gardens.
Another feature of this electric mower is that it boasts a unique charging feature. It only takes you less than 2 hours to fully charge these two 18V lithium-ion batteries at the same time. You can also use these batteries to charge or power other 18V cordless gadgets and tools made by the Murray.
The slightly negative side of this Murray IQ18WM44 mower lies in its loud noises. This issue may be caused by the powerful 5A batteries that power the motor to give more torque used for mowing.
Pros
1500W motor for mowing large lawns
Foldable handles and high rear wheels
Compatible batteries with dual charging feature
Cons
The louder noises due to powerful motor
All in all, this mower may make an unavoidable loud noise, it's indeed excellent in terms of features and mowing capabilities, especially for big gardens. Undoubtedly, it's one of the highly-rated models of the high-end segment.
You've read through the electric lawn mower reviews UK which provide you with the pros and cons of the top 15 electric lawn mowers in the UK in 2022. Depending on your budget and actual demands, it may not be too difficult for you to figure out what the most suitable product is. But if you're sitting on the fence, keep reading the buying guide.
Frequently Asked Questions
How much do I have to pay for an electric lawn mower?
It's not an easy question since different factors determine the price of a lawn mower. They can be the reputation of the brand making it, the features it offers to users, or the promotion program at a particular time, etc. However, in general, the price range can be from a few hundred dollars for standard models to a few thousand dollars for high-end mowers. Also, the corded electric lawn mower can be more affordable than its cordless counterpart.
Can I use an electric lawn mower to cut high grass?
A vast majority of electric lawn mowers can cut long grass. They possess the varied deck width and cutting height adjustments that allow you to choose the grass height. You can look around and opt for the best electric lawn mower that's capable of cutting long grass, but it'd be much better if you use a tractor lawn mower when the grass needs cutting is too high, like knee-length or above.
Does my lawn size matter when I buy a lawn mower?
Of course, the areas of your garden that you need to mow and the kind of grass length are one of the most necessary factors that you could think about when buying a lawn mower. It's because not all the mowers on the current market are capable of dealing with long grass or large lawns efficiently.
You could compare your lawn with a standard tennis court. If it's about the same size, then it's regarded as a medium-sized lawn. If it's bigger, then the large-sized one. If you are the sort of person who doesn't want to spend too much time mowing your lawn regularly, you can select the kind of lawn mower that can cope well with longer and thicker grass.
Can I use an electric lawn mower to cut wet grass?
Though many lawn mowers have motors and blades strong enough to mow wet grass, you had better mow your lawn when the grass is dry. Because the grass saturated with lots of water can stick together, it's not as easy to cut as the dry one. Moreover, mowing wet grass can pose a threat to the already moist soil. Therefore, you should wait until your lawn becomes drier before cutting it.
What can cause the improper operation of a lawn mower?
Many factors can result in your mower's malfunction or cause it to be out of order. For example, the petrol-powered mower is likely to function poorly with the shortage of gas and oil. And the problem with a self-propelled lawn mower can lie in the defective recoil cord.
Also, a corded electric mower cannot give the best cutting results with the poor connection to the electrical outlet or the bad-quality extension cord. As for cordless electric lawn mowers, it can be insufficiently charged batteries. When you cannot figure out or fix the problem by yourself, it's advisable to ask for help from professionals.
How long does a cordless electric lawn mower need charging?
The time you need to charge a cordless electric lawn mower depends on the kind of batteries it runs on. For example, it takes approximately 40 minutes to an hour to charge an 18V lithium-ion battery. Besides, the quick charge feature in some kinds of lawn mowers can reduce the charging time, but it can lead to some potential risk of damage or explosion.
What measure could ensure my safety when I mow the lawn?
Generally, the lawn mowers can be dangerous for you and the people around if you fail to follow the recommended safety measures. For instance, you are supposed to use a lawn mower for the only purpose it's intended. Under no circumstances should you use electric lawn mowers in the rain or in the same direction of the cord to avoid unexpected accidents
In A Nutshell
The electric lawn mower, whether the corded or cordless one, is the best electric lawn mower UK that not only contributes to environment protection by reducing the amount of your carbon footprint but also offers the best mowing results for users. Hopefully, with the detailed electric lawn mower reviews UK and the buying guide above, you can select the most appropriate model of lawn mower for your needs.