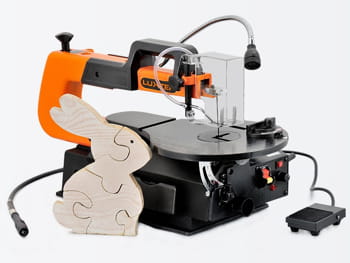 You may be fine with a fret saw or coping saw when doing some simple cuts. But it's hard for those hand tools to beat the best scroll saw UK in the precision cutting game.
Virtually anyone can benefit from a high-quality scroll saw, from hobbyists doing small DIY projects in their free time to professionals earning their living from woodworking.
When your work needs intricate cuts, such as birdhouses, wood signs, jewellery boxes, or gingerbread trim, your simple carpentry tools might become a dead loss. The guide and scroll saw reviews UK would help you add a great speciality tool to your workbench.
What Is A Scroll Saw?
Scroll saws are small electric saws that woodworkers can use to cut intricate curves.
While other power saws usually have round blades to make straight cuts through wood pieces, scroll saws are the go-to choice when you need to make bevelled edges, intarsia, wooden figurines, and puzzle pieces.
The thin blades of these machines can slice across lumber thanks to the up-and-down motions.
While not every DIYer or hobbyist needs a scroll saw, those strokes will come in handy when you need to carry out more complex woodworking tasks, make toys, and other detailed cutting.
Advanced users are no stranger to scroll saws – the common tool they use to make dovetail joints, musical instruments, and inlay work.
How To Choose The Best Scroll Saw?

Manufacturers have made numerous scroll saws at different price ranges. You can easily buy a product under £100, and models above £1000 are also widely available.
Coming with this disparity in price are the features and specifications of different scroll saws. You will not want to splurge your money on a professional-grade model with premium features you will never use, or vice versa.
Pay attention to the following factors when shopping around to get the right scroll saw for your needs and budget.
Throat Depth
As one of the most important specifications of a scroll saw, the depth or capacity of the throat is the distance from the saw blade to the rear frame. It plays a huge role in the cutting as this depth determines the maximum size of wood you can cut.
Commercial models may come with a throat as deep as 760 mm, while a 300-mm capacity can be found on some smaller scroll saws.
For most home woodworkers and hobbyists, a throat depth between 406 and 457 mm should do the job. If you plan to work on a bigger project, aim for scroll saws with a deeper throat.
Don't forget that you can rotate the piece of wood while cutting, so its maximum width is around twice the throat depth of your scroll saw. For example, you can carry out cuts at the centre of a 740-mm wide board if the saw has a throat capacity of 370 mm.
Types of Blades
There are two main blade types most scroll saws accept: pinned and plain-end blades.
Pinned blades
These blades are the simpler of the two, having cross pins that fit in hooks at each end. The upside is when changing the blades, you won't need any extra tool.
However, not many varieties of pinned blades are available, and if you're out of luck, this will make the cutting more difficult or even impossible.
For example, if you need to perform a narrow cut and no compatible pinned blade is available, the cross pins might be too wide to fit through your wood piece's slits.
Unpinned blades
Plain-end blades solve the compatibility issue of pinned ones and become the more common type of blades as a result.
The jaws of scroll saws that accept these blades clamp their ends tightly to keep them in place. Unpinned blades also come with a wide variety of different sizes and types of materials, including metal and plastic in addition to wood.
Plain-end blades, however, require a tool to loosen and tighten the clamps when you need to change them.
Tension On The Blade
Most, if not all, scroll saws allow the users to adjust the tension on the blade between cuts.
A thin blade may snap if subjected to too much tension. On the other hand, a blade could become loose, twisting and leaving jagged edges on the wood if you decrease the tension too much.
There are many mechanisms to tweak the tension. Some models come with a lever, while others feature a control knob.
A scroll saw allowing you to adjust the tension on the blade from the front is usually preferable. If the lever or knob is located on the back, you will have to move a few steps every time you need to change the tension.
Speed
The number of up-and-down strokes a scroll saw can complete in a minute is another factor to take into account. Measured in strokes per minute (spm), this speed can range from 400 spm in cheaper models to 1,800 spm in higher-end scroll saws.
A 400-spm tool should be enough to allow you to cut softwoods like cedar, but for harder wood like walnut, a higher speed might be needed.
If they're available, go for models with variable speed options, which allow you to adjust the stroke speed depending on your material.
Extra Features
While not as important for the quality of the cuts, a dust blower and a collector are certainly nice to have.
The blow-off function can get rid of accumulated sawdust around the cutting areas, so these wood shavings and dust particles don't block the view of the blade and the cutline.
On the other hand, a dust collection port could help collect the dust and keep it away from the wood finish and out of the air in your workshop.
Best Scroll Saw Reviews UK 2022
While we believe our guide can help you narrow down the available options on the market, the job might still be too much for you. Here are some of the best scroll saws UK in case you need some quick recommendations.
1 – Dremel MS20 Moto-Saw Scroll Saw –

I Highly Recommended
This portable scroll saw from Dremel should appeal to those who just start out on woodworking as a hobby. As the best budget scroll saw UK, It offers all the essential features while keeping the cost down by skipping extra features most newbies aren't likely to use.
The Dremel MS20 Moto-Saw only accepts pinned cutting saw blades, which are easier and quicker for woodworking beginners to change. The throat depth is just 254 mm. It's on the lower end of the spectrum but should be enough for smaller projects.
It's the trade-off between throat capacity and the amazingly compact size of this scroll saw. You can operate in the handheld mode as a coping saw, thanks to the weight of just 1.1 kg.
Dremel deserves credits for incorporating variable speed options into this affordable entry-level scroll saw. You can easily control the cutting motions between 1500 and 2250 strokes per minute.
The 70W motor powering the cutting is surprisingly quiet.
Per official specifications, the sound power of the Dremel Moto-Saw is just around 88.3 dB, while the vibration is 2.5 m/s². Those who use this scroll saw for home crafts will appreciate this quiet operation.
This compact scroll saw is easier to use than we expect. Beginners will have an easier time getting used to it.
You may need to tighten it down, but the parallel guide lives up to our expectations, while the power and speed buttons are easy to access as well.
Keep in mind that the types of cuts and the range of your woodworking projects are limited due to the pinned blades. Other things the Dremel MS20 Moto-Saw is missing are a rip fence and a mitre gauge. You can purchase those add-ons directly from Dresem if desired.
Pros
Affordable price
Super compact and lightweight
Can work in handheld mode
A great choice for beginners of woodworking and hobbyist
Variable speed settings
Cons
Pinned blades
Low throat capacity
Below-average speed
No extra features like a dust blower
Only suitable for simple projects
2 – Einhell TH-SS 405E 120w Scroll Saw
The Einhell TH-SS 405E is a small step up from the Dremel MS20 above. It's still a low-cost solution but offers greater capabilities at a slightly higher price tag.
This scroll saw features a tiltable cutting table to make intricate cuts quicker and easier. At 45 degrees, the Einhell TH-SS 405E has a maximum cutting height of 20mm, while the full 90-degree position allows for 52-mm wood pieces.
The machine can work at any speed between 400 and 1600 strokes per minute. All of these adjustments enable the woodworker to make more intricate pieces such as bevels.
It also comes with a quick-release clamp so you can change the saw blade faster. A major advantage this scroll saw has over cheaper models is the acceptance of both pinned and plain blades – a huge deal when you need to carry a wide range of cuts.
We're happy to say that you can fix the Einhell TH-SS 405E directly into a workbench to make your cutting more stable and minimise vibrations.
On other models, this could become a huge issue when you operate them at top speeds. On top of that, there is a hold-down device to keep your working material in place while cutting.
The Einhell TH-SS 405E has also got a dust blower. It's not at the heart of the machine's function, but you should never overlook the ability to clearly see what you're cutting with your pieces of wood.
A 33mm dust extractor connection is present as well, but sadly there is no adaptor included in the box. If you wish to have one to collect the debris, you will need to find a suitable adaptor. The size of the work table (408 mm x 250 mm) could be too small for some projects.
Pros
Adjustable speed
Tiltable metal work table
Compact size
Accept both pinned and plain-end blades
Include a dust blower
Inexpensive
Cons
Need to purchase a dust extractor adaptor separately
Low speeds
Not suitable for large projects
3 – Charnwood SS16F Scroll Saw
Looking for a more serious package that is not just for starting hobby projects but also more complicated craft and model making at home? Have a look at the Charnwood SS16F.
This looks and works in a similar fashion to the Einhell model, but with a foot pedal switch, users will have more control over their cuts.
You can start and stop without removing your hands from the wood piece, allowing you to cut through it with greater accuracy. We believe that once having tried it, you will never want to do woodcutting again without it.
At 12kg, the Charnwood SS16F is not lightweight at all. But the cast iron base means you will work with extra stability with vibration kept down to a minimum.
The blade speed is still in the beginner territory (between 550 and 1600 strokes per minute), but that shouldn't cause any issue for a home project. The die-cast aluminium table is tiltable between 45 and 90 degrees, with cutting depths of 20 and 52mm, respectively.
The sliding mitre guide is a nice addition, which you can mount to do a straight cut easier. The Charnwood SS16F accepts both pinned and pinless blades, with the maximum length of the pin type (127mm) slightly shorter than that of plain blades (130mm).
The 254 x 414mm table with a throat depth of 406mm should give you plenty of space to work on your DIY projects, while the LED work light, air blower, adjustable safety guard, dust extraction outlet, and blade storage are other highlights of this hobby scroll saw.
But compared to the Einhell TH-SS 405E, the Charnwood SS16F is much more expensive, and you will still have to purchase an adapter to use with the dust extraction port.
Pros
Loaded with many features
Convenient control with the foot pedal
Easy for beginners to do precise cutting
Solid base with great stability
Cons
Expensive for a hobby scroll saw
Not a portable option
4 – Sealey SM1302 Variable Speed Scroll Saw

Another scroll saw geared towards hobbyists and small woodworking projects, but this time around, it comes from the British manufacturer Sealey.
This simple model is fairly akin to other low-end scroll saws on this list.
The 410 x 255mm cast rounded table makes intricate cuts of small projects possible, while the variable speed control allows users to cut different types of materials by adjusting the blade speed between 400 and 1600 strokes per minute.
Both pinned and plain-end blades are compatible with the Sealey SM1302, able to make a maximum cut depth of 50mm.
You can tilt the table up to 45 degrees and take advantage of the standard 406mm throat depth between the parallel arms to perform accurate cutting. The dust blower and safety guard are welcome additional features as well.
On the flip side, the Sealey SM1302 has a noisy operation. Additionally, the dust blower is fairly weak, and you may need to pause frequently to clear the work table thoroughly.
Pros
Suitable for DIY and small workshop use
Flexible dust blower
Accept both pinned and pinless blades
Variable speed controls
Cons
Noisy
Weak dust blowing capacity
5 – Clarke CSS400C Scroll Saw

It's not surprising that Clarke doesn't stay out of the competition between tool manufacturers to make functional and reliable scroll saws at a reasonable price. And that's why you can expect similar features between the CSS400C and other models.
The rounded work table of the Clarke CSS400C can tilt between 0 and 45 degrees for bevel cutting. You can use both pinned and pinless blades with this scroll saw, operated by a 90W motor at between 550 and 1600 strokes per minute.
The working area doesn't bear any significant differences either. You will have a throat depth of 406mm with a 50mm maximum cutting height.
What makes the Clarke CSS400C really stand out is the 64-piece grinding kit that comes with the machine. They're great for additional grinding, cutting, and polishing your final product.
The biggest disappointment here is the lack of a dust blower and an extraction port. It's not a high-end scroll saw, but with the price Clarke is asking, users should have those extras with their machine.
Pros
Great for hobbyists and small projects
Tiltable table
Compatible with both blade types
Include a 64pc grinding kit
Cons
All the scroll saws above are great for making small projects and helping beginners get a grasp of woodworking.
They aren't suitable for heavy-duty tasks or experienced scroll artists, who need more features and greater capabilities to do the job. But if you just need to carry out light cutting with small wood pieces, they are fine choices.
Coming from reputable manufacturers, those machines are at the lower end of the spectrum.
As our scroll saw in the UK reviews have pointed out, they offer basic speed controls and cutting capacities compared to the best professional scroll saw UK. The throat depth and blade speed are both much lower than high-end scroll saws.
The upside is that you won't have to spend much money on the best high-end scroll saws in the UK for your work.
Frequently Asked Questions
These are the most common questions people have when looking for a scroll saw, some of which have been sent to us by our viewers.
What are the differences between scroll saws and other saws?
A scroll saw usually has a thin, band-line blade that moves quickly in up-and-down strokes.
You may already be familiar with this cutting motion with fretsaws or coping saws. While those hand tools need manual movements from workers to do the cutting, scroll saws are electric-powered machines.
Compared to other types of power saws, they serve a different purpose, mainly driven by the design of the blade.
Other electric saws usually feature big, round blades that rotate very rapidly. They are better for making cuts through thicker materials and some basic tasks like a crosscut.
The area scroll saws shine the most is to make intricate designs or when you need to create interior cutouts without an entry slot.
These abilities make scroll saws the go-to choice for making detailed work like jewellery boxes, puzzles, and toys. They also excel at cutting dovetail joints or thick intarsia projects, an artform of wood inlaying.
Can I use a scroll saw with other materials besides wood?
As long as you have the right blade, this versatile tool can perform cuts through a wide range of materials, including plastic, foam, plexiglass, and even thin metal.
How about acrylic? Can scroll saws cut it?
As a type of plastic, cutting acrylic is totally possible with a scroll saw. However, there are many things you should be aware of.
First, only cut acrylic with a blade designed for cutting plastic, such as crown-tooth blades.
You should also pay attention to heat buildup – the main culprit of failed attempts to cut plastic with a power tool.
As scroll saw blades create a lot of friction during their movements, small amounts of acrylic may melt and reseal within a few seconds. The result of this phenomenon is uneven cutting or even broken acrylic.
The trick here is to point a fan towards the workpiece while cutting on a scroll saw and set it to the lowest speed setting that can still cut effectively.
Also, lubricate the blade before making the cut and don't remove the protective cover from the plastic before it's cut.
Are the arms of a scroll saw always parallel?
There are many types of scroll saws based on the design of their arms. Parallel arms are the most common shape, in which there are two arms remaining parallel to each other. All our picks feature this design.
Others may come with a C-arm or a parallel link design as well.
The latter is commonly found on higher-end models because it reduces vibration even though there are more bearings and moving parts involved. C-arm scroll saws are suitable for aggressive cuts with arms shaped like the letter "C".
Which scroll saw brands should I have a look at?
Dremel, DeWalt, Delta Machinery, Einhell, Ryobi, and Wen are some of the world-class power tool manufacturers that also make scroll saws. On the UK market, Clarke, Charnwood, and Sealey are also trusted names.
My scroll saw vibrates a lot while cutting? What could I do about that?
It's normal for power tools like a scroll saw to vibrate during operation because of the high speed of the blade. However, it could become an issue if the scroll saw vibrates excessively, causing numb or tingling hands.
Check if the blade has been installed properly and whether the machine is firmly screwed down to the workbench. If none of those things helps, add a counterweight (if your scroll saw doesn't have one) and place a rubber mat underneath the machine to reduce vibration.
Final Words
Whether you're a beginner or an experienced woodworker, having a scroll saw as part of your arsenal always brings peace of mind. The best scroll saw UK would take your woodworking techniques beyond just straight lines, allowing you to achieve intricate cuts with high accuracy.
From the scroll saw reviews UK above, the Dremel MS20 Moto-Saw is the ideal choice if you're looking for a compact machine for your home workshop. But if you want the best scroll saw for woodworking with better capabilities, the Einhell TH-SS 405E is worthy of consideration.