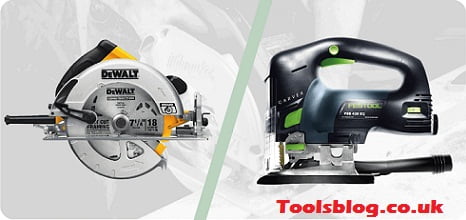 If you are going to do a woodcraft plan, finding a suitable machine to get your job done is important. Yet, which type of sawing machine meets your needs? How can you differentiate them?
This article will provide you with a detailed comparison that highlights the difference between circular saw and jigsaw – two most popular powerful tools for DIY projects.
Let's get started!
Difference Between Circular saw And Jigsaw 
Before we dive into the difference between the two saws, let's take a look at their similarities.
In fact, these tools bear relatively few resemblances except for the superficially similar appearance. You can use both of them to cut numerous materials such as many kinds of wood, plastics, and metals. More in various types of works, including straight lines, angles, and bevel-cuts.
Circular saw
Overview
It is a very widely used machine amongst those who work with lumber, especially for those craftsmen who are doing so on-site.
These saws are found in both corded and cordless varieties. Because of their power, you can do an incredible quick cut of materials with this tool without compromising too much on accuracy.
The machine looks like a circular, toothed cutting disc that cuts through materials. You can use this powerful tool to rip through many applications, including woods, metals, most pipes, and even stone.
Key features 
This machine has a circular, toothed-disc blade that can easily cut and rip through many materials at an extremely fast pace.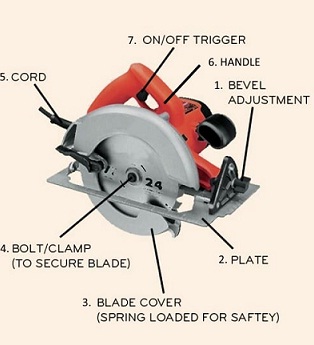 You can find a blade in many configurations. This feature is much sturdier than a jigsaw blade because of the immense pressure they come under, both heat and power wise when cutting. Although this blade does break, this is not as common as a jigsaw blade breaking.
The next important feature of the power-saw is the bevel adjustment. It plays a role in determining the degree when making bevel-cuts and is necessary for making angles.
Pros & Cons
Pros
Greater power and faster blade speed
 Durable and long-lasting blades
Excellent for straight-line and accurate cuts
A better choice for dense woods
Cons
Heavy
Does not make curved cuts
Needs more attention to safety precautions
More expensive
Loud
Common Uses
Cross-cuts
Rip-cuts
Freehand-cuts
Miter-cuts
Bevel-cuts
Moreover, you can outfit this power-saw with various type of blade to make it more specialized for certain purposes. Uses for particular blades such as:
Pointed-tooth are good at cross-cutting solid wood or leaving a decent finish.
Fine-tooth cut at a relatively slow pace, making them the best choice for plastic-laminated and chipboard boards.
Carbide-tipped blades are ideal choice if you want fine finish cuts.
Chisel-tooth ones are suitable for crosscutting and ripping, they are a common choice.
Jigsaw
Overview
It can cut many kinds of materials and are only restricted by the version/model itself, as well as the attached blade. The machine's most popular materials include plastics, metals, woods, and ceramic tiles.
Depending on your preference, this tool has corded & cordless models.
Key Features 
Apparently, the machine is difficult to be utilized with some extra features.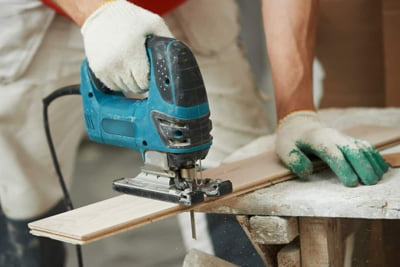 One of the most noticeable features is the stroke length and blade. The blades are this appliance's most vital features, which makes the works upon materials.
Its blades have many distinctive forms and are composed of various materials.
Pros & Cons
Pros
Best suit for curves cuts
Portable and ease of use
Wide range of cuts than other sawing machines
Affordable
Cons
Not suitable for precise straight-line cut
Thick blades are easy to break
Common Uses 
You can adapt this tool to cut any type of wood. Popular ways of utilising it include:
You can adjust the angle of the blade to obtain bevel cuts.
Use a side fence to cut parallel to the edge.
For tasks that do not require precision –  a freehand sawing.
If you want to enhance the accuracy of the cut, cut along the temporary fence.
With the help of the attached compass, you can obtain sweeping curves.
Which Sawing Machine Is For You?
Overall, a jigsaw is less accurate but it can create a wider range of works than the other one – it is the best choice for works where precision is not key like arts & crafts. This tool is mainly favourite for its capacity of broad cut.
Meanwhile, the circular ones have a higher degree of accuracy and cutting power. They are normally used for creating high precise straight-line cut.
Conclusion
What is the difference between circular saw vs jigsaw – These tools have their own uses and would be essential parts of your woodcraft projects. Consider the pros & cons and features of each tool before choosing one!