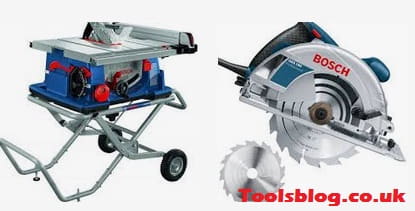 A power saw is always necessary for DIY woodwork projects. But for newbies, it's a bit confusing when choosing between table saw vs circular saw.
No need to worry; let us lend you a hand to find out their differences. Keep reading and discover which model is better suited for your purposes!
What Are Circular Saws And Table Saws?
In general, both of these tools have long been the most popular cutting tools in any workshop. They offer roughly all the jobs with different types of cuts.
Table saws always go with their motor beneath the table. When using it, you need to push the wood or objects towards the rotating blade. The circular one is a handheld tool that combines rotary motion and a sharp knife to cut across surfaces.
Though the circular offers greater mobility, it might not be that much of a perfect choice instead of table one. Scroll down now to know why!
Difference Between Table Saw vs Circular Saw
What is the principal difference between table saw and circular saw? Let's check for details:
Portability
Mobility is the most notable difference between table saws and circular saws. The table saw is fixed on a surface, so moving it to other places is quite tricky. Even portable table saws are still cumbersome and hard to move.
On the contrary, handheld tools like circular saws are much easier to move around since you can freely grab it and go.
Accuracy
The cut lines' accuracy from table saws is often higher, whereas circular saws depend on users' skills.
By using guide rails or straight-edge, you can improve the circular saw's accuracy. However, it is still more complicated than using table saws. If you want to create exact cut lines like its competitor, you need to gain higher skill and practical knowledge. Or else you might end up with some mistakes and ruin your beautiful art.
Versatility
Woodworking often requires table saws to cut soft materials such as plastic easily, but with hardwood or MDF, you have to use a carbide-tipped blade. One thing you should remember is that this saw has limitations in size. You will need a big table surface in case you intend to crosscut a large wooden board.
For anyone who desires a more versatile cutting tool, the circular saw may be the better choice. It can handle different cuts such as long-rip cuts, mitre cuts, bevel cuts, and crosscuts without support from other tools. You can even cut bricks with any diamond blade.
Corded Or Cordless
There's not much of a market for cordless types of table saws, though it comes at a quite expensive price. Meanwhile, circular saws provide both corded and cordless models at different prices. So, the latter will be the optimal choice when it comes to affordability.
Convenience
What about the ease of use? To a beginner, table saws would make a better option. After learning about basic operations, you only need to focus on your cutting lines. There's no need to be anxious about angle alignment, manual force adjustment, or table surface handling. Above all else, it can yield good results.
When it comes to circular saws, you have to learn thoroughly to cut accurately and safely. It means that you need more practice.
Tool Life
Table saws usually possess a long-lasting, durable design regarding lifespan. This saw type needs more care to run smoothly because it includes many intricate internal parts. Of course, proper maintenance would help it last longer.
On the contrary, the caring requirements of a circular one are quite simple, but it tends to die after using it after a long period of use. Even with a famous brand name, it can break within one year.
Quick Rundown Of Table Saw
Pros
Accurate cuts
Easy to handle and master
Long life expectancy
Often come with dust disposal
Cons
Heavy and quite cumbersome
Quick Rundown Of Circular Saw
Pros
More affordable
More compact and easy to move
Modify the angle and the height easier
Cons
Strongly rely on user's skills
Hard to master
Bottom Lines
That concludes our comparison on table saw vs circular saw. In a nutshell, it's more suitable for those who intend to do simple work to choose table saws with accurate cuts and stick with their work in the long term. It also seems to be a better choice for newbies.
Contrarily, many consider circular saws more flexible and portable, yet they require more skills to create perfect cuts. They are more prevalent in professional works and also less costly!