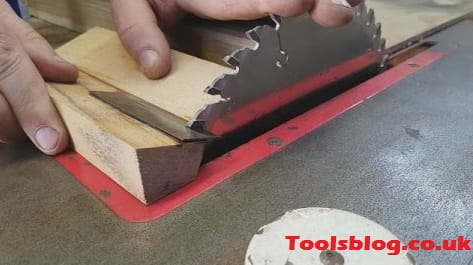 A saw blade is an indispensable piece of equipment in the woodworking process, but it gets duller as time goes by. A blunt cutting tool causes you trouble since it ruins your work and puts you at risk. In that case, will you purchase a new item or try to deal with it? Well, if you are a DIY fan, follow these steps below to know how to sharpen a table saw blade with a file and make it razor-sharp again.
Reasons For Sharpening Saw Blades
If you use a saw blade to cut material frequently, it is prone to bluntness. This, as a result, leads to some negative effects, such as reducing the accuracy and quality of your work and slowing down the woodworking process. That's why you need to keep saw blades sharp to preserve work effectiveness.
Besides, learning how to sharpen table saw blades by hand is a good choice because it helps you avoid the expense of buying a new one whenever it does not work properly. In this way, you can keep your table saw blade in condition for a long time.
Prepare Before Sharpening
Before making your cutting table saw blade useful again, replace your regular blade with a diamond blade and remember to put on safety equipment. The tools below are what you need:
Taper files
A saw set
A vice
Googles
Spare wood
How To Sharpen A Table Saw Blade With A File?
As soon as you've done preparing, now you can start your process!
Firstly, let's check whether all the teeth are at the same height or not. If there are any variations, you should use a wooden strip to clamp the saw blade in a vice and make sure the saw blade is held tightly. Take a smooth metal file cut in half and decrease the height of protruding teeth.
Next, examine the blade and see whether the face of the teeth is clean. Rust and blemishes can increase resistance on the blade, creating more heat and potentially attacking the binders that hold the carbide teeth together. Therefore, it's necessary to clean all the teeth to assure the effectiveness of the process.
Remember that the teeth need to be aligned because misaligned teeth will not work effectively regardless of their sharpness. To do this, a saw set containing a pivot, a couple of pliers, long handles at one end, and a set of teeth to start aligning the teeth will strongly support you.
Next step, you grip the blade in the set and modify the circular hammer discs, which stretches and puts pressure on the teeth to bring them closer together. Try to bend the tooth into shape from the midpoint by squeezing the handles. However, you should get a professional to sharpen the blades which have a high tooth count.
If all the teeth are pointing in one direction, then sharpen them in one go. But if they are positioned in the opposite direction, turn over the blade and do it again.
It's important that you select the suitable taper file based on the number of the blades' teeth. Files in a smaller size are suitable for smoother blades with a higher number of teeth. In contrast, larger files are a better choice for blades with fewer teeth. You can take a file and set it in the gullet and choose the one that the tooth only comes up about halfway.
If you find it difficult to pick the correct one, here are some suggestions for you: choose a single or double-cut file for a blade with 2 to 3 teeth per centimetre, a regular taper for a blade with 4 teeth per centimetre, and an extra-slim one for over 6 teeth.
Once you have set everything, let's begin to sharpen one next to another tooth along the diamond blade. All inner edges of the blade need to be tangent with the diamond blade and perfectly sharpened.
Working at a 60-degree angle of the file on the teeth brings the best effectiveness. Also, you had better remember to file both the front and back of the teeth. For a uniform finish, two swipes of each individual tooth is necessary.
When the sharpening is done, and you are satisfied with the result, take the diamond blade out of the saw and notice to clean it before you put it away.
Conclusion
So we have shared with you how to sharpen a table blade with a file. Those aforementioned steps allow you to have a table saw blade last a lifetime and beyond. Sharpening in this way will benefit your wallet, but you have to perform the work incisively to avoid any problems.