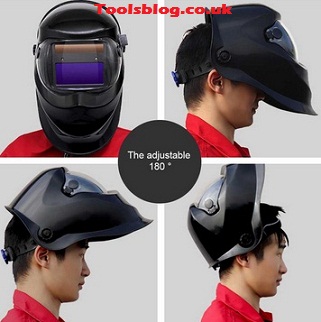 Having a quality welding helmet is always the top priority for a welder. And of course, knowing how to test an auto darkening welding helmet is a must.
Why? Because welding helmet is a unique item that protects your head, neck, and face from the heat as well as unexpected accidents when welding. Carrying out some tests will make sure that you really come back with a good deal.
So, how to check it? Let's find out together!
How To Test An Auto Darkening Welding Helmet?
When you buy any item, it is necessary to check its quality before purchasing it. Of course, it is the same when you buy an auto-darkening welding helmet. There are some basic steps to help you check if your welding helmet functions properly or not. Here we go!
1. Adjustable shade lens
Normally, different weld materials will require separate types of processes. As a result, you will need a welding helmet that comes with different shade lens to protect you from various light levels.
Typically, you should choose a welding helmet that has lenses ranging from ten to thirteen. You can check this information in the manufacturer's instructions.
2. Clear Visibility
Why checking the optical clarity is so important? Obviously, how can you work if you can't see through your helmet, right?
A quality welding helmet should offer a clear vision when you put it on. In case it provides you with a worse view in less light condition, you ought to consider finding another welding helmet.
3. Check sensitivity to the light
Sensitivity is one of the most important features of an auto-darkening welding helmet. It will help control the filtering of the lens and respond properly to the changes in light.
So how to check the sensitivity of your helmet? You can simply check it by standing under the sun. First, put your helmet on, look at the sun, then see how the lens changes. If the helmet sensitivity is in good condition, the lenses should be darkened.
What's next, slowly cover your eyes with your hands. When you do it slowly, your helmet's lenses should still react to the light but remain dark.
Besides using the sun test, you can also use an IR remote control to check your helmet sensitivity. Put on your helmet and look at the light diode of the remote control, then press any button. Like when looking at the sun, your welding helmet should be in its dark state as long as you press buttons.
4. Consider reaction speed
Because the speed of sparks is really fast, your welding helmet's reacting speed should also be fast enough to protect your eyes from the lights.
Normally, the usual standard for a quality welding helmet is 1/2600ths seconds, then your welding helmet's reacting speed should be around this number.
However, since 1/2600ths seconds is very small,  it will be hard for you to count it. But no worries, you can refer to your welding helmet's manual to check this specific parameter.
5. Weigh your welding helmet
Obviously, a quality welding helmet should always be lightweight, and it is more important when coming to auto-darkening welding ones. These helmets are made of quality materials which are perfectly suitable for your head.
More importantly, welding helmets normally feature plusher padding, making you feel comfortable when wearing for long periods of time. Therefore, there is no need to worry about head fatigue or neck strain.
6. Consider the type of power
In general, an auto-darkening welding helmet can be powered by replaceable batteries and non-replaceable batteries (battery-powered or solar energy).
With non-replaceable batteries, you won't have to be worried about replacing the battery but unfortunately, when the battery dies, your helmet is almost useless.
On the other hand, with replaceable batteries, you will have to eventually replace the batteries, but these helmets are usually more durable and responsive.
In conclusion
Overall, no matter what brand of your helmet is, it is always necessary to acknowledge how to test an auto darkening welding helmet when using it.
We do hope that with our straight-to-the-point instruction, you can choose for yourself a quality welding helmet. And now, go out there and shop!