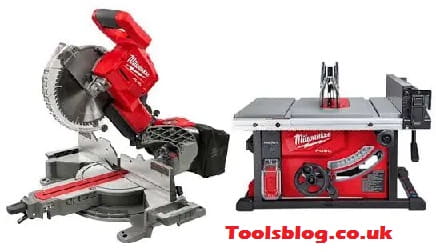 To achieve perfect woodcuts, you must use the right tool and understand how to use it properly. Most people are often confused about the difference between a table saw vs miter saw regarding this issue.
Even though these two saws seem likely to have the main aim as they perform the same task of cutting typical wood types, there are remarkable dissimilarities between them. They will bring distinctive outcomes and meet different needs in power, versatility, cost, workspaces, and project size.
In this writing, you will find a detailed comparison of these two machines. Now, shall we begin?
Table Saw Vs Miter Saw: An Intense Confrontation 
Before diving into the difference between table saw and miter saw, we will first highlight their similarity.
Similarities 
If you are among those who usually handle handiwork projects, a table saw will be familiar to you. In detail, the table saw design with a flat table and circular saw blade that let you have various cuts. Its fixed blade with a motor under the table lets you lower and raise it with thick or thin woodwork.
Meanwhile, the mitre saw has a fixed circular blade with a swing arm. You can pull the edge down to have a cut. The main similarity between a similar mitre saw, and a table saw is that both machines utilise a circular rotating saw blade to perform the cut.
Differences 
The two types of saws remarkably differed from each other regarding usage, function, cut, size, and cost. We will explain in detail each aspect in the content below!
Uses
A table saw will be in charge of general-purpose cutting, which means you can have various cuts rather than a precise one. More specifically, the shining point of the table saw is its capacity to create crossing and long rip cuts.
On the other hand, mitre saws are speciality tools for accurate crosscuts. For instance, with an average mitre saw, you can have a crosscut of 6 to 8-inch, which is a much smaller cut than with the table saw. Yet, the minus point of the mitre saw is limited variety as it is only fit for execution.
Function 
As the table saw has the blade in a stable position, it requires you to move your wood stock towards the edge for cutting.
Meanwhile, the mitre saw allows you to keep your stock stick on the table, and the movable blade will come to the wood for cutting. You can move the edge across your wood piece for the sliding compound version of the mitre saw.
Precision Cut
If you are looking for items that can carry out the most accurate cut, a mitre saw might be the best option for precision bevel and mitre cuts of wood and softer materials, including plastic.
Even though you can have table saws for the same material cuts, you possibly won't achieve perfect cuts as with the other tool. To perform such precise mitre and crosscut with a table saw, you must need support from additional accessories such as a mitre and sledge gauge.
Handy 
Another notable point is the portability of these machines. A mitre saw is generally more manageable for you to move from one place to another when compared with a table saw. Therefore, you must want to carry a mitre saw instead of a cumbersome table saw according to the mobility requirements of the project location.
For professionals, the mitre coming with a stand rolling saw is highly handy and portable.
Cost
Overall, the price for owning a mitre and table saw from reputable brands probably costs you the same amount of money.
Nevertheless, it would be best if you kept in mind that various retailers can offer different prices. You can also purchase them at more affordable prices from online retailers and shops.
Quick Rundown Of Table Saw 
Pros
Work well for rip and crosscut
Easy to use
Multiple in application
Affordable
Saving energy
Cons
Hard to carry around
A little bit noisy
Quick Rundown Of Miter Saw 
Pros
Suitable for mitre and bevel cut
Suitable for width and smooth cut
Easier to carry around
Deliver a more accurate cut
Cons
Require much energy for running
Create many wood dust after cutting
Conclusion 
That is an overview of the similarities and differences between table saw vs miter saw. In general, the table saw is a better option when you need a more versatile in use, and low energy consumption saw.
In most cases, a table saw shall be the first choice of saw you can have. However, a mitre saw is an excellent option for work that requires precision and a small workspace.
Hopefully, you can have the best woodwork with a suitable saw!