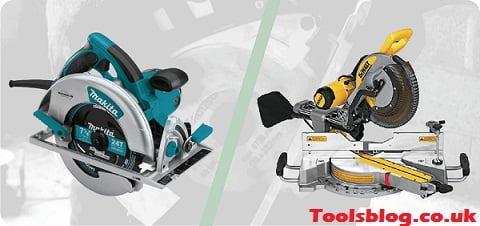 Saws are easy to come by, but that does not mean you should tread lightly around them. Each type has its own speciality, therefore fitting different types of tasks and creating different products. That's why aged carpenters always tell you to pick your tool based on your project instead of using one for everything.
Without further ado, let's get into the comparison between the circular saw vs mitre saw to see if they are good for the kind of work you're aiming towards!
What Is A Circular Saw?
Feature
To sum it up simply, this is the one that represents all saws in carpentry. It is the most popular in use, and it is certainly rather easy to work with. The tool consists of a flat circular blade, which is powered by a motor to spin really fast through wood, plastic and even metal if you're lucky!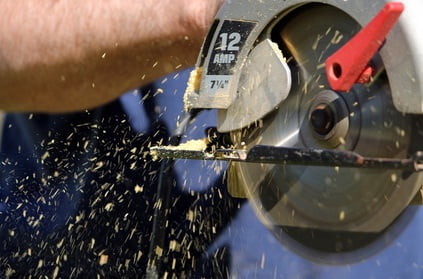 Pros
Because of its easy usage nature, you will have lots of luck finding one for yourself. The variety of models available will also allow you to see lots of different features like battery-powered, handheld design and more!
Because of the blade's fast-spinning nature, you will also get a lot of power from your machine. The blade can cut through almost anything you aim it at – which is why it's the all-in-one power tool that most homes and workshops have.
It can also perform different types of cuts, rather than sticking to cutting straight or sawing in patterns.
Cons
Since the majority of the circular blade is exposed, you will have to watch yourself carefully before and during working hours. Even if the machine has protective caps, when it's active, it can still pose a lot of danger to workers.
It can also take a bit of patience to work with this type, as it's not known for being very fast.
What Is A Mitre Saw?
Feature
This type of sawing machine is very similar to the previous one regarding basic components, but it is more geared towards performing crosscuts and mitre cuts, as the name suggests.
The mitre's saw is dedicated to cutting at an angle, so the clamps and bases below the blade help with placing the material at a stable spot for working.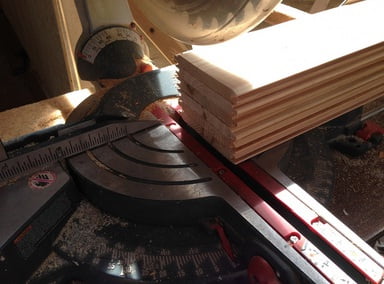 Pros
For an intermediate-level sawing machine, the mitre saw is very fast. Once you understand how the bevels and different types of cuts work, you will have a breeze with the clamps and other adjustments. Finish all your training, and all you have to do is insert your item and press down to cut.
Because of the stable clamps, it is also accurate to the nanometer. If your craft requires lots of precision and measurements, head to this tool for help!
Cons
It is considerably more expensive than the other choice since it takes a lot more material and craftsmanship to make in the factory. The machine is also heavier and harder to transport, which adds to the price tag.
Since you will often use it for bevels, crosscuts and mitre cuts, you ought to know how to perform those cuts as well. As useful as the cuts are, if you can't guide the blade, you will get almost no value from it.
Circular Saw vs Mitre Saw – Main Difference 
Difference
The biggest difference between them is their appearance. The first look from those circular saws will tell you where the handle is and where the blade is, which is a privilege you don't get with the mitre's complicated build.
You can definitely learn to use the hand-held machine on your own and in your own home, but the other might require you to seek professional opinion and guidance.
Operation
To start the Skilsaw, you simply have to turn on the power source – no matter if it's flipping the battery switch or plugging the tool into an electrical outlet. From there, the machine will have different setting buttons, but they will not trouble you so much.
The mitre one will force you to learn how to adjust levels, bevels and clasps just so the object you want to cut would stay still. The learning curve is not a walk in the past, but once you get through this phase, you will be well off.
Types of Cut
Hand-held saws can provide you with almost every single cut in existence, while the mitre is limited between bevel cuts, crosscuts and any other such tasks at an angle.
Portability & Storage
With Skilsaw, you can get a portable model and carry it wherever. However, the other type will need a table or a workbench for it to stay stable and levelled.
Which Machine Should You Use?
It depends on the type of work you do. Typically, a Skilsaw can perform all types of cuts as the other, but it's slower and inaccurate. The result you get from it will therefore be of a lower grade.
The mitre is fast and precise, but it is also not for cutting anything else but angled bits. But then again, you will be able to nail the measurements, should you make professional woodwork. The material also matters as the tool cannot rip through anything other than typical wood.
Conclusion
That is everything you need to know about the comparison between the circular saw vs mitre saw. Overall, if you do not plan to do angled cuts often, you can settle for the good old hand-held saws. But if you are heading towards precise formal cuts, investing in a mitre one is a great idea!