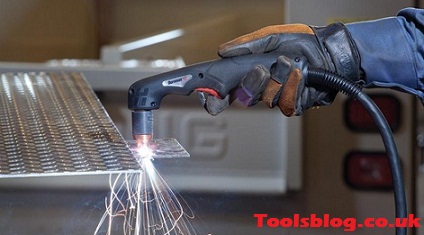 Plasma cutter is not something strange with most people, especially engineers or welders. Although this machine is a fairly familiar item, many people still don't know exactly "how does a plasma cutter work?" If you are in the same case, stay here with us in this article to know the answer.
Well, before learning about plasma cutter operating principles, let's take a quick look at its definition first.
What Is Plasma Cutting?
Plasma cutting is a process of cutting conductive materials by using the ionized gas that is ionized at 22,000 degrees. This technology is often used in industrial construction, automotive repair and restoration, and fabrication shops.
How Does A Plasma Cutter Work?
Plasma cutters work thanks to the rhythmic coordination of many parts. Normally, a plasma cutter has 3 components:
ACS (Arc Starting Console): It creates a 5,000 AC voltage to produce the spark in the plasma torch.
Power supply: This part helps convert AC line voltage into a smooth DC voltage which ranges from 200 to 400VDC. Then, this DC voltage regulates the current output required and maintains the plasma arc throughout the cut.
Plasma torch: It is used to ensure proper alignment and cooling of consumable parts including the electrodes, nozzle, and swirl ring.  It can also have an additional shielding cap to further improve the cutting quality.
So, how does the plasma cutter operate to get the work done? Let's figure it out!
When you press on the power button on the plasma cutter, an electric arc goes through the gas inside the nozzle (The gas can be nitrogen, shop air, argon, and oxygen). This heat up the gas temperature, making it ionized and turn to the state of plasma.
After that, with the squeeze of the nozzle, the gas passes through at a very high speed which helps cut through the molten metal.  Of course, the gas is also directed around the cutting area to shield the cut. All of these processes only occur in an instant when you press the power button.
Since it is really easy and convenient to use, the plasma cutter is widely used in many industries. As long as the ground clamp connects well with the workpieces, it can cut through most surface coatings like paint and rust. Even difficult shapes like tanks and vessels can also be easily cut with plasma cutters.
How To Choose A Plasma Cutter?
The best plasma cutter is the one that best fits your need. So how to choose the most suitable plasma cutter? Worry not, we have some clever tips for you. Here we go!
Clarify your need
To choose the best plasma cutter, the very first step that you need to do is to figure out what exactly you need out of it. To do so, there are some questions you need to answer yourself:
Do you need a portable system?
Do you prefer to cut on a table or by hand?
What material are you going to cut?
How much is your budget?
By answering those questions, your choice of a plasma cutter will be narrowed down, making the decision-making easier.
Choose the output power
The output power level will determine the material's thickness you will be able to cut with the plasma cutter. Of course, you will need a more powerful system for thicker materials. Therefore, make sure that you get a proper output power for your materials.
Consider the duty circle
Why is this factor important? The duty circle is the length of time that the plasma cutter can operate before it needs to cool down. Typically, a short duty cycle is best for regular small cuts while long duty ones are ideal for longer or deeper cuts.
Depend on your need for the machine's design and power, writing down some notes before buying a plasma cutter will help you make the right choice.
In conclusion
Obviously, a thorough understanding of the machine will help you operate it more effectively. We believe that after reading this article, you had your answer to the question "how does a plasma cutter work", right?
If you still have any concerns or confusion, don't hesitate to drop a comment below and we'll get back to you as soon as possible!